Associate Professor
Canada Research Chair in Environmental Engineering and Stable Isotopes
Background
Professor Elodie Passeport's research involves developing analytical tools based on stable isotope to study the behavior of organic chemicals in surface water environments such as rivers and lakes. Her research context spans from contaminated groundwater, wastewaters, industrial and agricultural effluents, to radiological pollution.
Results gained through this research is used by industrial partners to assess risk factors when contaminants enter a site, and to develop comprehensive remediation schemes that can more fully address environmental and health requirements.
Education and Affiliations
2006: MSc, Chemical Engineering, National Institute of Applied Sciences, Toulouse, France
2007: MSc, Continental Environment, AgroParisTech, Paris, France
2010: PhD, Water Sciences, AgroParisTech, Paris, France
Honours & awards
2015 – 2020: Canada Research Chair Tier II in Environmental Engineering and Stable Isotopes
2012: PHYTOPHARMA award, delivered by the French Group on Pesticides.
For more information please visit Elodie's personal website:
http://www.labs.chem-eng.utoronto.ca/passeport/
Microplastics exist all around us — in the water we drink, the food we eat and the air we breathe. But before researchers can understand the real impact of these particles, they need faster and more effective ways to quantify what is there.   Two recent U of T Engineering studies have proposed new methods… Read more »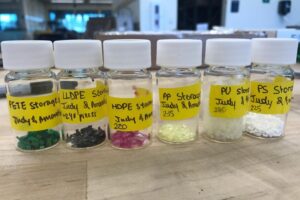 You may have heard of the Great Pacific garbage patch, but the majority of plastic waste in the environment is more subtle: tiny particles ranging from the size of a pea to the thickness of a human hair — and even smaller. A team of U of T Engineering researchers — including Professor Elodie Passeport (CivMin, ChemE),… Read more »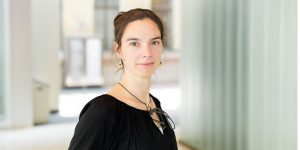 Two renewed Canada Research Chairs will catalyze innovations that could reduce the environmental impact of chemical manufacturing and help remediate contaminated sites.  Professor Elodie Passeport (CivMin, ChemE) is the Canada Research Chair in Environmental Engineering and Stable Isotopes.  Professor Ya-Huei (Cathy) Chin (ChemE) holds the Canada Research Chair in Advanced Catalysis for Sustainable Chemistry. Both have had their research chairs… Read more »
Elodie Passeport
Department of Civil & Mineral Engineering
University of Toronto
35 St. George St.
Toronto, Ontario
Canada, M5S 1A4