Resources
The research performed by the group involves laboratory and in-situ experiments carried out with state of the art seismic acquisition equipment.  Data is analyzed and visualized with sophisticated processing software and numerical models are often generated for enhanced interpretation and understanding of the relevant physical processes.  Below are listed some of the resources of the research group.  Click on the links for more information.
Rock Deformation Equipment

Keywords
Hydrostatic Deformation and Geophysical Imaging Cell
True-Triaxial Loading Frame
Triaxial Geophysical Imaging Cell
True-Triaxial Geophysical Imaging Cell
Hydrostatic Deformation and Geophysical Imaging Cell
The Floor Standing Acoustic System (FSAS) was built by Ergotech Ltd, and has the following capabilities:
100kN maximum axial load
100MPa maximum confining 'Hoek' cell
200ºC maximum cell temperature
P, S1, S2 axial velocity measurement
Permeability platens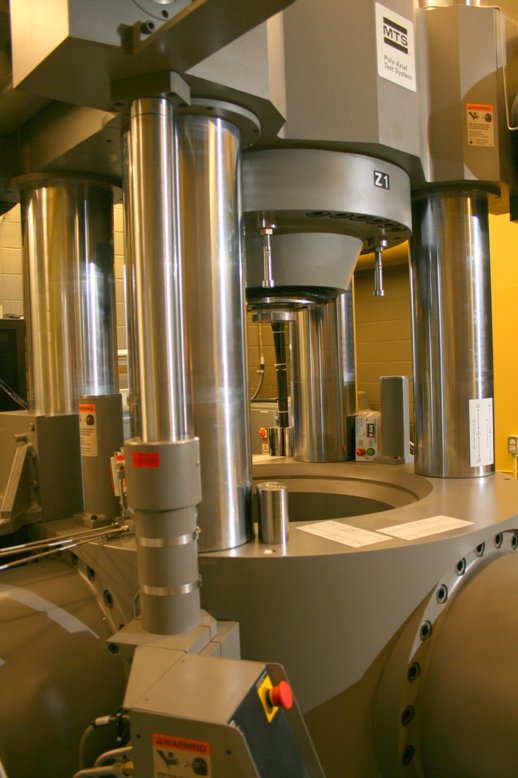 True-Triaxial Loading Frame (MTS)
A polyaxial servo-controlled rock deformation system allowing 6800kN axial force and 3400kN lateral forces (2" stroke).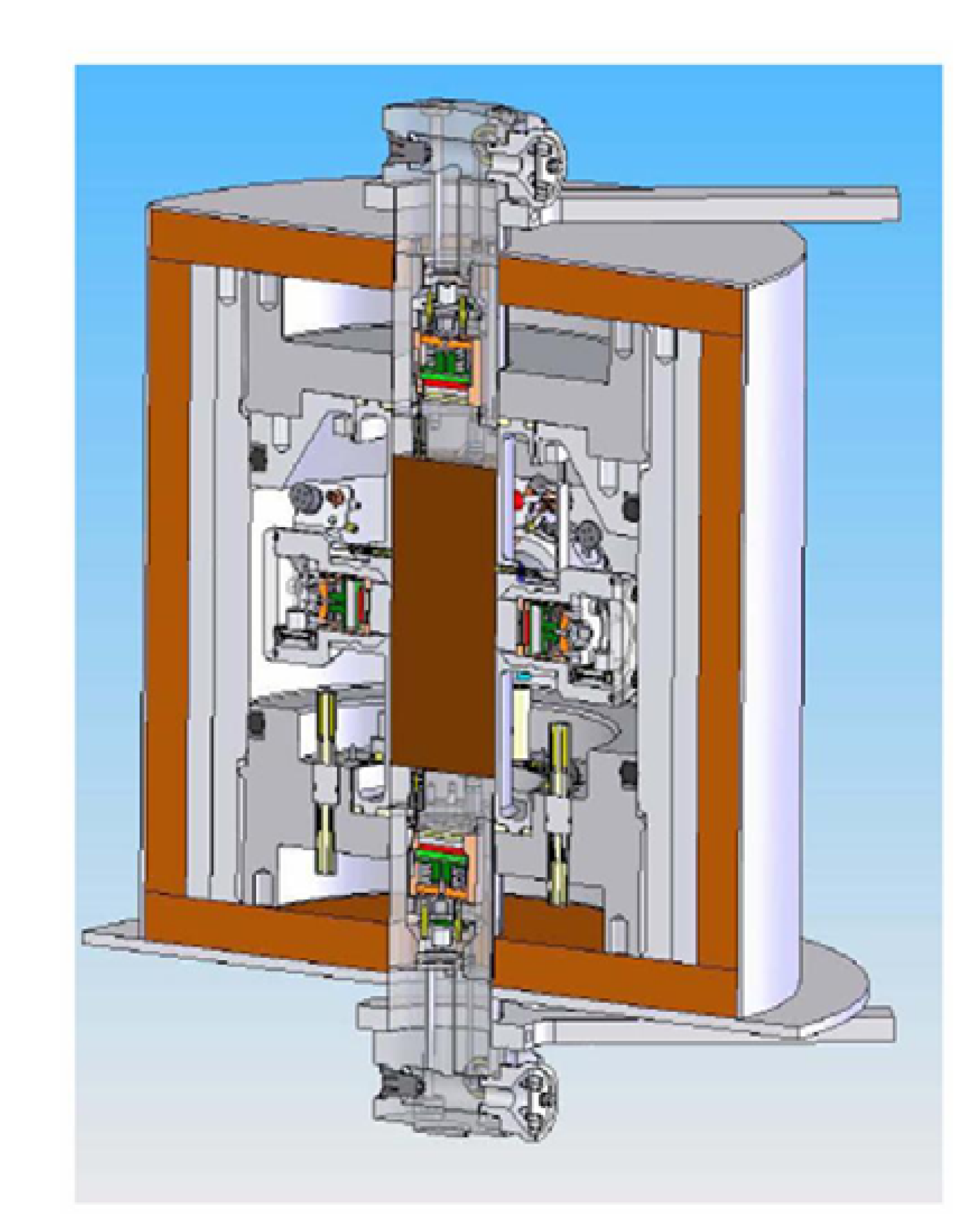 Triaxial Geophysical Imaging Cell (ErgoTech Ltd)
50mm diameter 125mm long cylindrical samples
104MPa confinement stress
18 AE sensors (dual mode receiver and pulser)
Continuous AE waveform recording and velocity surveys using AE sensors
P,S1,S2 velocity measurements in three axes
Permeability measurement
Pore pressure control
200 ºC temperature
Stress strain measurement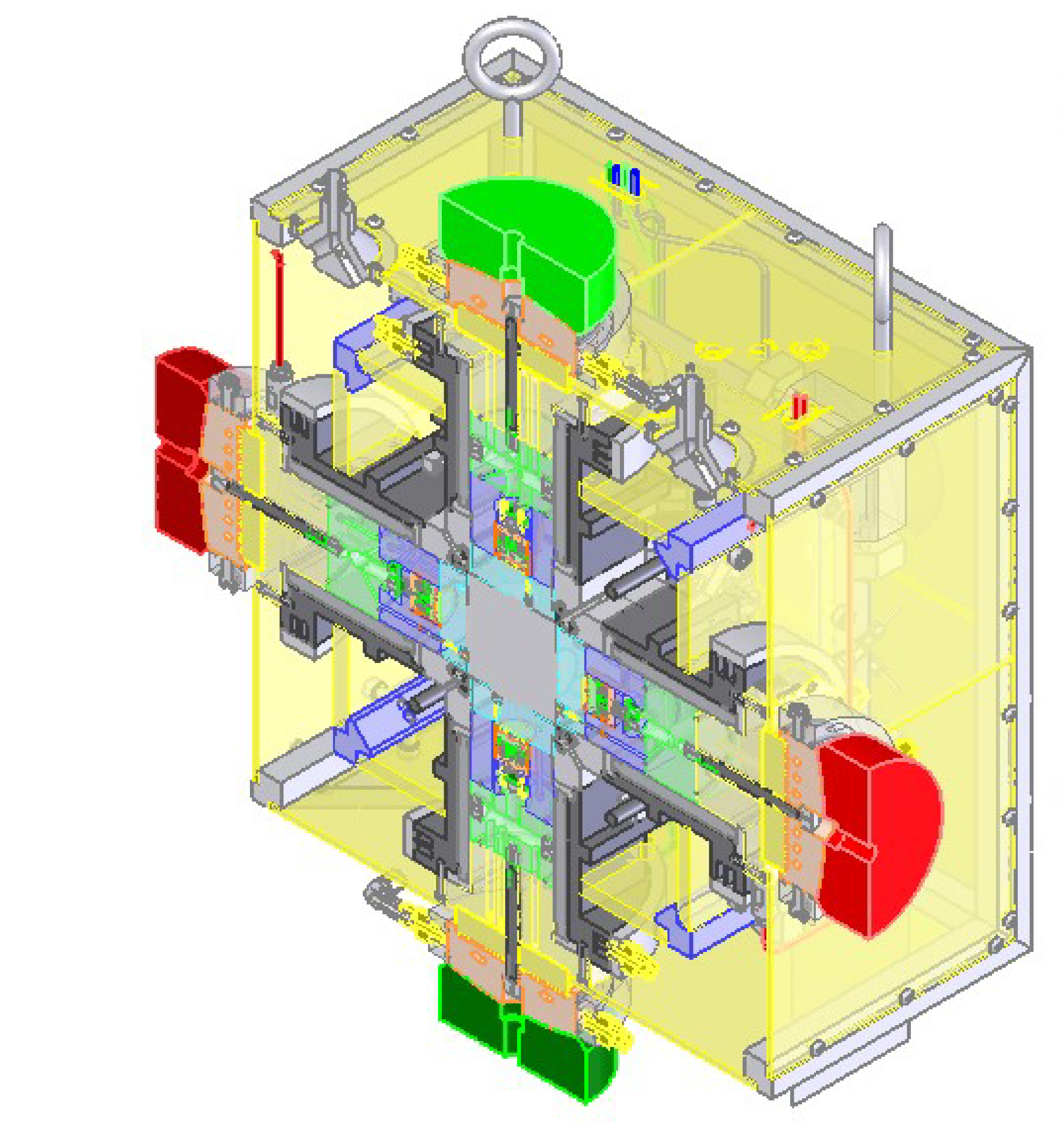 True-Triaxial Geophysical Imaging Cell (ErgoTech Ltd)
8 cm cubic samples
Up to 1063MPa vertical stress, 532MPa lateral stress
18 AE sensors (dual mode receiver and pulser)
Continuous AE waveform recording and velocity surveys using AE sensors
Dedicated P,S1,S2 velocity measurements in three axes.
Resistivity measurements in three axes
Permeability measurements in three axes
Pore pressure control
200ºC temperature
Stress strain measurement
Table Mounted Testing Equipment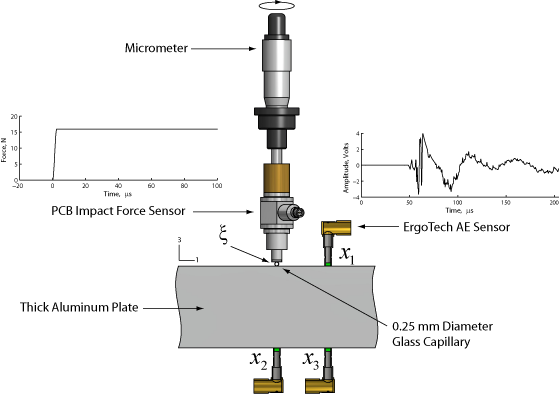 Keywords
Acoustic Emission Calibration Apparatus
Tomography Scanning System
Azimuthal Velocity Measurement System
Acoustic Emission Calibration Apparatus
We employed the same calibration scheme as Manthei & McLaskey and Glaser to calibrate the EgoTech MkII transducer. A glass capillary fracture source was used on the surface of an Aluminum plate and waveforms were recorded at two location. Position 1 is on the same side of the plate as the source and position 2 is directly opposite the source (epicentral location).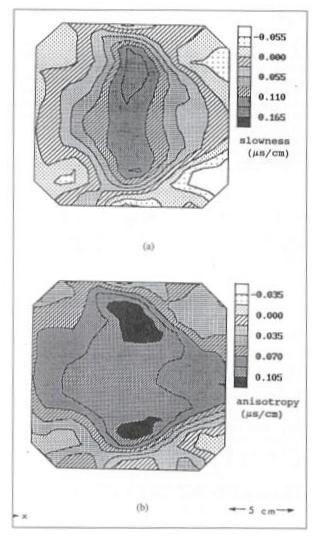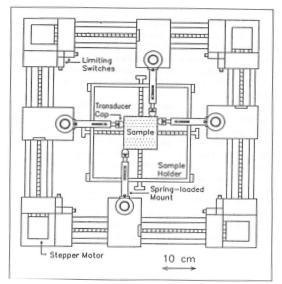 Tomography Scanning System
Tomographic data can be acquired for large rock samples in the laboratory using an automated scanned transducer system. The system uses precision stepper motors to position four moveable arms to any required source/receiver positoon on the tomographic plane. Transducers at the ends of the arms are spring loaded against the sample faces for good coupling and are protected by hemispherical brass caps which facilitate sliding. The scanned transducer system allows significantly denser ray path coverage than is usually feasible with a fixed transducer array.
The transducers are 12.5-mm-diameter Panametrics V103 longitudinal wave transducers with a nominal centre frequency of 1.0 MHz.  A Panametrics 5055PR pulser is used to generate the signals at the transmitters.  Signals at the receivers are amplified by 60 dB with Cooknell CA-6 charge amplifiers and digitised with a Nicolet 4570B four-channel, 12-bit, 10 MHz digital oscilloscope.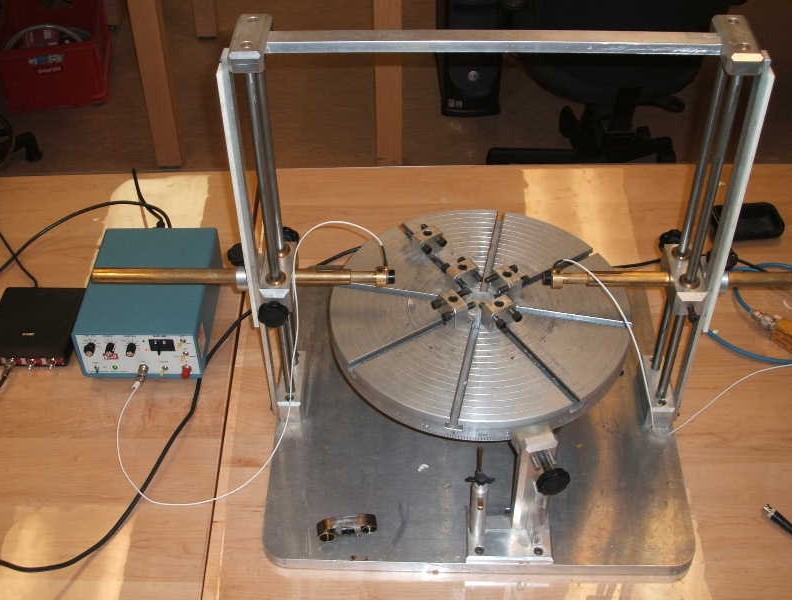 Azimuthal Velocity Measurement System
Equipment is available to accurately determine the azimuthal variation in the elastic properties of rock cores.
High-Precision, High-Pressure Syringe Pumps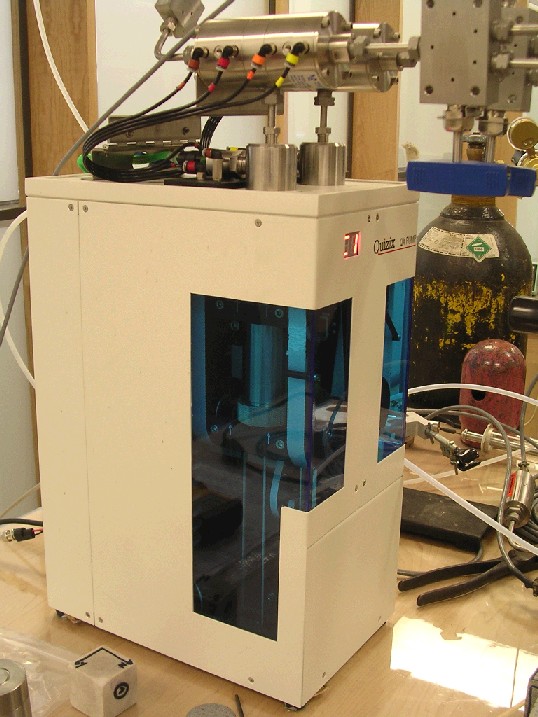 Keywords
Teledyne Pump
Quizix Pump
QuiziX
Maximum pressure rating: 140 MPa
Maximum flow rate: 7.5 mL/min
Teledyne ISCO
Maximum pressure rating: 100 MPa
MAximum flow rate: 30 mL/min
Acoustic Emission Sensors and Preamplifiers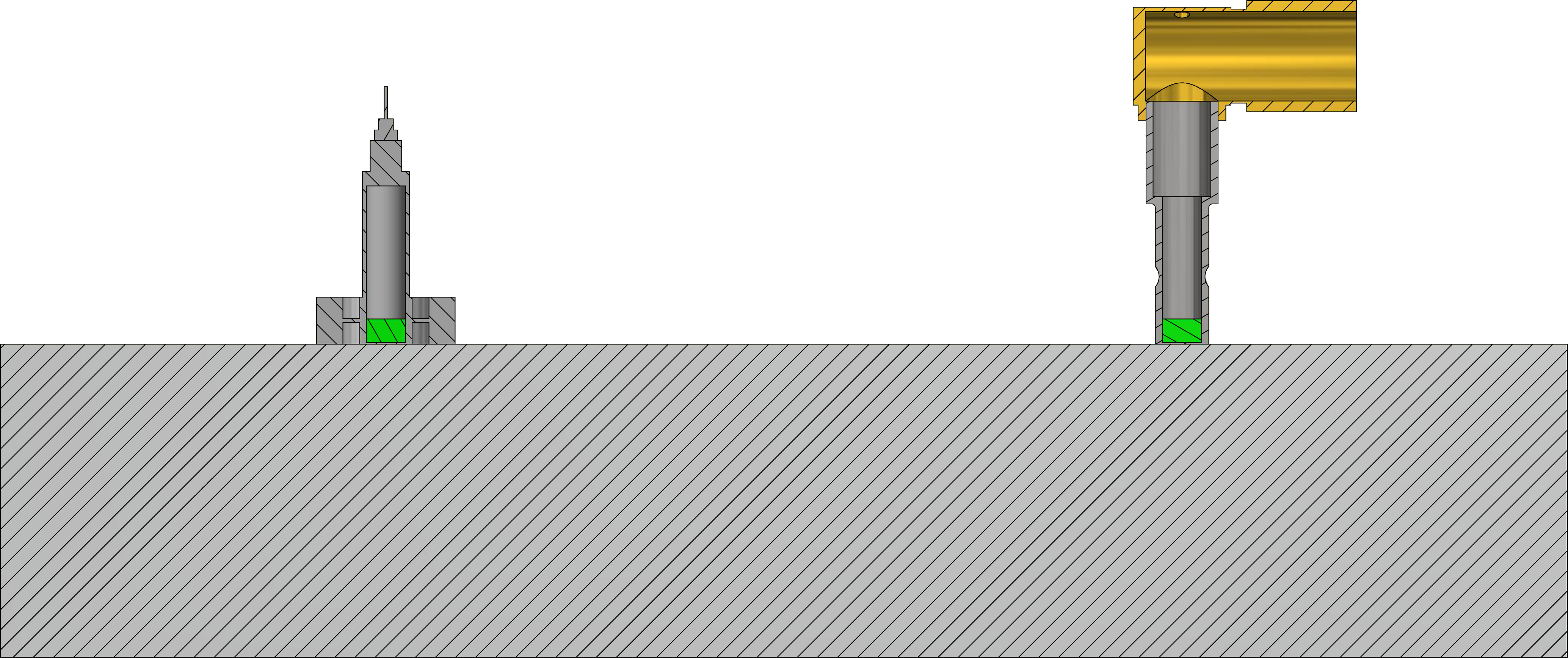 Keywords
ErgoTech
Panametrics
Physical Acoustic Corporation (PAC)
Applied Seismology Consultants (ASC)
Cooknel
Acoustic Emission Sensors and Preamplifiers
Both geophysical imaging cells are equipped with 18 ErgoTech Acoustic Emission (AE) sensors. Two designs exist for installation in either the rubber confining jacket (Right) or steel loading platens (Left). From calibration experiments conducted in this lab and others, the ErgoTech sensor has been found to be sensitive to surface normal velocity with an approximately flat response between 100 kHz and 1 MHz.
The lab is also equipped with multiple commercial AE and ultrasonic sensors:
PAC R15
PAC R6
PAC R3
Panametrics V103
Panametrics V101
Panametrics V106
Valpey Fisher Pinducer
Raw AE signals are amplified at various gain levels and filtered using amplifiers positioned at short length from AE sensors.
ASC PAD amplifier
PAC 2/4/6 amplifier
Cooknel CA-6 charge amplifiers
High Speed Data Aquisition Systems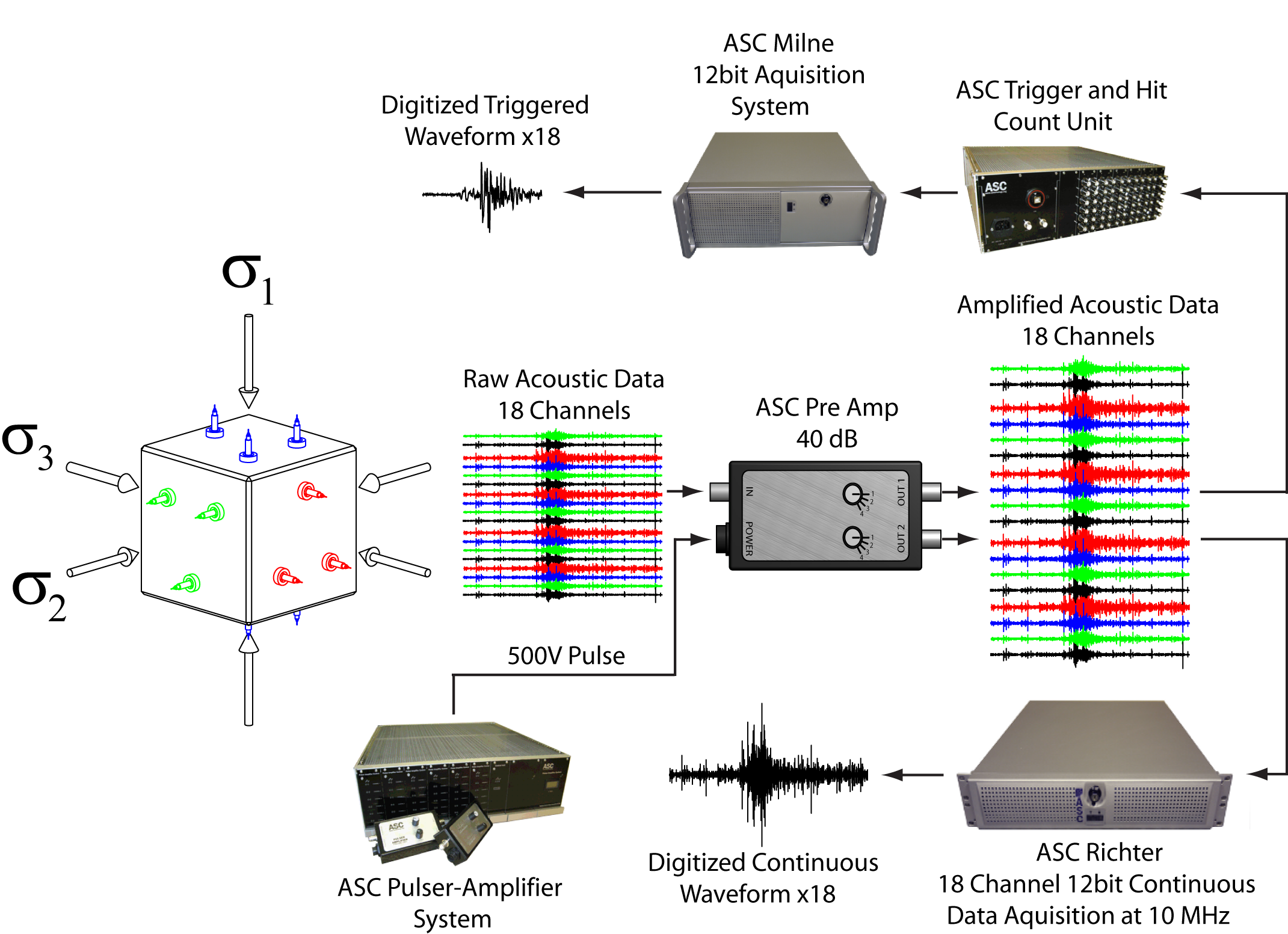 Keywords
ASC Richter
ASC Milne
ASC Cecchi
Giga Recorder
Nicolet
ASC Milne
ASC Milne acquisition system is used to record triggered AE waveforms. 32 channels digitize amplified waveforms at 12-bits and sample at 10 MHz. The Milne system can record up to 20 events per second and is use to recorded waveforms from velocity surveys conducted using the ASC Pulser-Amplifier System.
ASC Richter
ASC Richter acquisition system is used to record continuous AE waveforms for extended periods of time. The benefit to this system that data is not lost due to acquisition limits present in most trigger systems. Our lab has 10 Richter units each capable of streaming continuously on three channels at 10 MHz for roughly 4.5 hours. Data is digitized at 12-bits and can be harvested for discrete events.
ASC Cecchi
ASC Cecchi provides 12-bit full-waveform data acquisition on a USB interface with sample rates up to 50 MHz and voltage ranges between 0.2 and 80 V.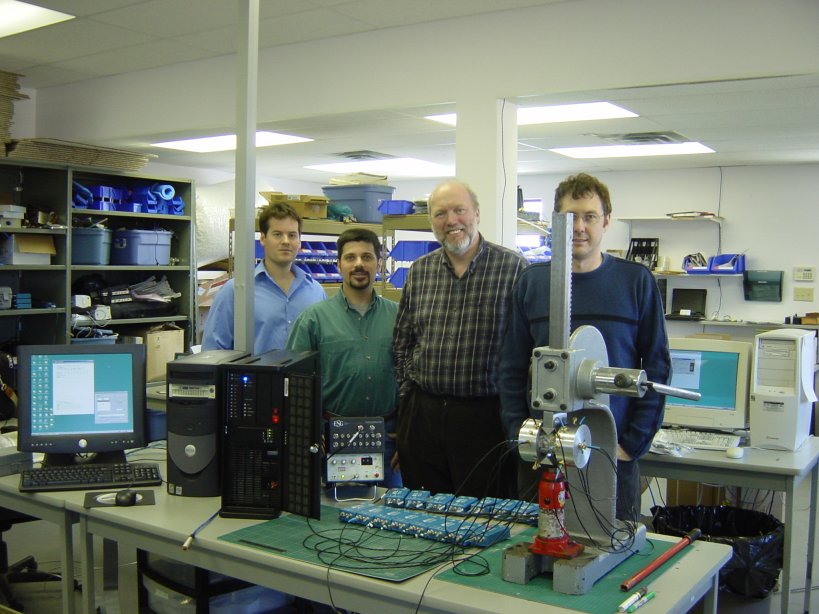 Giga-Recorder
A state-of-the-art ultrasonic/Acoustic Emission (AE) recorder for ultra-detailed investigations of brittle rock fracture and failure. Click here for details of the research grant and scientific applications
Click here for poster on Giga-recorder applications
The Giga-recorder was built in conjunction with the Engineering Seismology Group.  It greatly improves on triggered AE monitoring equipment by using massive banks of RAM memory (38.4 GB) interfaced with enhanced ultrasonic recording technology, to continuously monitor critical periods of acoustic output during rock deformation experiments. The picture here shows the inventors and builders of the Giga-recorder at the initial testing in April 2002 at ESG, Kingston, Canada. Left to right: Wade Coulter (ESG), Spiros Bettas (ESG), Professor R.P. Young (Toronto) and Roger Bowes (Director, ESG). The Giga-recorder has the following specifications:
Hyperion Ultrasonic Monitoring System

Full waveforms recorded on 16 channels
10 MHz sampling frequency
14/16-bit analogue to digital conversion boards and dual gain capability

38.4 GB of RAM memory

2 minutes of continuous recording at 10 MHz sampling frequency on 16 channels

Intelligent triggering

Circular buffer to continuously store 2 minutes of data until a signal is given to write the data to DVD

16 high frequency ultrasonic transducers and pre-amplifiers

A small active diameter (<6mm) allows for the effective study of high-frequency amplitude information
Nominal centre frequency of 1MHz and highly damped to give a broad-band signal
Capable of withstanding high temperatures (up to 260oC)
16 Physical Acoustics Corporation (PAC) 1220A Pre-amplifiers with dual gain (40/60dB) and 30kHz high-pass filter

PC drives and DVD-ROM drives for medium and long-term data storage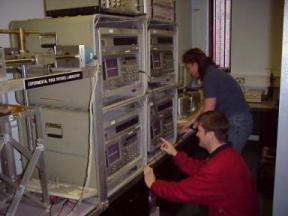 Nicolet
The research group owns and operates Nicolet high precision waveform acquisition and analysis system. The system is used for recording, manipulating, viewing and analysing very high frequency waveforms generated in laboratory tests and in in-situ experiments. The system consists of the following components:
4 x Nicolet 440 12-bit, 10MHz oscilloscope. Each with 4 input channels for a total of 16 channels
4 x Nicolet 400s optical disk drives
Nicolet 4094B Digital oscilloscope
Seismic Processing Software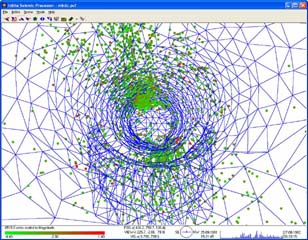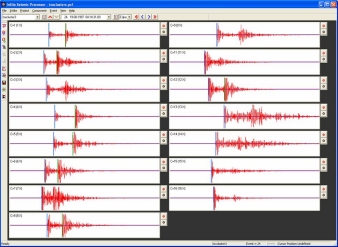 Keywords
Seismic Processing Software
 ASC Ltd (Applied Seismology Consultants) in England is a company founded by former students and staff of Professor Young. ASC have developed a flexible and feature-rich software package (InSite) for advanced processing and visualisation of seismic data (scale independent from km to mm), in the time and frequency domains. The software includes the following capabilities:
Takes input from many different acquisition systems
Enables calculation of locations, magnitudes and moment tensors
Calculation and display of location error ellipsoids
Cross correlation feature for accurate velocity surveys
Interactive 3D visualization of results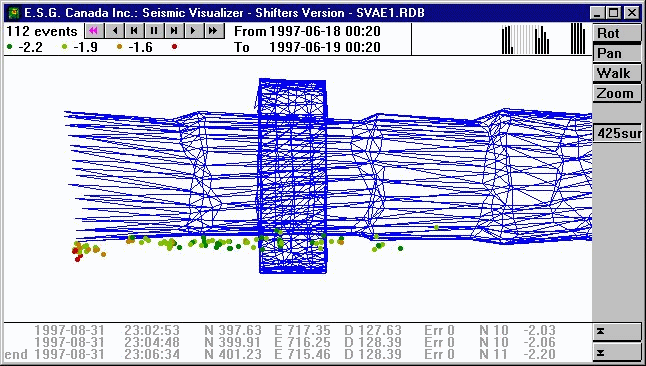 ESG Software
The Engineering Seismology Group in Kingston Canada is composed mostly of former pupils and staff of Professor Young's Research group at Queen's University.  As well as building seismic acquisition hardware, they have available a comprehensive suite of software for acquiring, analysing and displaying recorded seismicity.  The software includes a "real-time" source location system, meaning that events can be located as they are acquired.  Additionally, numerous source parameters (source radius, seismic moment, static stress drop, etc.) can also be calculated in real time.  To visualise the events, a seismic visualiser is included that allows the user to visualise event locations, magnitudes and source parameters on 3D mine plans.  The program can also create contour planes of event density or source parameters and the events or contours can be animated using the time lapse mode
Numerical Modelling Software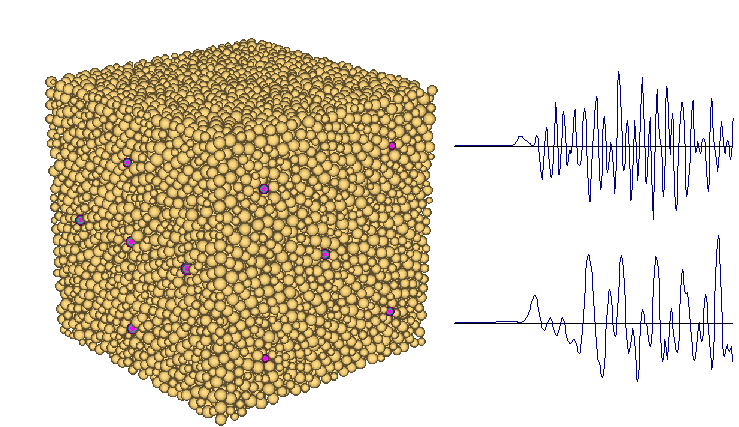 PFC3D model of a sandstone cube showing synthetic seismic waveforms generated by the model
Keywords
Itasca FLAC 2D
Itasca FLAC 3D
Itasca PFC 2D
Itasca PFC 3D
Rocscience Software Suite
Itasca Software
Paul Young's research group and Itasca Consulting Group of Minneapolis have close ties and often collaborate on scientific projects.  Itasca produce several software packages for geomechanical modelling and the flexibility of these packages often enable new and exciting research to be conducted into rock deformation, damage and fracture processes.  The research group uses the following Itasca software packages
FLAC 2D continuum analysis
FLAC 3D continuum analysis
PFC 2D discontinuum analysis
PFC 3D discontinuum analysis
In addition – a joint research project is currently underway with Itasca to create a 3D adaptive continuum/discontinuum modelling package (AC/DC) and to use this new software to simulate 3D in-situ environments. Most of the current research concentrates on examining the fundamentals of rock deformation, damage and fracture and the associated seismicity using the PFC packages – sometimes coupled with FLAC
PFC is a distinct element code where rock is modelled by thousands of individual particles bonded together at points of contact.  The particles are disks in 2D or spheres in 3D.  Using PFC allows a micromechanical representation of rock that can reproduce the macro behaviour of rock deformation.  Because the rock is composed of distinct elements, it is possible for the rock to crack and fracture allowing for detailed investigations of how rocks deform and fail under stress.  Also, the dynamic nature of the code allows for seismic waves to be emitted from each crack and seismic source information can then be calculated
Examine3D model of the TSX showing stress differential on the tunnel surface and at microseismic event locations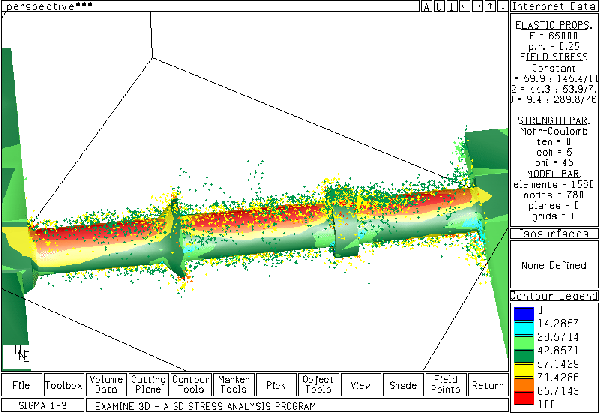 RocScience Software
With the move to Toronto, the research group has cemented already strong links with Rocscience Geomechanics Software and Research based in Toronto. These links have been in place for many years and members of Professor Young's research group were involved in the development of some of the Rocscience code when Rocscience was part of the University of Toronto and Professor Young was at Queens' University in Canada. Because of this, one of the features of Examine3D, Rocscience's boundary element code, is the ability to include seismic event locations when calculating stresses around tunnels. The ASL owns and operates the following pieces of Rocscience software:
Examine3D -3D stress analysis and data visualization for underground excavations in rock (boundary element)
Phase2 -Finite element analysis and support design for excavations
Dips – Plotting, analysis and presentation of structural data using spherical projection techniques
Computer Cluster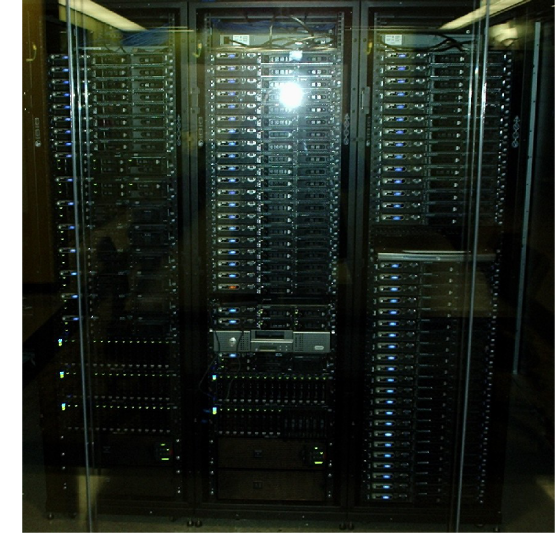 Keywords
Computer Cluster
Specific details of the parallel computer cluster include:
Total of 64 nodes (allowing 256 processing threads)
Each node has:
Two processors (Xeon 2.66GHz Woodcrest) with dual core
36Gb 15K RPM SCSI harddisk
Dual Gb Ethernet
4Gb RAM (48 nodes) and 8Gb RAM (16 nodes)
18.9 Tb of hard disk storage
2 Master nodes (one Linux, one Windows Cluster OS), allowing the
supercomputer to run in one or both operating system configurations.