Resources
The research performed by the group involves laboratory and in-situ experiments carried out with state of the art seismic acquisition equipment.  Data is analyzed and visualized with sophisticated processing software and numerical models are often generated for enhanced interpretation and understanding of the relevant physical processes.  Below are listed some of the resources of the research group.  Click on the links for more information.
Rock Deformation Equipment
Table Mounted Testing Equipment
High Precision, High Pressure Syringe Pumps
Acoustic Emission Sensors and Preamplifiers
High Speed Data Acquisition Systems
Seismic Processing Software
Numerical Modelling Software
Computer Cluster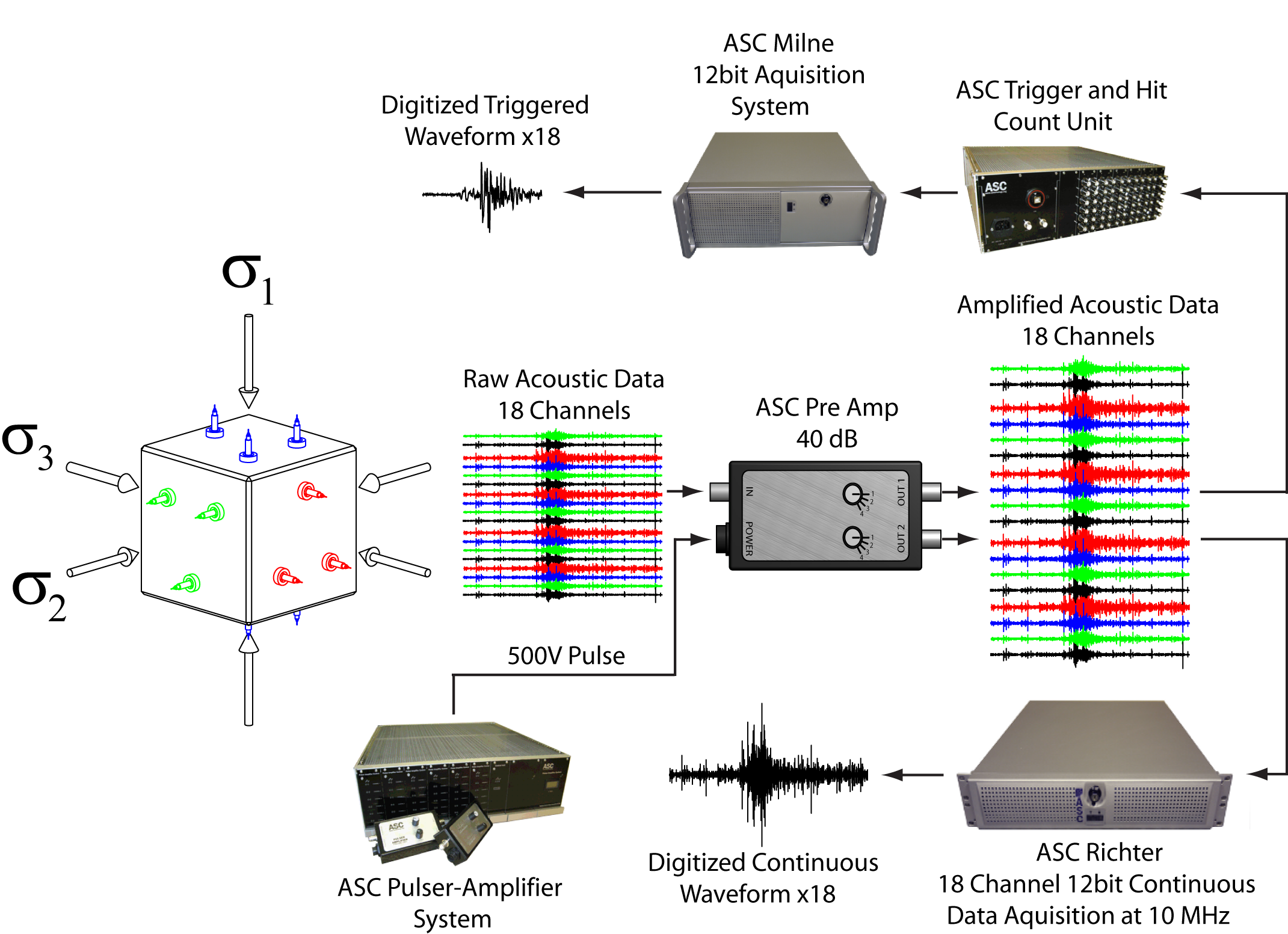 Keywords
ASC Richter
ASC Milne
ASC Cecchi
Giga Recorder
Nicolet
ASC Milne
ASC Milne acquisition system is used to record triggered AE waveforms. 32 channels digitize amplified waveforms at 12-bits and sample at 10 MHz. The Milne system can record up to 20 events per second and is use to recorded waveforms from velocity surveys conducted using the ASC Pulser-Amplifier System.
ASC Richter
ASC Richter acquisition system is used to record continuous AE waveforms for extended periods of time. The benefit to this system that data is not lost due to acquisition limits present in most trigger systems. Our lab has 10 Richter units each capable of streaming continuously on three channels at 10 MHz for roughly 4.5 hours. Data is digitized at 12-bits and can be harvested for discrete events.
ASC Cecchi
ASC Cecchi provides 12-bit full-waveform data acquisition on a USB interface with sample rates up to 50 MHz and voltage ranges between 0.2 and 80 V.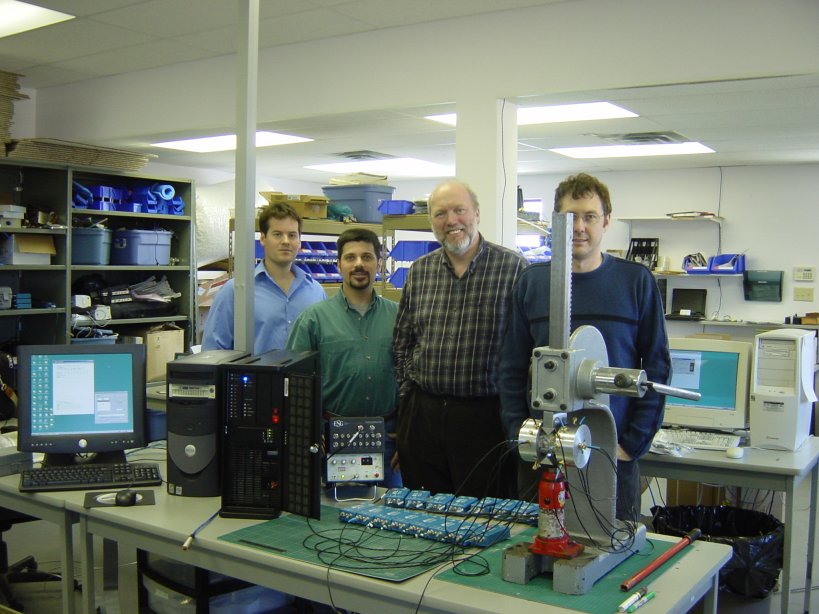 Giga-Recorder
A state-of-the-art ultrasonic/Acoustic Emission (AE) recorder for ultra-detailed investigations of brittle rock fracture and failure.
Click here for details of the research grant and scientific applications
Click here for poster on Giga-recorder applications
The Giga-recorder was built in conjunction with the Engineering Seismology Group.  It greatly improves on triggered AE monitoring equipment by using massive banks of RAM memory (38.4 GB) interfaced with enhanced ultrasonic recording technology, to continuously monitor critical periods of acoustic output during rock deformation experiments.
The picture here shows the inventors and builders of the Giga-recorder at the initial testing in April 2002 at ESG, Kingston, Canada. Left to right: Wade Coulter (ESG), Spiros Bettas (ESG), Professor R.P. Young (Toronto) and Roger Bowes (Director, ESG).
The Giga-recorder has the following specifications:
Hyperion Ultrasonic Monitoring System

Full waveforms recorded on 16 channels
10 MHz sampling frequency
14/16-bit analogue to digital conversion boards and dual gain capability

38.4 GB of RAM memory

2 minutes of continuous recording at 10 MHz sampling frequency on 16 channels

Intelligent triggering

Circular buffer to continuously store 2 minutes of data until a signal is given to write the data to DVD

16 high frequency ultrasonic transducers and pre-amplifiers

A small active diameter (<6mm) allows for the effective study of high-frequency amplitude information
Nominal centre frequency of 1MHz and highly damped to give a broad-band signal
Capable of withstanding high temperatures (up to 260oC)
16 Physical Acoustics Corporation (PAC) 1220A Pre-amplifiers with dual gain (40/60dB) and 30kHz high-pass filter

PC drives and DVD-ROM drives for medium and long-term data storage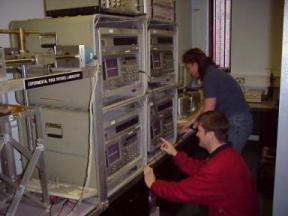 Nicolet
The research group owns and operates Nicolet high precision waveform acquisition and analysis system. The system is used for recording, manipulating, viewing and analysing very high frequency waveforms generated in laboratory tests and in in-situ experiments. The system consists of the following components:
4 x Nicolet 440 12-bit, 10MHz oscilloscope. Each with 4 input channels for a total of 16 channels
4 x Nicolet 400s optical disk drives
Nicolet 4094B Digital oscilloscope