Resources
The research performed by the group involves laboratory and in-situ experiments carried out with state of the art seismic acquisition equipment.  Data is analyzed and visualized with sophisticated processing software and numerical models are often generated for enhanced interpretation and understanding of the relevant physical processes.  Below are listed some of the resources of the research group.  Click on the links for more information.
Rock Deformation Equipment
Table Mounted Testing Equipment
High Precision, High Pressure Syringe Pumps
Acoustic Emission Sensors and Preamplifiers
High Speed Data Acquisition Systems
Seismic Processing Software
Numerical Modelling Software
Computer Cluster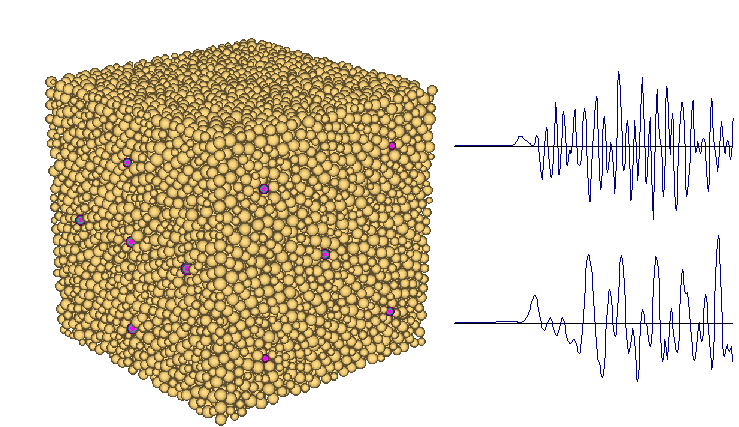 PFC3D model of a sandstone cube showing synthetic seismic waveforms generated by the model
Keywords
Itasca FLAC 2D
Itasca FLAC 3D
Itasca PFC 2D
Itasca PFC 3D
Rocscience Software Suite
Itasca Software
Paul Young's research group and Itasca Consulting Group of Minneapolis have close ties and often collaborate on scientific projects.  Itasca produce several software packages for geomechanical modelling and the flexibility of these packages often enable new and exciting research to be conducted into rock deformation, damage and fracture processes.  The research group uses the following Itasca software packages
FLAC 2D continuum analysis
FLAC 3D continuum analysis
PFC 2D discontinuum analysis
PFC 3D discontinuum analysis
In addition - a joint research project is currently underway with Itasca to create a 3D adaptive continuum/discontinuum modelling package (AC/DC) and to use this new software to simulate 3D in-situ environments.
Most of the current research concentrates on examining the fundamentals of rock deformation, damage and fracture and the associated seismicity using the PFC packages - sometimes coupled with FLAC
PFC is a distinct element code where rock is modelled by thousands of individual particles bonded together at points of contact.  The particles are disks in 2D or spheres in 3D.  Using PFC allows a micromechanical representation of rock that can reproduce the macro behaviour of rock deformation.  Because the rock is composed of distinct elements, it is possible for the rock to crack and fracture allowing for detailed investigations of how rocks deform and fail under stress.  Also, the dynamic nature of the code allows for seismic waves to be emitted from each crack and seismic source information can then be calculated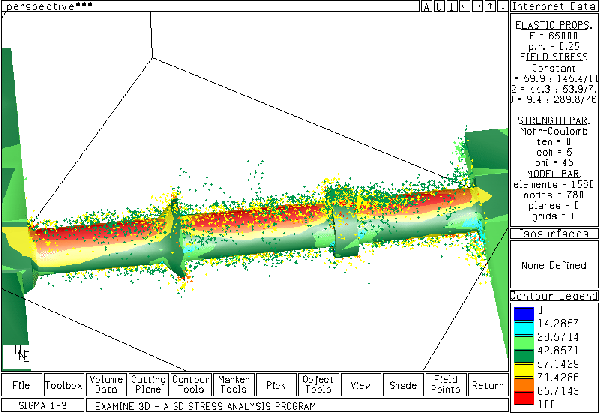 Examine3D model of the TSX showing stress differential on the tunnel surface and at microseismic event locations
RocScience Software
With the move to Toronto, the research group has cemented already strong links with Rocscience Geomechanics Software and Research based in Toronto. These links have been in place for many years and members of Professor Young's research group were involved in the development of some of the Rocscience code when Rocscience was part of the University of Toronto and Professor Young was at Queens' University in Canada. Because of this, one of the features of Examine3D, Rocscience's boundary element code, is the ability to include seismic event locations when calculating stresses around tunnels. The ASL owns and operates the following pieces of Rocscience software:
Examine3D -3D stress analysis and data visualization for underground excavations in rock (boundary element)
Phase2 -Finite element analysis and support design for excavations
Dips - Plotting, analysis and presentation of structural data using spherical projection techniques