A completed undergraduate degree equivalent to a four-year University of Toronto program with a minimum final-year grade point average (GPA) of a mid-B (3.0 out of 4.0 or 75%). Required grades must be achieved in each of the final two years of undergraduate study.
Applicants whose primary language is not English and who graduated from a university where the language of instruction and examination was not English must demonstrate proficiency in English. See General Regulations section 4.3 for requirements.
Students who do not possess an undergraduate degree in civil engineering may be required to take more than the usual time and number of courses.
| | | | |
| --- | --- | --- | --- |
| | Full-time | Extended full-time | Part-time |
| Program start | September or January | | |
| Number of courses | 5.0 full course equivalents (10 half courses) | | 5.0 full course equivalents (10 half courses) |
| Typical program duration | 3 sessions (12 months) | 6 sessions (24 months) | 9 sessions (36 months) |
| Typical course load | 4-5 courses per term | 2-3 courses per term (maximum 6 per 12 month period) | 1-2 courses per term (maximum 2 courses per term) |
Course and Program Requirements
The MEng program consists of 10 one-semester graduate-level courses (500 & 1000 series courses), 6 of which have to be from the Department of Civil & Mineral Engineering. The remaining 4 can be from outside of the Department, and two of these can be from outside of the Faculty of Applied Science of Engineering or outside of the University of Toronto. MEng students also have the option of doing a 1 or 2 term project, which counts toward your 6 Civil courses. APS courses, offered by the Faculty of Applied Science and Engineering, are counted as part of your 4 courses outside the Department.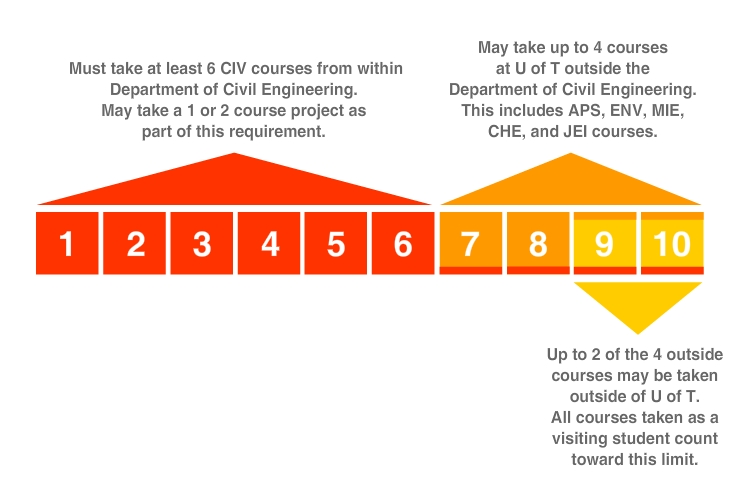 See the list of graduate courses offered by:
- Department of Civil & Mineral Engineering
- Faculty of Applied Science and Engineering.
Students enrolled in the MEng program have the flexibility to choose an optional emphasis. Students earning an emphasis would receive a corresponding notation on their academic transcript, acknowledging the depth and focus of the student's studies.
Department emphasis options:
Building Science
Concrete
Construction Management
Geomechanics
Environmental Engineering
Sustainable Urban Systems
Structural Engineering
Transportation Engineering & Planning
Faculty emphasis options:
Advanced Water Technologies & Process Design
Analytics
Engineering and Globalization
Entrepreneurship, Leadership, Innovation and Technology in Engineering (ELITE)
Forensic Engineering
See below for detailed information on each emphasis.
Fees below are for the 2017-2018 year, which includes the Fall, Winter and Spring/Summer terms. They are subject to change.  For full fees information including part-time, extended full time and non-degree studies, please see this site:   http://www.fees.utoronto.ca/sessions/2017_2018/tuition_fees/fees/sgs.htm
Domestic full time Tuition: $14,170 + $1,520 incidental/student fees
International full time Tuition: $50,780 + $1,520 incidental/student fees + health insurance
The MEng professional graduate program is a self-funded program. Learn more about funding your degree.
Customize your degree with an optional emphasis
Rules Governing Emphases
An emphasis is not a requirement for the MEng Degree.
Students must take at least six "CIV" courses (out of a total of ten) to meet the general MEng requirements. Students may double-count at most one course towards any CIV Emphasis or towards any other Faculty Emphasis.
 One or two of the six courses may be a 1-term (CIV1001H) or 2-term (CIV1002Y) project that is undertaken in the given emphasis area.
Courses must be taken as part of the Masters Degree (500-level and 1000-level courses taken as an undergraduate student do not count).
Emphases will be applied for by students at the time of program completion.