The Master of Engineering (MEng) program is a course-based graduate program, which provides continuing and advanced education for recent graduates and engineers in professional practice.
CivMin's MEng program in civil engineering provides graduate students with the tools to succeed in professional practice. The program consists of coursework and an optional project conducted under the supervision of a CivMin faculty member. Students have the option to complete the MEng program on a full-time, extended full-time or part-time basis.
MEng students can customize their degree by choosing from multiple areas of emphasis.
CivMin also offers a research-based Master of Applied Science (MASc) degree, which is the usual path to the PhD program.
Admission Requirements
Please note that meeting the minimum requirements does not guarantee admission.
Academic requirements:   an undergraduate degree, equivalent to a four year University of Toronto program, with a minimun final year GPA of: mid-B average (3.0/4.0 or 75%)
English Language Requirements:

If you have studied for at least 2 years (full-time) towards a degree program, in a country where English is the official first language (for example Canada, U.S.A, Australia or Britain) you may be exempt from the English Facility requirement.
If you have not studied in an English speaking country for more than two years of full time study, you are required to take a test. This is a departmental requirement and there are no exceptions to this rule. The Department of Civil & Mineral Engineering accepts the following English Tests:

TOEFL

580 Paper Based Test and TWE 4.0

93 Internet Based Test and 22 writing and speaking.

The TOEFL Institution Code for graduate studies at the University of Toronto is 0982-00

IELTS

7.0 (Academic Test) with at least 6.5 for each component

MELAB
COPE

76 (with at least 22 in each component and 32 in the writing component)

Academic Preparation Course, International ESL Program, University of Toronto

A final grade of B in Level 60

Please contact us if you are not sure if you have met this requirement.
Apply
The application requires that you upload the following documents:

Statement of interest
CV/resume
Scanned copies of your academic transcripts

We no longer require hard copies of transcripts to be sent to our office at the time of application.

Provide contact information for your two referees:

Referees will be contacted to upload their references directly to the website

English Language Test score, if applicable (see departmental English policy here)
Pay the Application Fee

 Your application will not be considered complete, or be reviewed, until you pay the application fee. The application fee is due by the application deadline.
Program Requirements
MEng students must successfully complete:

ten graduate (500 and 1000 level) Half Credit Equivalent (.5 HCE) courses, according to the diagram below.
Students may request transfer credit for up to two previously completed graduate level courses (grade of at least B+) that were not used for credit towards a degree. The request should be made in the student's first session. Complete the Transfer Credit request form and submit to the Student Services Office at civ.gradprograms@utoronto.ca.   Request must be accompanied by your M.Eng proposed program of study form.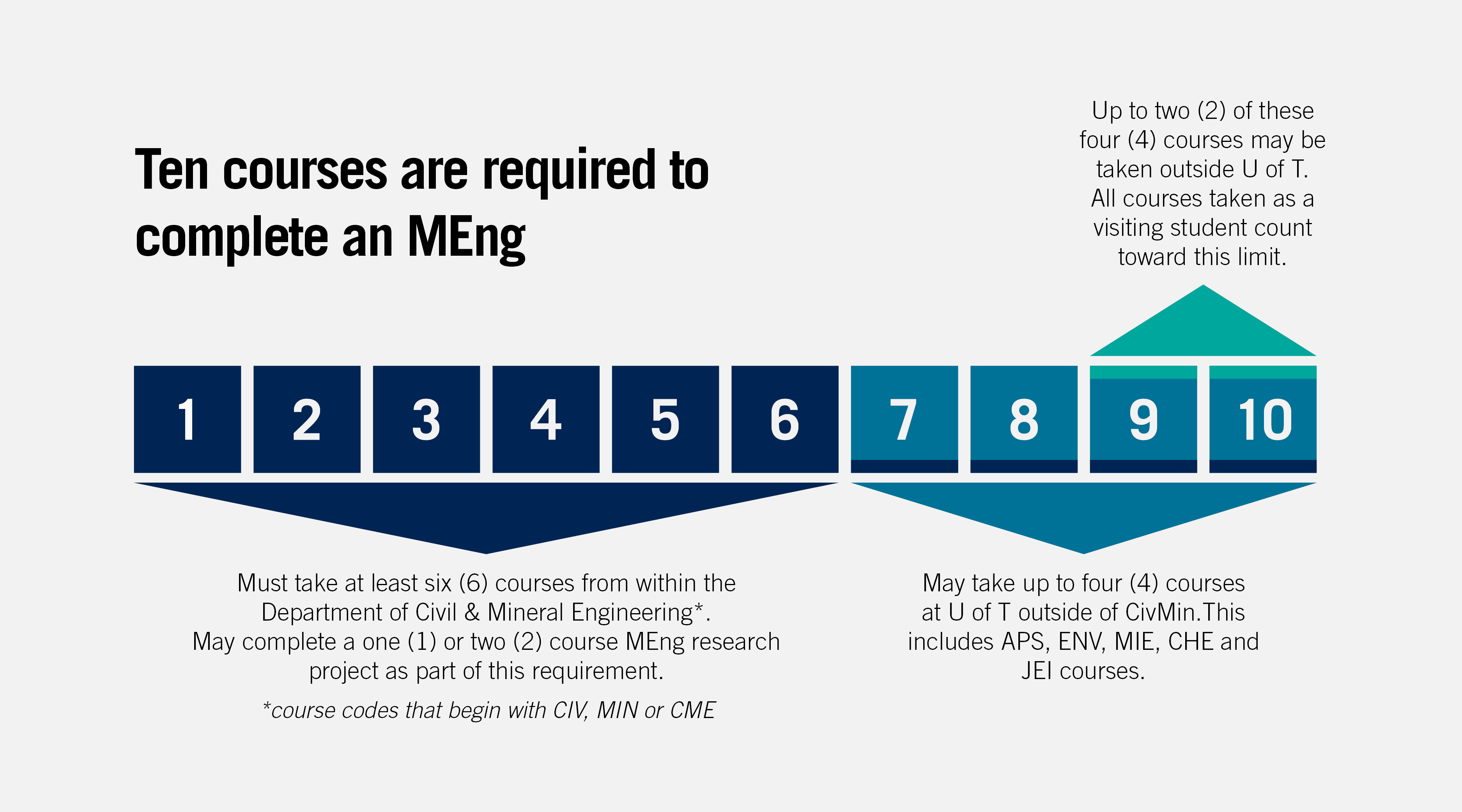 Full-time, Extended Full-time & Part-time options
Students choose whether they want to complete the MEng program on a full-time, extended full-time or part-time basis at time of application. Please note that the program length can impact the length of an international student's work visa after graduation.
Full-time
Typical Program duration: 3 sessions (12 months)
Typical course load: 4-5 courses per term
Total number of courses required: 5.0 full course equivalents (10 half courses)
Program start: September or January
Extended Full-time
Typical Program duration: 6 sessions (24 months)
Typical course load: 2-3 courses per term
Total number of courses required: 5.0 full course equivalents (10 half courses)
Program start: September or January
Part-time
Typical Program duration: 9 sessions (36 months)
Typical course load: 1-2 courses per term (maximum 2 courses per term)
Total number of courses required: 5.0 full course equivalents (10 half courses)
Program start: September or January
Tuition Fees
The information below is for reference only and is subject to change annually. Registered students should check their fee balance on their ACORN account. View the U of T Student Accounts website for more information about fees, including a breakdown of mandatory and optional fees.
Teaching Assistantships
All full-time graduate students are eligible to apply for Teaching Assistant (TA) paid positions with CivMin. TAs assist undergraduate and graduate course instructors with supervision of labs, leading tutorials and marking assignments and tests.
Apply for TA positions and view more job and volunteer opportunities on the Job Opportunities page.
MEng to MASc
Some students who begin an MEng degree may wish to further their studies with a research-based program (MASc and PhD). Students who are enrolled in the MEng degree may be eligible to transfer to the MASc program in CivMin.
To transfer, students must first find a CivMin's faculty member who will agree to be their supervisor. Students should then come to the Student Services Office to initiate the program transfer.
CivMin Grad Hub on Quercus is a central location where registered students can find relevant Departmental information and forms, and receive notifications about announcements and events.
School of Graduate Studies (SGS)
Student Information Systems
Still have questions?
Email: 
info.civmin@utoronto.ca
Phone:
416-978-3099
Admissions
Email: gradadmissions@civ.utoronto.ca
Phone: 416-946-8028
Office:
Galbraith Building, Room 116
35 St. George St.
Hours:
Monday to Friday: 10 a.m. - 5 p.m.
(Summer hours: 10 a.m. - 4:30 p.m.)
Mailing address:
Student Services Office, GB116
Department of Civil & Mineral Engineering
University of Toronto
35 St. George St.
Toronto, ON M5S 1A4
Canada