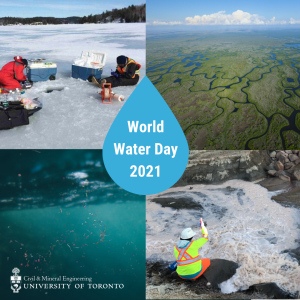 Monday, March 22 is World Water Day
– this year's theme is Valuing Water. 
To celebrate, we're highlighting the incredible research our
CivMin faculty and students are leading to preserve and value water. 
~
Prof. Jennifer Drake is a co-researcher at the Daniel's Geen Roof Innovation Testing Laboratory (GRIT Lab). She's currently working on connecting a greywater system that reuses storm water to irrigate the GRIT Lab's green roof, reducing the embedded energy and carbon.
My group specializes in green infrastructure and works on urban drainage issues. While focus the three big technologies: permeable pavement, green roofs and bioretention system.
We're getting ready to try to connect a greywater system to the Daniel's Geen Roof Innovation Testing Laboratory (GRIT Lab) to re-use stormwater for irrigation. This month we'll be tracking the water quality in the cistern before connecting the system to our green roofs in May
The work is connected to the DesignLIFES' CREATE Network. I am the lead investigator of this network which includes professors at UofT, UTSC, Ryerson University, Saint Mary's University and University of Saskatchewan. The goal of DesignLIFES is to train the next generation of living and green infrastructure professionals.
Green roofs are a great technology but require irrigation to support plant growth. Most roofs are irrigated with drinking water! By re-using stormwater, we can significantly reduce the embedded energy and carbon associated with this technology.
The Meadoway in Scarborough is a is a world-class example of innovative and forward-thinking land management. By re-introducing meadow vegetation within the Hydro corridor important ecosystem services are restored. This includes flood control, reduced urban heat island effects, urban biodiversity and, most of all, multi-functional public green space.
–
Drinking Water Research Group
The Drinking Water Research Group (Profs. Susan Andrews, Robert Andrews and Ron Hofmann) examines all aspects of drinking water. One area of research is in the removal of microplastics in drinking water as well as their occurrence in lakes and rivers.
Municipal drinking water treatment: Finding ways to address emerging contaminants and to protect the public, but more economically and effectively.
Examining treatment requirements to convert municipal wastewater directly into drinkable water. This is the wave of the future in many parts of the world. A lot of places are running out of water (e.g. Cape Town last year), so recycling the wastewater directly into drinking water is going to become more common. Technologically it's feasible, it's just very expensive, and we need to find the best and cheapest way to do it.
Investigating means to incorporate sustainable "green" technologies into drinking water treatment including the use of biological processes (biofiltration) in lieu of chemical addition.
Assessing the occurrence and removal of microplastics in drinking waters as well as their sources (lakes and rivers). A recent Toronto Star article reported, plastics in the environment are considered to be the greatest threat after global warming.
Optimizing treatment methods including the use of ultrafiltration membranes for some of the largest cities in Canada.
Prof. Ron Hofmann: A lot of small projects looking at how to best use current assets in Canadian drinking water treatment plants to be more effective and cheaper. Also, looking at how they might be able to address newly identified contaminants, such as PFAS or microplastics (this last one is Prof. Andrew's work).
My own work focuses on activated carbon (the same stuff as the black charcoal in aquariums), and on using UV light to disinfect the water and to destroy chemicals. UV is relatively recent and is very cheap and effective. I have a small project on harnessing sunlight to drive photovoltaic-based UV water treatment for remote and resource-poor parts of the world.
Prof. Susan Andrews: My research interests are somewhat eclectic, but they generally include some aspect of the chemistry of drinking water treatment processes or distribution systems. For example, we are beginning some work on some small-scale water mains to see if we can improve the way that chlorine protects the treated water as it travels from the treatment plant to our taps.
Many of the largest water providers in Ontario (Toronto, York, Peel, Durham, Peterborough, Barrie, London, Ontario Clean Water Agency)
The three professors in the DWRG (Profs. Robert Andrews, Susan Andrews and Ron Hofmann) and approximately 30 personnel (Undergraduate students, Graduate students, Post-doctoral fellows, Research assistants).
Improving drinking water quality, learning more about emerging contaminants that we should address through new regulations.
–
Ground & Surface Water
Prof. Elodie Passeport's research explores the environmental remediation of contaminated surface and groundwater, primarily working on two types of green infrastructure: Constructed wetlands and bioretention cells. Her goal is to improve the reliability of green infrastructure.
My research focuses on environmental remediation of contaminated surface- and groundwater in urban, agricultural, and industrial settings. My approach is to characterize the transfer and transformation mechanisms that govern the fate and removal of contaminants in natural and engineered aquatic environments. Human activities use thousands of chemicals that reach stormwater, wastewater, and our freshwater aquatic resources. Some of these chemicals have known impacts on human and environmental health, but many are still to be discovered or are unregulated due to lack of knowledge about their toxicity.
The goal of my research is to improve the design and implementation of remediation measures. To this end, my research seeks to evaluate the efficiency of natural attenuation in contaminated groundwater and green infrastructure. I primarily work on two types of green infrastructure: constructed wetlands and bioretention cells. In support of this goal, my research group also develops new analytical methods based on stable isotopes.
Green infrastructure is a cost-effective and energy-efficient approach to water treatment but must become more reliable before it sees widespread adoption. While in principle wetlands and bioretention cells can eliminate a significant portion of contaminants, their present-day performance is highly variable. My objective is to improve the reliability of green infrastructure by advancing our understanding of their internal processes.
There are a few exciting projects in my group on two main topics: 1) Microplastic Research and 2) Stable Isotope Analysis.
Microplastics are small plastic particles, in the 1-5000 µm range, that are widely distributed in the environment, and whose toxicological effects are mostly unknown. In collaboration with Prof. Chelsea Rochman (Ecology and Evolutionary Biology) and Prof. Jennifer Drake, our PhD student Kelsey Smyth has conducted the first comprehensive study of microplastic fate in bioretention cells. This two-year long field work showed an 84% decrease in median microplastic concentration between the inlet and outlet of a bioretention cell. Her work showed that atmospheric deposition was a significant source of microplastics – especially microfibers – in urban stormwater, and urban stormwater was a significant pathway of microplastics to downstream aquatic ecosystems. Green stormwater infiltration systems like bioretention cells have great potential to limit this pollution.
Future research will evaluate if existing total suspended solids models can be used to characterize the fate and removal of microplastics in bioretention cells to better understand if accumulation in the cell is a significant issue.
Compound Specific Isotope Analysis (CSIA) is now an accepted diagnostic tool for identifying and quantifying the transformation of traditional contaminants, e.g., toluene and chlorobenzenes, in groundwater. My group is developing new analytical methods for stable isotope analysis of non-traditional contaminants (e.g., trace organic contaminants). We are also developing new applications of CSIA in less explored environments such as surface water.
Langping Wu, a postdoctoral fellow in my group is investigating the reaction mechanisms that govern the aqueous phototransformation of benzotriazole, a corrosion-inhibitor present in urban stormwater and wastewaters. Using stable carbon, hydrogen, and nitrogen isotope analysis, we found a pH-dependence of benzotriazole direct photolysis which can be explained by a complex contribution of different reaction mechanisms. With PhD student Suchana Shamsunnahar, we have developed a novel method for CSIA of NO2– and NH2-substituded chlorobenzenes. These are common groundwater contaminants that raised significant concern for human and ecosystem health. We are working on a complex highly contaminated industrial site in Brazil with multiple academic and private partners and have proposed a novel method based on passive integrative samplers to conduct CSIA down to very low concentrations.
Altogether, these results demonstrate the potential to use CSIA as a diagnostic tool to monitor contamination and remediation in the field.
Cleaning up water using passive remediation solutions (green infrastructure such as bioretention cells, constructed wetlands) and developing new diagnostic tools to monitor remediation.
–
Warren Lab
Mining, Water and Environment
Prof. Lesley Warren's research examines the largely unexplored bacteria present in mine wastes and impacted waters to generate innovative new technologies that will enhance the environmental practices of the mining industry.
The Mining Wastewater Solutions (MWS) Project is developing better tools for reactive sulfur compounds management. Funding for this project come from our mining partners and  Genome Canada and  Ontario Research Fund – Research Excellence (ORF-RE).
My group is also leading a project to constrain sulfur risks to oxygen levels in Syncrude Canada's first pilot wet reclamation project, Base Mine Lake (BML). Funding for this project comes from Syncrude Canada and NSERC.
For the MWS project, we are working with Glencore Sudbury INO, Hudbay Minerals, Rambler Metals and Mining, Ecoreg Solutions and Ecometrix Consulting Companies.
For the BML project, we are working with Syncrude Canada and COSIA.
I am the Principal Investigator on both projects (both international).
For the MWS project there are three professors from three institutions, three research scientists, one field researcher, 10 students, four post-doctoral fellows and two research assistants involved. 
For the BML project there are three professors from three institutions, one field researcher, 12 students and three post-doctoral fellow involved with the project.
Mining requires huge amounts of water to extract valuable commodities and generates massive amounts of wastewater that must be cleaned according to strict environmental standards before being discharged.  This wastewater also provides an ideal habitat for microbes, and studying these can help reduce wastewater treatment costs and the environmental footprint of the mining industry.
My research focuses on identifying the microbes that occur in these contexts and how they drive changes in water quality or waste stability. These new discoveries  are leading to new models and tools that tackle the underlying root causes of potential risks to the environment.
Read More