The U of T Survey Camp is located on the northern shore of Gull Lake near Minden, Ontario. In operation since 1920, the facility is used to train undergraduate Civil and Mineral Engineering students in the art and science of land surveying and engineering project management.  CIV201H1 - Introduction to Civil Engineering, also uses this unique facility.
At Survey Camp, students obtain extensive hands-on experience in the use of land surveying instruments and in the essentials of survey practice. Measurements of distances and angles, survey calculations, sources of error, and corrections and adjustments are introduced. Application exercises include route surveys, topographic mapping, and construction surveying. Concepts of higher order survey techniques and global positioning systems are reviewed and illustrated. Students attend Survey Camp split into two week camps prior to the start of Third Year Fall Session.
Description:
Camp I 2019: August 4 - August 17
Camp II 2019: August 18 - August 31
Contact shayni@civ.utoronto.ca for more details.
Exclusion:
CIV358H1
Further Information:
Frequently Asked Questions
The following is a list of some of the frequently asked questions pertaining to Survey Camp.
Is there internet connection for students who need to access ROSI?
Although there is no internet access available at the Camp itself, there is access available in Minden which is approximately 7 kilometres from the Camp.  The local library only provides Internet access for members (residents of Haliburton) but the County Office on Newcastle Street has Internet access available to anyone who walks in.[/expand]
Is there electricity?
While rustic, the camp does indeed have electricity in all buildings.
If I have special dietary requests do you accommodate these?
Special requests may be accommodated within reason.  We generally try to provide a varied diet with some sort of vegetarian entree at each meal which should cover most cases.  This is usually prearranged with the cooking staff.
Can I bring my own food?
For sanitary and health reasons, the only food allowed is prepackaged store bought items.  No home made food is allowed.
Is there a telephone I can use or if not are cell phones allowed?
There is a pay phone available at the Camp and cell phones are permitted.  As at the downtown campus, they should be turned off or set to vibrate mode during classes.
What if I can't find someone to carpool up to the camp?  Is a bus provided?
A bus is not provided by the Department, but Greyhound Canada does run a bus to Minden. Note that you must plan your arrival time in Minden to ensure that you do not miss the introductory briefing.  Students are strongly encouraged to carpool.
How important is it to have a tetanus shot?
This question relates to more than just Survey Camp.  As a general rule you should ALWAYS ensure that your tetanus protection is up to date.  If you cannot remember the last time you had a tetanus shot then it is likely time for another.  Student Health Services in the Koffler Building provides free tetanus shots to all registered students.
Are we expected to be at camp for the whole two weeks?
The instructional program runs for the entire two weeks with the exception of the second Tuesday.  Students are allowed to leave the camp after 5:30 p.m. on the night before and must return prior to the start of classes on Wednesday (8:30 a.m.).  The majority of students actually stay the entire two weeks as they find being at a facility in prime cottage country in the middle of August to be quite enjoyable.
Is there a textbook for this course?
There is no specific textbook for the course. Students are given a set of notes at the beginning of the camp containing a summary of information regarding surveying (available here).  These notes, in conjunction with supplementary information presented by the instructors, provide sufficient reference material for the course.
The University's Gull Lake property is a valuable, historic and sensitive area that has been enjoyed by students for over 90 years, and that needs to be respected and protected for the enjoyment of future students. To ensure this, the following rules must be followed.
The first set of rules are critical and will be strictly enforced. Any person contravening them may be evicted from the property. In such cases, there will be no rebate of any fees paid and the matter may be pursued under the University's Non-academic Code of Student Conduct.
Fire safety is extremely important. Do not throw cigarette butts onto the ground ANYWHERE. ALWAYS have a pail of water to douse the fire at the fire pit. Do not play with the fire extinguishers, fire hoses, etc.
Smoking is only allowed in the designated smoking area outside the kitchen, by the manhole covers. Do not throw your butts onto the ground.
Rowdy behaviour will not be tolerated. Students causing damage will be required to pay for repairs. Graffiti is not permitted.
No spray paints or other similar marking items are to be used unless as instructed by staff.
No person is allowed to be in the water without a swimming buddy. This buddy must be in close proximity and fully aware of the water activity.
NO diving from the dock.
If anyone is planning to swim in water more than 5 feet deep, they must notify one of the camp instructors in advance.
Four long blasts of any sounding device means CLEAR THE WATER IMMEDIATELY.
Canoes may only be used if equipment (safety devices, paddles, etc.) is signed in/out with a staff member.* (Canoes may not be used during CIV201 since there is no time for a safety briefing.)
No outdoor equipment, e.g. chain saws, axes, etc., are allowed other than those provided at the camp, and such equipment may only be used with permission of staff.
Consuming alcohol in excess in not permitted at any time. Alcohol may be consumed in moderation after 5:30 pm in the residences and in the gazebo and the deck overlooking the lake. No one shall possess any alcoholic drink on the dock, in the Schoolhouse or in the Cookhouse. Any violation of the University of Toronto's Alcohol Policy will not be tolerated. Other forms of substance abuse will be dealt with in a manner consistent with the Alcohol Policy.
Glass beverage containers are not allowed anywhere outside.
The following rules set out additional common sense expectations of behaviour. Any contravention of these rules may result in lost privileges at the camp and/or a requirement to remedy the situation. If sufficiently serious, the breaking of a rule may also result in the person contravening them being evicted from the property. In such cases, there will be no rebate of any fees paid and the matter may be pursued under the University's Non-academic Code of Student Conduct.
All vehicles are to be registered with camp staff. The make, model and license plate number are to be provided.*
Parking is allowed only in the designated lot. Do not drive off of the roads or to the exercise sites.*
Students leaving the property for any reason must sign out and then back in using an attendance sheet that is posted near the pay phone shelter.*
Attendance at organized activities (briefings, lectures, field work and field tours, etc.) is mandatory. Students are to show up on time; late students may not be allowed to participate.
No survey equipment is to be used other than that provided at camp.*
The Dining Hall is to be used during meal times only.
No cups, plates, utensils, trays or other things may be taken out of the Dining Hall unless specifically allowed.
Quiet Time starts at 11:00 pm. Since sound travels easily across the lake disturbing neighbours, excessive noise at any time will not be tolerated.
Keep camp neat and tidy. Return borrowed items, such as chairs and canoes, to their proper location. Do not leave bottles and cans in the field or by the lake. Do not litter; pick up any litter you may find.
No one is permitted to cut or otherwise damage any living tree without the express permission of a course instructor.
All cell phones are to be kept in the dorms – cell phones may only be used during meal breaks and after evening briefings.
Sleeping must be in the designated dorm areas only. Tents and other alternative sleeping arrangements are not permitted.
When entering any of the dormitory areas, be respectful. Do not enter the dormitory areas of others after dark.
Additional and detailed rules are available in the course workbook, which will be available online for students on July 15. A hard copy of the workbook will be provided to you at camp.*
* Only relevant for CME358H1 - Survey CAMP, and not CIV201H1 - Introduction to Civil Engineering.
Students are divided into groups of 3 and carry out the following projects:
2nd Order work and GPS - to see how project coordinates are related to a world-wide positioning scheme
Control traverse and topographic map - to densify regional networks for local project purposes, and
Construction surveys - relevant to creation of the structure of interest (roads, buildings etc.).
Students must submit field notes and final reports for each project. The following provides more detail, and compare today's exercises with those from the 1930's.
"(a) Secondary Triangulation and Baseline Measurements.
This work is carried out on the shores of the lake where permanent monuments and towers have been constructed and tied in with the Geodetic Survey of Canada…"
These same monuments, about 1-1.6 km apart, are still used as part of the 2nd Order angle exercise carried out with 1" theodolites. Students also learn precise leveling techniques on circuits of about 0.5 km length.
The traditional techniques for horizontal and vertical precise control measurements are complemented by more modern Global Positioning System (GPS) methods and consideration of the Universal Transverse Mercator (UTM) system of global coordinates.
"(b)/(g) Stadia, Plane Table and Boundary Line Traverses/Topography.
This work involves the careful measurement of lines and angles…connecting known points at considerable distance apart… With the hills rising 200 feet above the lake level at the camp itself and with the partially cleared ground, various sections are selected and topography taken…"
Using modern instruments including opto-electronic total stations with Electronic Distance Measurement (EDM), students today are able to complete generations-old traverses and topographic mapping areas to higher order precision in less time.
The students appreciate the efficiency with which they are able to generate a satisfying mapping result. In addition, the ruggedness of the terrain and their surveying experience in it heightens their awareness of the significant contribution made by their forebears who met equal challenges with considerably less sophisticated tools.
"(c)/(d) Highway and Railroad Location/Cross-Sectioning and Computation of Earthwork.
…a railroad line from 1 to 2 miles in length is staked out after a preliminary survey… from a line laid out with fixed grades and after the field work is finished, the computation is worked out and a drawing of cross sections made with the area of cross sections shown and a tabulation of quantities of earthwork…"
Although today's construction exercise focuses on highways rather than railroads, the principles of route survey remain essentially the same. Students use optical theodolites and practice precise taping techniques. They also prepare drawings and carry out the calculations which form the basis of more sophisticated automatic computational packages. This provides students the fundamental and practical bases required to undertake industry-standard field and computational practices.
Camp Landmarks and Buildings Guide
Gull Lake Survey Camp is located at the northern end of Gull Lake near Minden, Ontario. Maps showing a detailed view of the Gull Lake Vicinity are available. The following map is a more detailed view of the camp area showing the locations of the monuments used for the surveying exercises. Some of the more significant buildings and locations of interest are labelled and numbered. Clicking on the corresponding link below the camp map will show you a view of the building or location of interest.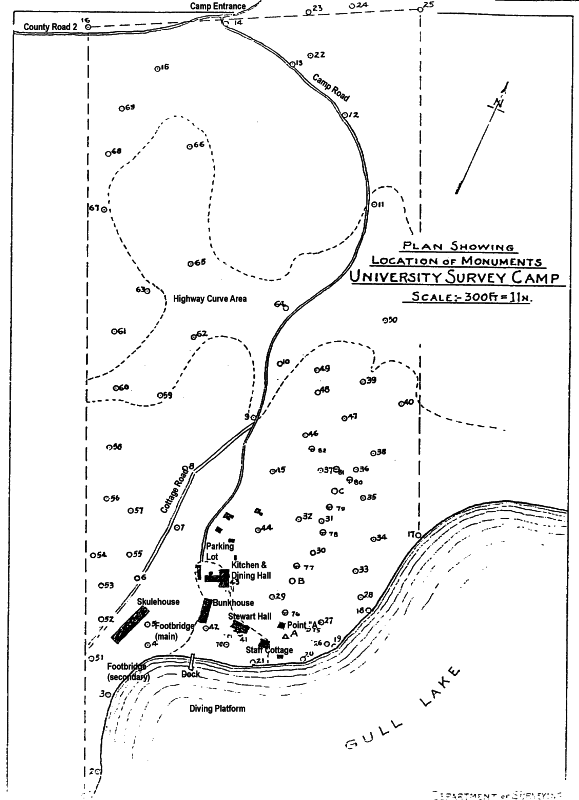 County Road 2: There are two ways you can get to the camp driving north on highway 35. The first is to continue on the highway until you get to Minden and then drive through Minden and go south on County Road 2 to the camp. The second is to turn onto County Road 2 just before Moore's Falls and then drive north to the camp. This is generally the shorter route but the road is more "twisty". The drive along highway 35 is also designated a scenic route and so may be of more interest.
Entrance Sign: The entrance sign is a project of the class of 9T8, replacing a much smaller and difficult to see sign (which often resulted in people missing the Survey Camp Road turnoff). It is pretty hard to miss the current sign.
Camp Road: The Camp Road was nicely regraded several years ago by the University's Facilities and Services Department. Prior to that, it was somewhat muddy and treacherous when the spring camps were held.
Highway Curve Area: This is the area where one of the three main projects, the "Construction Layout Exercise" is held. Students do all of the required measurements and calculations in preparation for the construction of a two lane rural road.
Camp Parking Lot: Main parking area of the Survey Camp. In general vehicles are parked here at the start of camp and do not generally move during Camp. Vehicles are not allowed to drive to the work areas.
Kitchen / Dining Hall: This is where all of the meals will be prepared and served. The service is cafeteria style, with both a hot & a cold serving area. Seating is on picnic tables and students are required to scrape their plates at the end of the meal and bring trays & dishes to a common area for cleaning.
Bunkhouse: The original accommodation at camp. Quite "rustic" inside and restricted to male students.
Stewart Hall: Renovated in 1992, this dormitory has one wing for male students and one for female students.
Staff Cottage: Original since the 1920's. Here is another view from Point A. The staff cottage also has a wonderful view of Gull Lake.
Skulehouse: Built in the 1940's to accommodate the influx of students from the Second world war. Now used as the main teaching facility, with one lecture and two tutorial/drafting rooms and an equipment dispensing area.
Footbridge (main): The main upper crossing over the stream separating the living/eating areas from the Skulehouse.
Footbridge (lower): A lower crossing of the stream, nearer to Gull Lake, contributed by the class of 9T6.
Dock: Contributed by the class of 9T9, the dock is a focal area of recreation and also the origin of boat trips to remote measurement points. Another view...
Diving Platform: Contributed by the class of 0T4, the diving platform has become a gathering point for students who wish to enjoy their leisure time while at camp.
Point "A": A significant measurement point in the triangulation network on Gull Lake. Great view too...
Cottage Road: Branching off from the Camp Road north of the parking lot, the Cottage Road leads to several private cottages on the western side of the lake. The road crosses University property and several monuments are included along it.
9T4: Fall 1992
9T5: Fall 1993
9T6: Spring 1994, Fall 1994
9T7: N/A
9T8: Fall 1996
9T9: Spring 1997, Fall 1997
0T0: Spring 1998, Fall 1998
0T1: Spring 1999, Fall 1999
0T2: Fall 2000
0T3: Spring 2001, Fall 2001
0T4: Spring 2002, Fall 2002
0T5: Spring 2003, Fall 2003
0T6: Camp 1 - 2004, Camp 2 - 2004
0T7: Camp 1 - 2005, Camp 2 - 2005
0T8: Camp 1 - 2006, Camp 2 - 2006
0T9: Camp 1 - 2007, Camp 2 - 2007
1T0: Camp 1 - 2008, Camp 2 - 2008
1T1: Camp 1 - 2009, Camp 2 - 2009
1T2: Camp 1 - 2010, Camp 2 - 2010
1T4: Camp 1 - 2012
Other Photos
Fall 2002: Photos from Prof. E.C. Bentz
Learn about basic canoeing through this short video. Although the video is old, it has expert canoeist demonstrating proper techniques.