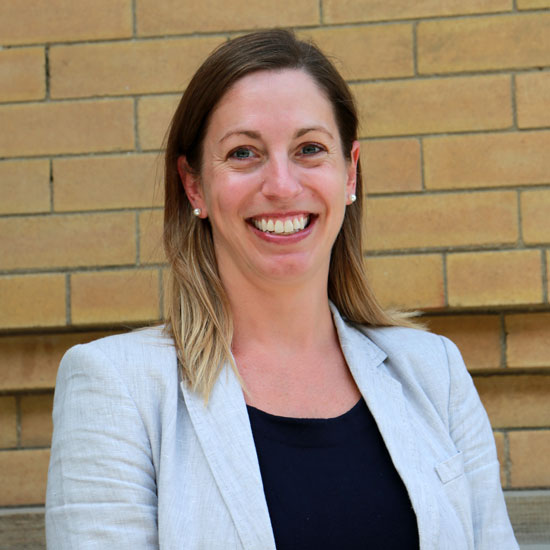 CivMin's Professor Marianne Touchie is among 14 U of T Engineering faculty members and staff honoured for their outstanding contributions to the Faculty with teaching, research and administrative staff awards. These awards recognize exceptional faculty and staff members for their leadership, citizenship, innovation and contributions to the Faculty's teaching, service and research missions.
"As we navigate our way through — and out of — the pandemic and toward an uncharted future, our innovative engineering faculty and staff continue to meet and overcome each and every challenge we face. They are setting a world-class standard across our research, teaching and administrative operations," says Dean Christopher Yip. "On behalf of the Faculty, I extend my warmest congratulations to the awardees and my heartfelt thanks to all our faculty and staff members for their hard work, resilience, creativity,  tenacity and dedication."
Prof. Touchie receives two awards: The McCharles Prize for Early Career Research Distinction and the Early Career Teaching Award. Award descriptions follow below in this excerpt from the full article with all award winners.
---
Marianne Touchie (CivMin, MIE)
McCharles Prize for Early Career Research Distinction
Recognizing exceptional performance and distinction in early career research.
Marianne Touchie obtained her PhD in Civil Engineering at U of T in 2014. She was a Building Research Manager at the Toronto Atmospheric Fund before returning to U of T as a postdoctoral fellow, then joining the faculty in 2016.
Touchie's research is focused on performance assessment and retrofit development for multi-unit residential buildings. Specifically, she is developing strategies for reducing building energy use while improving the quality of the indoor environment for occupants. Touchie has taken an interdisciplinary approach to this work, collaborating with researchers in architecture, public health and urban planning, as well as a large network of industry and government partners. Touchie's research has already impacted policies and practices related to building energy use by organizations such as Toronto City Council, Toronto Community Housing and Toronto Hydro.
In 2018, she garnered The American Society of Heating, Refrigerating and Air-Conditioning Engineers' New Investigator Award, given out to only one recipient per year globally. She received the Ontario Building Envelope Council's Rising Star Award in 2021.
---
Marianne Touchie (CivMin, MIE)
Early Career Teaching Award
Recognizing an early career educator who has demonstrated exceptional classroom instruction and teaching methods.
Jointly appointed to CivMin and MIE, Marianne Touchie has made outstanding teaching contributions in both departments.
For MIE, Touchie redeveloped and teaches MIE507:HVAC Fundamentals, a course MIE has rarely been able to offer due to lack of expertise. In 2020 she added new field trip and lab components to this course, which she redesigned as virtual experiences during the pandemic. Despite this being a difficult and technical course, she has garnered outstanding student evaluations. For her CivMin Building Sciences course, Touchie created a unique campus walking tour to demonstrate issues that affect aging buildings.
In all her courses, she brings her award-winning research into the classroom, seeks out and implements student feedback and works to develop a sense of community — for example, by providing a forum for students to share music and recipes. As a PhD student in CivMin, Touchie worked with Kim Pressnail to develop and teach Building Science courses, which are still offered by the School of Continuing Studies. More recently, they co-created more than 100 online videos on building science for an eCampusOntario project
By Carolyn Farrell
The full story originally published by Engineering News.