" I would say it was one of the most fun weekends of my life."
– Team Captain Camilo Dugand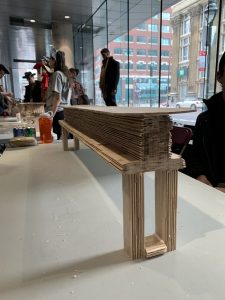 A team of civil engineering students from the University of Toronto has won the 2020 Troitsky Bridge Building Competition. It is the first win for a U of T team since initiating entries four years ago.
Held annually at Concordia University in Montreal since 1984, this year's event held over the February 29-March 1 weekend attracted 34 teams from 12 Canadian universities. U of T fielded five teams, with each constructing a bridge model made of only popsicle sticks, glue and floss. Testing was performed of each entry's strength using a hydraulic press with the winning U of T entry withstanding 1.424 tonnes.
The victors, calling their team The Fellowship of the Bridge, was inspired by the Lord of the Rings movie "The Fellowship of the Ring" and the Bridge of Khazad-dûm, which Gandalf crushed in the movie.
The second-year civil engineering students Camilo Dugand (Captain), Aidan Ashton, Kent Straky, Naomi Tian, Sydney Ng and Fahd Mohammed came up with a design of a simply supported beam with an inverted T cross-section.
Besides the ability to take a load, scoring for the event is also based upon structural efficiency (maximum load divided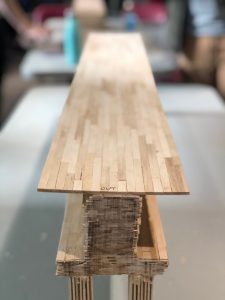 by the bridge weight), presentation score (to a panel of industry professionals and faculty) and team spirit. It was the load testing, however, that led to the team's success, with Mohammed summing up with "I never felt that we were truly challenging for first place until crushing, when we saw our bridge hold the highest amount till that point."
Beating out historical favourite, McMaster University (winners 2016-2018), Ashton recalls "I still kind of have to pinch myself when I think about it."
Ng remarked, " When we heard them call our team name it felt surreal, we all jumped up and immediately ran to hug each other, we were all beaming (haha PUN)  for the rest of the night."
Tian echos the sentiment, "It was really satisfying to see our bridge hold up so much weight and to know our hard work paid off. If you're into structural design and analysis, the construction process, and project management, this club provides all those experiences."
Team captain Dugand made an offer to those interested in next year's competition, "If you're an engineering student with passion for structural design and looking for a really fun time with friends, as well as making new friend, in Montreal you should join Troitsky."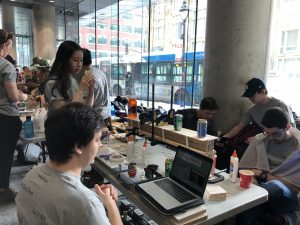 Follow the Troitsky U of T adventures on Instagram.
To learn more about the competition, please visit the website at troitsky.ca
By Phill Snel