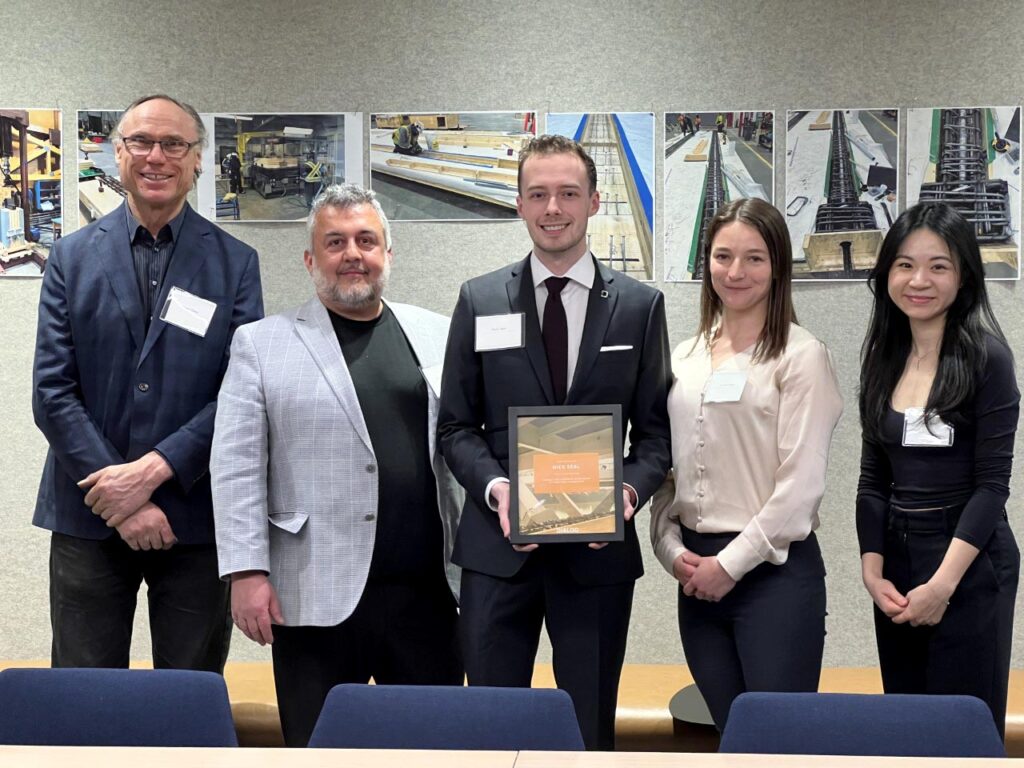 CivMin's Nick Seal (CivE MASc candidate) has won the Donald Tong Graduate Scholarship in Structural Engineering from Dialog. The annual award was presented by company partner Daria Kachi and EIT Jordyn Kent (CivE PhD 2T0) at a ceremony in the company's downtown Toronto office on Monday, April 10.
"I'm really grateful for the recognition with this award, but also the idea that we can all contribute together to make the building environment, and the built environment, a better place," expresses Seal. "It is really, really important. And Dialog embodies that spirit, as does Donald Tong. The idea of collaborating, and that the built environment can and should be better than it is, is a really inspiring thing we can all work together to achieve."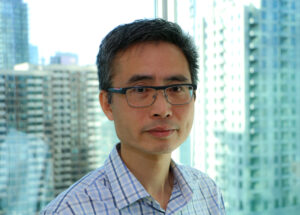 Seal is pursing a thesis, titled Development and Validation of MDOF Hybrid Simulation using a Small-Scale Adjustable Multidirectional Loading Module, under the co-supervision of Prof. Constantin Christopoulos and Prof. Oh-Sung Kwon. His work is directly involved with the code for the new adjustable multi-dimensional (AMD) loading system will soon be added to CivMin's Structural Testing Facility (STF) in the Galbraith Building. 
"My favourite part of being at U of T is the people in the office I get to work with," he says. "With Pedram [Mortazavi], Marawan [Zaki], Mohamed [Sayed], Henri [Monette] and Luis [Ardila Bothia], it's really nice to be able to work with them and ask them questions when I don't know the answer to things." Candidly, Seal admits to pursuing his shawarma cravings at a spot nearest to Galbraith Building, "I head for the green food truck!"
The award is named for Dialog's long-time structural team member Donald Tong, who tragically passed away in 2018 after a courageous battle with cancer. In an online description, Dialog provides insight into the motivation for the award: Donald epitomized the integrated design culture at the heart of DIALOG. He started his career as an interior designer, followed by a stint as an architectural technologist, before he found his passion in structural engineering. It is our hope that future structural engineers will embody Donald's creative, wide-ranging design spirit.
Jane Tong, Donald's daughter also present for the event, is continuing the family legacy of engineering as a career.
By Phill Snel