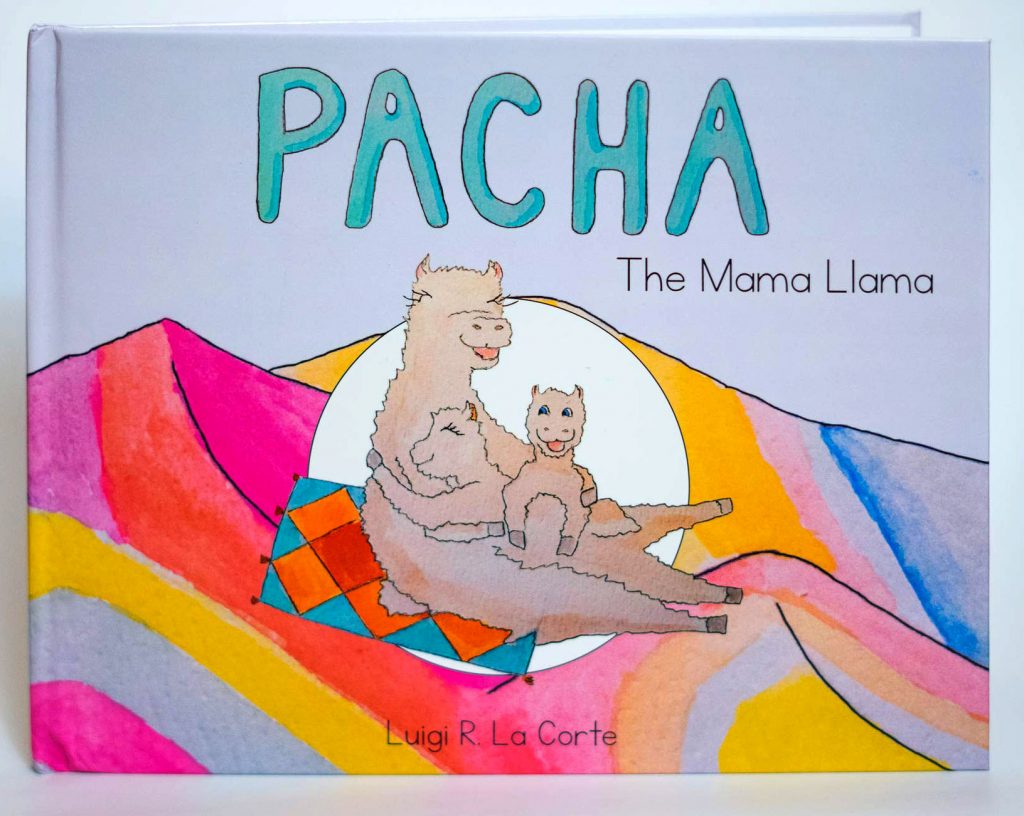 Luigi La Corte (CivE 1T4 + PEY), writer and illustrator of the children's book Pacha The Mama Llama, used inspiration from his own life to share an inspiring story of a mother seeking a new and better life for her children.
He has partnered with the YWCA, a charity dedicated to helping disadvantaged women and girls in the Toronto area, with 50% of the net proceeds will be donated for every book sold.  
What's your book about?
The book follows a llama named Pacha, a single mother of two, as she migrates from a barren hill in Peru to Machu Picchu to better provide for her kids. She journey's through jungles and rough terrain to give her kids a better life than she was given. In that way, it's really a story about immigration and how wanting a better life is human, transcending race and culture. Even with these undertones, I like to think that for most it's just a playful story about cute llamas travelling through Peru and having fun along the way, because it is.
What inspired you to write this story?
My grandmother is the ultimate inspiration behind the book. She immigrated to canada when she was in her early twenties. She raised my mom and uncle effectively by herself. She's Pacha in this story. I wanted to emphasize that the love of providing for your family is a powerful moving force, because I've learned to understand the sacrifices my grandmother made in order to establish a life here.
Have you had the urge to publish this story for a long time?
I've been wanting to publish for a while, but it's always been on the back burner. Mostly because I've tried (and failed) to start other companies while writing this. Which takes time!
You illustrated the book as well. What came first, the pictures or the words?
The words came first. I wrote the story on a flight to San Diego for work. It took me about 2 hours to write and then about 2 years to perfect. I just couldn't stop tinkering with it.I illustrated the book last.
Have you been drawing for a long time?
I'm not a good drawer, so whatever you see there is really the extent of my artistic ability. I've been drawing since I was a kid but I was just happy to finish.
Please tell us a little about yourself.
I'm a 1T4+PEY Civil Engineering grad. I work in private equity at a firm called Plenary Americas, which invest principally in infrastructure. I've been there ever since graduation. I also like to try and start businesses on the side. A former classmate and I won some seed funding from MaRS in 2016 but it didn't end up working out. I also like photography and writing. I'm almost done a second book.
As a U of T graduate of Civil Engineering, is there anything you'd like to share with current undergraduate students?
Pursue your hobbies and interests. Not only do they become part of who you are, they could create opportunities as well.
Is there something we'd be surprised to learn about you? Another surprise talent?
I think the fact that I wrote a children's book is surprising enough!
This might make a nice Mother's Day gift. Where can people buy this book?
Yes, thank you! You can buy it on Amazon, here.
By Phill Snel