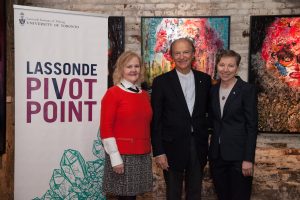 Above: Professor Lesley Warren (Director, Lassonde Institute), Dr. Pierre Lassonde and Speaker Zita Cobb pose at the Lassonde Institute's 2nd Pivot Point Event.
What does it take to pivot an industry? What does it take to change minds and spark creative conversations for transformation? It starts with gathering the community, all perspectives; from industry, government, academic, NGO's and other community leaders for a collaborative moment to discuss where we can go next.
The Department of Civil and Mineral Engineering's Lassonde Institute is creating that moment for the entire mining community, here in Toronto and this fall in Vancouver. The Lassonde Pivot Point Event Series is a forum for exchanging breakthrough ideas. Uniting experts and industry, and crossing traditional boundaries, the Lassonde Pivot Point's catalytic action powers exceptional thought leadership to advance the Canadian mining community's resilience on a global scale.
We know we are in the midst of significant disruption across a number of aspects for the mining industry and in a recent project with Monitor Deloitte, the Lassonde Institute looked at a number of challenges including:
Regulatory – increasing demands from government through taxation, transparency expectations, focus on economic development; uncertain royalty regimes; political instability;
Social – evolving and expanding stakeholder relationships, changing social contracts; delivering on social impact and integrated social responsibility;
Environmental – reducing energy consumption and freshwater needs, cleaner energy sources such as renewables, increasing transparent reporting and meeting expectations;
Technology – automation; AI and machine learning; new hauling technologies; blockchain advancements;
Talent – new required digital and technological skills; retraining and upskilling the current workforce and the creation of new career paths; redesigning the workplace for machine-human collaborations.
Tackling the new disruptive challenges set to pivot the mining industry, our upcoming national events, will pose provocative questions to spark conversations for real-world impact.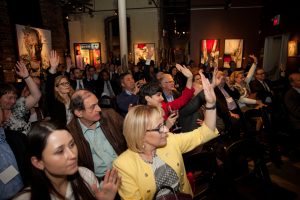 The Lassonde Pivot Point Event Series, launched in October 2017, builds upon previous thought leadership talk events with Rob McEwen (2017), Jennifer Maki (2016) and Bob Rae (2016).
Our first Pivot Point event, presided over by Pierre Lassonde as Master of Ceremonies, welcomed over 90 invited guests in The Toronto Club's grand ballroom to hear George Hemingway, Partner and Head of Innovation Practice at Stratalis Consulting based in New York City.
Hemingway's keynote entitled "Unstoppable Force. Immovable Objects." challenged guests to rethink the definition of mining and with that the entire industry make-up.
Positing an 'Unstoppable Force' bearing down on the mining industry is change itself, Hemingway aptly stated: "The miners of the tomorrow will not resemble the miners of today. New competitors may emerge from the most unlikely of places and bring with them new rules for mining business success. Will the hottest tech start-up or an Internet behemoth be poised to take over the industry or will their mere presence redefine how it means to operate?"
Hemingway challenged the Pivot Point attendees to not become the 'Immovable Objects' themselves using foresight (a wide lens to view today's and tomorrow's landscape), flexibility (the ability to adapt and innovate) and focus (without being distracted and deterred by the unexpected) to overcome a world in which all of us must be prepared to pivot.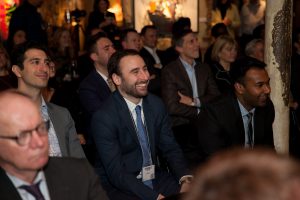 In April 2018, the Institute's second Lassonde Pivot Point took place in Toronto's historic Distillery District at the Thompson Art Gallery. A place of Canadian culture and innovative design, over 120 attendees from industry and academia gathered to hear a titan of disruptive entrepreneurship, Fogo Island's Zita Cobb deliberating the mining industry's "Most Unexpected Resource: Community".
Challenging the way that industry solves problems, Cobb stressed the importance of identifying problems in community and finding solutions through community. In isolation, industry cannot build a resilient mining industry if stakeholders in and beyond the traditionally defined mining industry do not work together. For sustainable success, Cobb argued that an interconnected, collaborative network comprehensively representing all ideas, expertise, experiences and perspectives is the only way forward for real-world mining transformation.
Check out lassondeinstitute.utoronto.ca for more information and to request an invitation for our upcoming events.