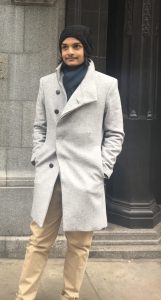 Tell us about yourself:
I'm a second year MEng student in Civil Engineering with my focus in building science. I'm an international student from India and I moved to Toronto last year.
Do you have any hobbies?
I really like playing basketball and I took a bartending course at a school in the Distillery District. I've really been enjoying the new skill, especially during the lockdown.
What are some of your goals for this year, either personal or as President?
As the president of the CivMin Graduate Student's Association (GSA) my goal is to have our Industry Night run as effectively as possible. The main goal of the event is to get students in touch with industry professionals, and get that initial conversation going before formal interviews start. To have that event in an online platform presents some challenges so my goal is for the event to go as smoothly as possible.
My personal goal is to get my LEED Green Associate Certification.
How did you get involved with the GSA?
I got involved with the GSA because I'm an international student and, when I came to Toronto, I didn't really know anyone. My primary goal in getting involved with the association was to get to know as many people as possible. The first event organized was a Halloween pub night and it was a really nice way to get to know people. I was there to help with the organization and even at the end of the night, after cleanup, all the organizers sat down and had a really nice night together. As I mentioned, my main goal was to get to know as many people as possible and getting involved with the association was the best way to do it, in my experience.
Tell us about the GSA, what does it do?
The GSA has two main goals – first, to represent CivMin grad students in as many committees as we can; secondly, is to enhance student experience for our graduate students. We do that with two types of events, social events and professional development events.
What kind of events are the GSA doing?
For our social events, this year we have virtual coffee breaks every other week and we also have an ongoing challenge. The aim of the challenge is to get people out of their desks and into fresh air. We know for grad students, it's really difficult to find time to get out of your desk while everything is online. The first November challenge was to encourage students to go out for a walk or run and try to rack up five km and submit their distance. We got 12 people participating in that challenge and all of us combined achieved a total distance of 650 km. For December, we are doing a holiday themed challenge. We are asking people to go out and hug a snow man or build a snow man and submit a photo. And if you are in a place where there is no snow we encourage students to get creative- draw a snowman or hug a cardboard cut-out.
Now that everything is virtual how have you adapted your events? Any challenges?
I would say the participation has been low compared to last year especially with events like coffee breaks. We used to have coffee breaks in the grad lounge and everyone would come out from their offices or labs and come out for a coffee for half an hour. But using an online platform, it's harder to get the same attendance. We are encouraging people to show up by giving out prizes and raffles, but we are still working on it. However, in other social events we do see a lot of participation, like in our outdoor challenges.
We also have a mentorship program going on and we will have a lunch at the end of year, but this program has worked really well for us in an online platform. We were able to match up 20 mentors with their mentees. We took some notes from the chem department because they have been running their mentorship program for years. This was our first year, but we've already seen a lot of success in doing it. We've had requests to do another mentorship program in the winter semester but because this was our first year, we are unable to offer the program in the winter. In the 2021/2021 academic year we will try to incorporate the mentorship program into both fall and winter semesters.
What are some of your most memorable moments of the GSA?
My most memorable time was the first GSA event I went to, the Halloween pub night. It was for all the engineering departments, so I got to meet a lot of people. It was really fun and we had a cool costume contest. I would say last year's Halloween event was the most memorable.
What are you most excited for this year?
Industry Night. It's our premier event and last year it was really good. Last year's event was live and now that we are trying to do it online, we've been making a couple of changes to the whole mindset behind the program. Last year, we invited many companies we had different sponsorships but this year we are trying to focus on building individual relationships between industry professionals and our graduate students. So we are not trying to target companies but individuals. From our experience, building those individual relationships help students more. This year we are trying to get as many industry professionals as possible, if they want to represent their companies that's fine but we want to target individuals.
If someone wanted to get involved with the GSA, how can they do that?
We have elections at the beginning of September, every year. Every year we have an orientation event with the department. For those joining us in the winter semester, you can still get involved. You can just get in touch with any of the members of the association and we'd be happy to get help. We are a student association and we recognize getting as many people involved in events and discussions will only help us more in making better decisions for our students.
What is the best way for students to stay up to date with the GSA?
The communications directors send out a monthly newsletter from the GSA to all graduate students, so if you pay attention to the newsletter, that is the best way for students to stay in touch. We also have a Facebook page for students who want to get more involved with the community.
Anything to add?
If anyone wants to organize an event or get involved, please contact me or any of the associations members and we'd be happy to help.