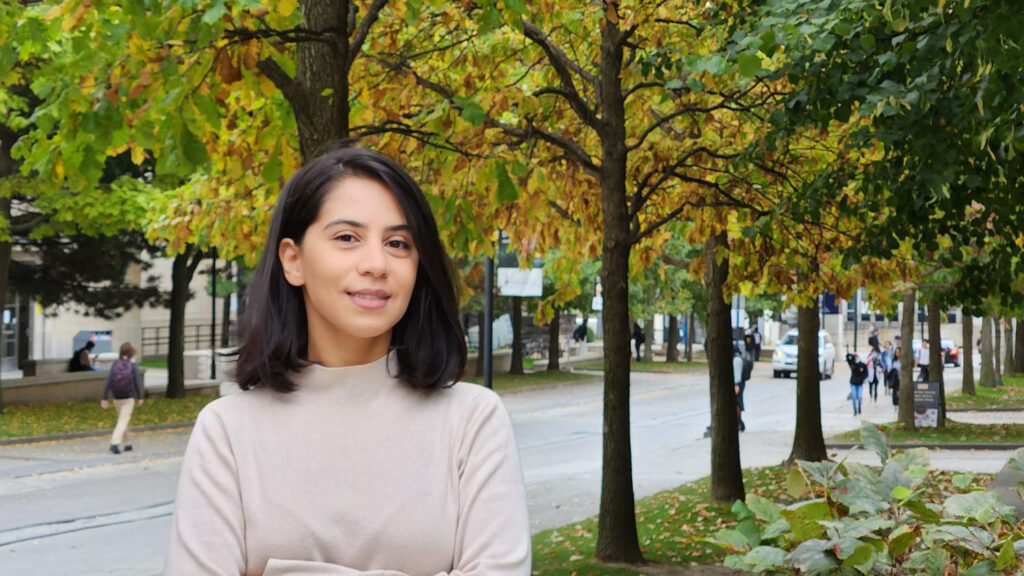 We're checking in with the newly elected leader of CivMin Graduate Students Association. Here's our Q&A with GSA President
Sheida Saffari (CivE PhD candidate), who secured her position with the October 5 election of executives.
Please tell us a bit about yourself.
I am Sheida Saffari, and I started my master's program one year ago at U of T. However, I switched my program to the PhD stream recently. I am pursuing my PhD under the supervision of Professor Daeho Kim, with the focus of our research on robotizing and digitizing the construction industry. More specifically, I am working on construction equipment.  
What do you do in your spare time? 
As an international student who lives alone here in Toronto, I can hardly find any spare time. Life gets super busy, especially when I am studying. I would say that in my spare time, cooking is my favourite task to do. I also work out several times during the week. That helps to maintain my mental health apart from my physical health.
Why did you choose U of T?
U of T is ranked as the best university in Canada. Country-wise I chose Canada, as it is known for the exceptional quality of the education system. Therefore, I chose Canada and U of T.  
What is your favourite place in Toronto?
I am in love with downtown Toronto. You can see the multi-nationality of people living here. As an immigrant, the diversity of languages, cultures, foods, and beliefs give me a very good feeling to be here and spend a couple of years here in Canada.  
What are your favourite spots on campus?
I would say I like spending a lot of time in couple of libraries here on campus. Hart House Library and University College Library are my favourite spots ever. I am in love with architecture and design, and both libraries provide modern services inside historical buildings. 
Could it tell us about the CivMin GSA?
CivMin GSA is an abbreviation of the Civil and Mineral Graduate Students Association. It is a co-curricular activity for graduate students that focuses on students' professional development. 
Over the years spent at the University, Engineering students develop technical skills. However, what we do need, and what we lack, are soft skills. We need them when we enter to the job market after graduation. Participating in student associations as a volunteer gives a sense of the soft skills required in teamwork.  
What are some of your goals for the year as GSA president? 
We will do our best to have all our events in person this year. I would say I wish to focus more on Industry Night because it was a very fruitful event for graduate students last year. It is an event where professionals from industry meet our graduate students in an informal and friendly environment. Students can network and ask experts about their journey from being students to becoming professionals. This event also helps graduate students to create an amazing network to find jobs.  
Additionally, we are going to hold a lot of social events for all graduate students of the Civil and Mineral Engineering Department. As graduate students, we are super busy, and we hardly can find any time to socialize with other students. These events are helpful for mental health support, as they let participants escape from the stress of school, meet new people, and spend some time together. 
Civ Min GSA is going to host a lot of in-person pub and game nights that graduate students can participate in; these are also things we lacked last year. All graduate students are invited to gather in one of the pubs we cooperate with and have an opportunity to talk to people from other research specializations they hardly had a chance to meet during working hours in the department.  
Let me tell you a short story of mine which shows how networking could be life-changing. I was looking to switch my program [MEng] to a thesis-based stream because I really wanted to go into research and continue working in academia. For a while, I was unsuccessful in finding the right supervisor who works in my field of interest. During one of the CivMin GSA pub night events, I had a chance to talk to people who I never met at school, and ask for their advice. One of the participants eventually became my college. It was the very first time we met and started talking about our specializations, what are our research goals, and what we are looking to do in our journey here at U of T. Later, he introduced me to my current supervisor. I believe that these amazing opportunities could happen to everybody. 
How can people get involved with GSA? 
People can be in touch with us via LinkedIn, Instagram, Facebook, and e-mail (gsa.civmin@utoronto.ca). They can contact us if they have any questions or if they wish to participate in any of our events. Following our social media and, more specifically, our LinkedIn is an amazing platform to get in touch with students were members of CivMin GSA and now are the professionals in the industry or the companies who cooperated with our association.  
However, if they wish to get involved as a member, every year we have an election and voting period during September, and that is the right time to get involved as a member of CivMin GSA. 
By Galina Nikitina
Full list of 2022-23 CivMin GSA Executives:
President: Sheida Saffari (PhD candidate)
Finance Director: Devang Bhadra (MEng candidate)
Communication Director: Tabassum Masoodakhtar Saheb (PhD candidate)
Academic Director: Amirhossein Babaei Ravandi (PhD candidate)
Social Directors:
Emily Zhang (MEng candidate)
Ali Tohidifar (PhD candidate)
Andria Liu (MEng candidate)
Bhabishya Khaniya (PhD candidate)
External Director: Julio Martinez Uribe (MEng candidate)
Athletic Director: Tianyu Shi (PhD  candidate)
Representatives:
Julio Martinez (MEng candidate)
Andria Liu (MEng candidate)
Kevin Kuriakose Joseph (MASc candidate)
Tianyu Shi (PhD candidate)
Devang Bhadra (MEng candidate)
Emily Zhang (MEng candidate)
Ammarah Zahid (MEng candidate)