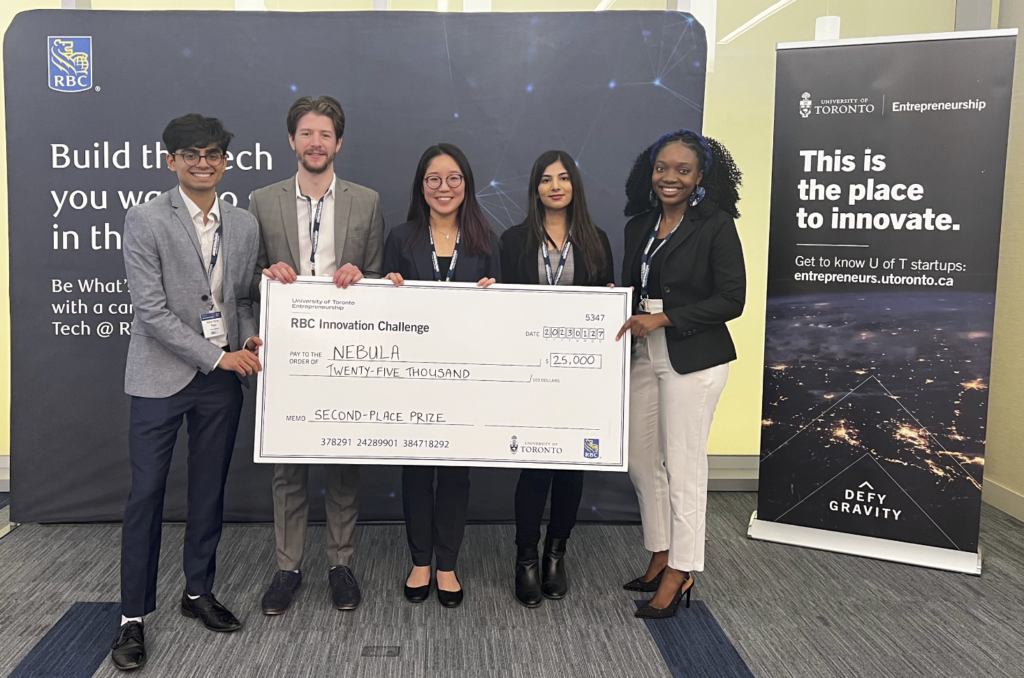 Nebula, co-founded by Mary Daka , a fourth-year Civil Engineering student at the University of Toronto from Zambia, won the second place RBC Innovation Challenge Prize, worth $25,000. The competition awards, after in-person presentations were given January 27 to industry experts, involved a presentation of a large ceremonial cheque for a photo opportunity.
Nebula was formed when the multidisciplinary team members Matthew McArthur (Architecture), Mary Daka, Neha Basra (MechE), Kim Watada (ChemE) and Alton Rego (ChemE) decided to participate in the RBC X U of T Innovation challenge. The team, through research discovered in as much as Canada has many water bodies, there are a lot of places in Canada that do not have easy access to clean drinking water.
Over the past three months, the team researched, designed, and prototyped their solution as part of the competition. Twenty-five teams consisting of undergraduate and graduate students submitted their designs and ideas. The top four teams were selected to present their design to a panel of industry experts and judges.
Nebula's goal is to provide a solution that can not only help alleviate this problem of water scarcity but also one which would not contribute to the already worrying levels of green house gas emissions. The answer to this was all in the air, literally. Atmospheric air is a huge reservoir of water, and Nebula's design condenses this water, purifies it and makes it ready for consumption.
This design is meant to work in multiple environments, very adaptive and does not produce emissions.
—
Mary Daka's bio
Mary is a Mastercard Foundation Scholar from Zambia, in her fourth year of Civil Engineering at UofT.
She is particularly interested in sustainable infrastructure development, which she intends to focus on as she pursues her career. Growing up, she witnessed the change in rainfall patterns in her home country, this change had an impact in the way her grandfather conducted his farming and seeing firsthand the effects of global warming, inspired her to focus on sustainable development. Nebula is such a development, and she is happy she got to be part of it. Greenhouse gas emissions have a lot of negative effects on the environment and finding ways of mitigating the current producers and finding alternatives for future projects to reduce emissions is the way of the future and she wants to be part of that change to preserve the future.
Mary is also passionate about disability Inclusion and always finds ways to make inclusion part of everything she does. She has a blog where she reflects on her experiences in hopes of raising awareness on disability inclusion. You can find her blogs on The Story of an Engineer Advocating for Disability Inclusion (marydaka.blogspot.com).