By: Mahia Anhara (Year 3, CivE on PEY), Co-Project Manager of CECA U of T Student Chapter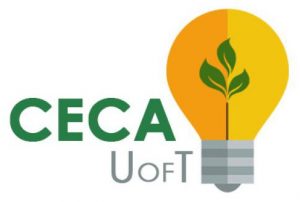 CECA U of T is the student chapter for the Canadian Electrical Contractors Association. Our student-led club brings together like-minded students, who are interested in finding sustainable building solutions.
We are participating in the annual international competition called the Electrical Contracting Innovation Challenge (ECIC), where students are challenged to design an innovative electrical system for a new residence hall on our respective university campuses that will meet the needs of the building occupants. This competition is organized by the National Electrical Contractors Association (NECA). 
The U of T ECIC team consists of over 35 students from various programs, such as engineering and architecture. The team is further divided into five sub-teams, each focusing on a unique aspect of this competition: Lighting, Building Energy Management, Smart Building Design, Building Information Modelling, and Project Management. The sub-teams have worked very hard in the last three months to propose innovative and cost-effective electrical solutions for a potential U of T dorm.   
The Lighting team has proposed 11 different fixtures of LED lights for the entire building. The lights can be dimmed and timed due to the integration of KNX building automation systems, leading to energy savings. 
The Building Energy Management team has proposed rooftop solar panels for on-site electricity generation, an all-electric variant refrigerant flow (VRF) HVAC system for heating/cooling, and smart temperature meters to regulate the internal environment. These systems contribute to the sustainability and net-zero goals of the building. 
The Smart Building Design (SBD) team proposed several technologies to provide residents with an enhanced occupant experience. The areas they focused on are security, access control, communication, hands-free control, and building automation systems. Examples of the SBD systems include smart card technology for accessing dorm rooms, IP addressed security systems, wide coverage mesh router system for reliable internet connection, and various app-based touchless technologies. 
The Building Information Modelling team has produced a 3D model on Revit of the electrical solutions consisting of symbolic components for over 50+ fixtures. This team has also created construction drawings and shop drawings as a part of the proposal.  
The Project Management team has developed the cost estimate for the proposed systems accounting for material, labour, equipment, and indirect costs while adhering to the project budget of $2.3 million USD. In addition, the PM team has created a detailed construction schedule for the proposed work that meets the client's timeline.         
The competition has been extremely rewarding for the team. We asked some of the participants about their experience. Here are some of their answers:
"My experience in the ECIC has been simply amazing. It was great to be part of a team that collaborated in terms of creativity, communication, and research. I gained exposure regarding the industry and learned a lot about the number of details that go into building a comfortable living environment." - Shikhar Chaurasia  (Track One, 2T4)
"ECIC has been a challenging competition that would not succeed without supportive members and hard-working team leads. I am impressed by the commitment shown by my colleagues and I have learned much about electronics and building automation from research and discussions." -James Kwok (CivE, 2T3)
"Being a part of the BIM team, I learned how to use Revit to draw electrical drawings and create important elements such as lighting symbols, switches, and Revit families, etc. thanks to the informative and practical workshop sessions hosted by our Lead and CECA. I got to see how the different systems of the building come together in the model and learned how to organize them to make modelling work more efficient. It was a fun and great experience!" - Jane Gao (CivE, 2T1+ PEY)
We would like to say thank you to every member of the CECA U of T team for all their hard work and dedication this year and ELECTRI and NECA for giving us the opportunity to participate in this rewarding competition.
Editor's note: CECA U of T will submit its proposal on Friday, April 30, 2021