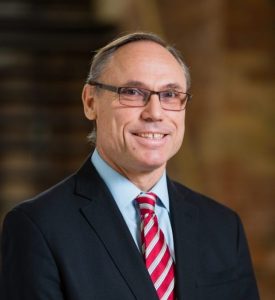 New Year's message from Brent Sleep, Chair, Department of Civil & Mineral Engineering
Dear CivMin community.
Happy New Year and welcome (virtually) back to school.
We all hope the extra week away from classes has given everyone a suitable refresh in order to prepare for the new academic term. A new year conjures up thoughts of new beginnings and possibilities going forward.
As we take leave of 2020, and take stock of its effect upon us at U of T, I would like to thank everyone for their unwavering resolve to adapt and overcome new challenges.
March 2020 seems so long ago now, when the pandemic saw the Faculty turn fully to online learning, as in-person classes and work were shut down on campus. At first it was something we all had to simply contend with in order to get through to the end of the 2020 winter term, but now continues into the 2021 winter term. Thank you for your ability to pivot and react to new demands for teaching, learning and generally doing business in our new virtual environment.
In my visits to campus since March it has been unreal to see the campus so empty and quiet. Work has continued for on-campus projects, as well as off-campus ones too. Classroom renovations, new infrastructure and other major projects have moved forward at an accelerated pace, taking advantage of the minimal traffic.
Our Camp on Gull Lake will see the completion of our exciting new bunkhouse project and other facilities for this summer. The new facilities will allow for greater flexibility in use of Camp and include the refreshing of some other Camp infrastructure.
Crucial lab work for research and testing has continued in CivMin, with the utmost attention given to health and safety. The Department continues to take direction from the University and the Faculty, along with public health directives, ensuring protocols are in place and strictly adhered to.
Events, festivities and much more were cancelled in 2020. It is our hope we can return to in-person classes for September 2021, as well as reuniting to celebrate our missed milestones and accomplishments.
Thank you again for your continued strength and perseverance during this critical time. I wish you all the best for 2021.
Sincerely,
Brent Sleep
Chair, Department of Civil & Mineral Engineering