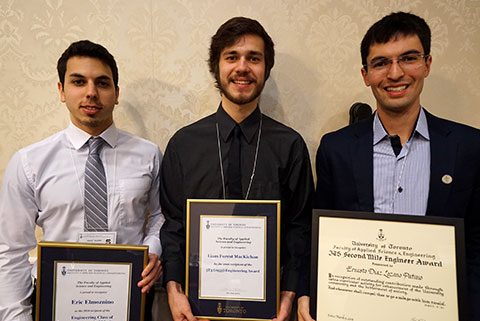 This story originally appeared on U of T Engineering Alumni
U of T Engineering alumni have recognized three undergraduate students for their contributions beyond the classroom.
Eric Elmoznino (Year 2 CompE), Liam MacKichan (Year 3 EngSci) and Ernesto Díaz Lozano Patiño (Year 4 CivE) were celebrated on March 9, 2016 at the Skule™ Lunch & Learn annual Student Awards Lunch, hosted by alumni at the Toronto Plaza Hotel.
Elmoznino received the Class of 5T6 Award of Merit for demonstrated high achievement in co-curricular activities. MacKichan received the Class of 5T3 Engineering Award for demonstrating qualities of character and leadership both within U of T and the community at large. Díaz Lozano received the Class of 3T5 Second Mile Award for his ongoing leadership in co- and extra-curricular activities throughout his undergraduate education.
"I am tremendously proud of Eric, Liam and Ernesto for demonstrating remarkable leadership and commitment to the U of T Engineering community and beyond, " said Dean Cristina Amon. "I am also deeply thankful to our dedicated alumni who support and encourage the outstanding student engagement with these awards."
Alumni from the classes of 3T5, 5T3 and 5T6 established Class Giving funds for the student awards as a result of reuniting at various Spring Reunions, and are passionate about promoting their efforts to other graduating classes. All three award recipients acknowledged that they, too, hope to give back in the future.
Skule™ Lunch & Learn is a monthly lecture series and tradition founded by the Class of 3T5 and carried forward by dedicated alumni volunteers.
View a photo gallery of the luncheon on Flickr and read more about the award recipients below.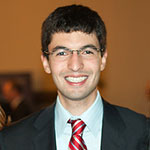 Ernesto Díaz Lozano Patiño – Class of 3T5 Second Mile Award
Ernesto Díaz Lozano Patiño is a fourth-year civil engineering student, minoring in sustainable energy. He is passionate about building science and clean energy generation. He believes engineers will be instrumental in defining how humanity will sort out some of the greatest challenges that our modern world faces — such as climate change and social inequality — and is passionate about developing leadership skills that will enable him to be a part of the efforts to address these issues. Díaz Lozano also had the honour to serve as president of the Engineering Society for the 2015–2016 academic year. He is passionate about giving back to the community and enjoys working to make Skule™ a better place, one day at a time.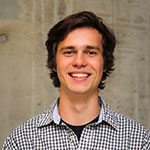 Liam MacKichan – Class of 5T3 Engineering Award
Liam MacKichan is specializing in infrastructure engineering with a special interest in structural engineering. He started a student chapter of theEarthquake Engineering Research Institutethis year, consisting of graduate and undergraduate students dedicated to promoting the advancement and awareness of earthquake engineering. As a part of this chapter, he is co-leading the University of Toronto Seismic Design Team, which has been invited to compete in the annual Undergraduate Seismic Design Competition in San Francisco. MacKichan is also involved with the University of Toronto Concrete Canoe Team as a structural design lead. He hopes to pursue graduate studies in structural engineering and eventually a career as a structural designer. Outside of the University, he is involved with community service at a church in the city helping to serve hot meals to local members of the community.
Eric Elmoznino – Class of 5T6 Award of Merit
Since first year, Eric Elmoznino has been a leader on the University of Toronto Aerospace Team where he designs the attitude control system for a student-built satellite slated for launch in late 2017. An active participant in his school community as well, he currently holds the position of finance director in his discipline club and helps to organize social and academic events for his peers. Outside of university, Elmoznino spends much of his time developing mobile applications with friends, and currently has multiple products available on the Apple App Store. In May 2016, he will begin a four-month internship at Orbis Investment Management Ltd. in Vancouver developing software solutions that enhance the interactions between the investment management company and its clients. Although graduation is still far away, he hopes to continue finding new ways to explore his passion for technology both inside and outside the classroom.
— Jamie Hunter
---

About Class Giving at U of T Engineering
Increasingly, classes are celebrating their milestone reunions by campaigning for a class gift. Class Giving campaigns are a powerful way to collectively give back to U of T Engineering in recognition of a milestone anniversary of your graduation and to create a legacy for your class. Without the generous support of alumni, many of our programs, scholarships and upgrades would not be possible. We would like to thank everyone who has participated in a class campaign and who are continuing to support class initiatives throughout the years. To learn more or to start your own class giving initiative, contact Kristin Philpot, Senior Development Officer, Leadership Giving, by email or directly at