When:
January 10, 2019 @ 10:00 am – 2:00 pm
2019-01-10T10:00:00-05:00
2019-01-10T14:00:00-05:00
Where:
Medical Science Building Lobby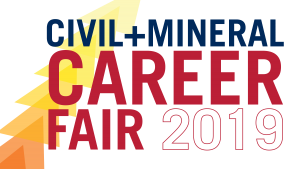 The 2019 CivMin Career Fair will be held on Thursday, January 10, 2019 from 10 a.m. – 2 p.m.
List of exhibitors
Check back as more exhibitors are added
| Exhibitor | Website | About the exhibitor | Years Exhibited |
| --- | --- | --- | --- |
| AECOM | www.aecom.com | AECOM is built to deliver a better world. We design, build, finance and operate infrastructure assets for governments, businesses and organizations in more than 150 countries. As a fully integrated firm, we connect knowledge and experience across our global network of experts to help clients solve their most complex challenges. From high-performance buildings and infrastructure, to resilient communities and environments, to stable and secure nations, our work is transformative, differentiated and vital. A Fortune 500 firm, AECOM had revenue of approximately $18 billion during fiscal year 2015. See how we deliver what others can only imagine at aecom.com | 2019 |
| Alamos Gold | | Alamos is a Canadian-based intermediate gold producer with diversified production from four operating mines in North America. This includes the Young-Davidson and Island Gold mines in north and northwestern Ontario, Canada and the Mulatos and El Chanate mines in Sonora State, Mexico. Additionally, the Company has a significant portfolio of exploration through advanced development stage projects in Mexico, Turkey, Canada and the United States. Alamos employs more than 1,700 people and is committed to the highest standards of sustainable development. | 2018 |
| ARCO/Murray National Construction Company | www.arcomurray.com | ARCO is one of the fastest growing and dynamic construction companies in the nation. With offices in 14 major cities throughout the United States, ARCO is proud to be #17 on ENR's Top 100 Design/Build Companies list. As a Project Manager at ARCO, you are on the fast-track to running your own projects. We will teach you not only the skills needed to successfully run multi-million dollar projects from concept to completion, but also, how to be a future leader of our company and industry. | 2018 |
| Arup | www.arup.com | We are an independent firm of designers, planners, engineers, consultants and technical specialists offering a broad range of professional services. Through our work we make a positive difference in the world. | 2017 |
| Bird Construction | www.bird.ca | As a leading general contractor in Canada with offices coast to coast, BIRD Construction has been providing construction services to a long list of new and repeat clients for decades. The company also provides pre-construction services and has acted as a key member on many recent public-private partnership projects. Reflecting its broad scope, Bird's clients include leading firms in the commercial, institutional, retail, multi-tenant residential, industrial, mining, water and wastewater, energy and civil sectors. Bird Construction was founded in 1920 and incorporated in 1930. Today, Bird is a publicly traded corporation with employees forming a significant shareholder group. This enhances the degree to which employees at all levels commit to our clients. A hands-on approach to the business has given Bird an edge in being able to make decisions quickly and to adapt to the requirements of our clients. | 2017 |
| Build Max Limited | www.buildmaxltd.com | Build Max Limited is an integrated engineering firm of building science and structural engineers with combined working experience of over 80 years in the industry. We are registered with PEO, CSC, Ministry of Municipal Housing and OBEC. We offer the following services: • Property Condition Assessments • Reserve Fund Studies • Technical Audits • Project Management • Construction Reviews • Contract Administration & Specification Preparation • Building Envelope Design • Structural Design | 2017, 2018, 2019 |
| City of Toronto | | The work of our division touches on many aspects of the City, from site-specific local issues to city-wide and regional issues. Through the framework of the official plan, City Planning makes recommendations to Council on a diverse series of City Building Objectives. | 2018 |
| Counterpoint Engineering Inc. | www.counterpointeng.com | We offer Civil Engineering services to three major real estate sectors; commercial, residential and urban redevelopment. We provide a full range of consulting and engineering services within the scope of land development, including project management, site feasibility, design, and more. | 2017, 2018, 2019 |
| Dufferin Construction | www.dufferinconstruction.com | Under the long established and respected name of Dufferin Construction, operates a multi-million construction business which provides construction services throughout Southern Ontario and on key projects across Canada. Founded in 1912, Dufferin Construction has built a solid reputation for market excellence, drawing on a rich history and a strong heritage of quality, stability and innovative leadership in the marketplace. Dufferin Construction is one of the largest heavy civil engineering contractors in the industry, employing over 1000 people. | 2018 |
| Eastern Construction | www.easternconstruction.com | Since first opening our doors in 1951, Eastern Construction has earned a reputation for integrity, quality, service and attention to detail. Our growth from local builder into one of Canada's most respected, employee-owned construction companies is a reflection of the strong relationships we have forged over the years and our personalized approach to client service. With over 65 years of Industrial, Commercial, Institutional and Residential project experience and success, we are proud that much of our business continues to come from repeat customers and client referrals. Regardless of the size or nature of each construction project, Eastern is committed to generating personalized, innovative, quality-driven solutions that reflect customer expectations and deliver superior outcomes. | 2017, 2018, 2019 |
| Ferrovial Agroman Canada | www.ferrovial.com | Today, Bird is a publicly traded corporation with employees forming a significant shareholder group. This enhances the degree to which employees at all levels commit to our clients. A hands-on approach to the business has given Bird an edge in being able to make decisions quickly and to adapt to the requirements of our clients. | 2017 |
| Fowler | | Our civil construction strengths are diverse and proven over nearly 70 years. Our expertise ranges from site development to rock excavation, road and highway paving, sewer and watermain work to environmental response services. Fowler also offers a full range of commercial construction capabilities. | 2018 |
| Green for Life Environmental | gflenv.com | GFL Environmental Inc. is a leading North American provider of diversified environmental solutions. Recognized by our signature fleet of well-maintained, bright-green trucks, we offer a robust, consolidated and sophisticated approach to meeting our customers' environmental service requirements. GFL is the only major diversified environmental services company in North America offering services in solid waste management, liquid waste management and infrastructure implementation. | 2019 |
| HDR Corporation | www.hdrinc.com | HDR is ranked as one of the Top Ten transportation engineering consulting firms in North America by Engineering-News Record. For nearly 100 years, we've partnered with clients to push the boundaries and shape communities. With over 10,000 employees in more than 225 locations around the world, we think global and act local. Our highly collaborative cross-company has 250 employees in Canada, including our Toronto and Richmond Hill offices, to deliver local service to local clients backed by international expertise. | 2017, 2018 |
| IBI Group | www.ibigroup.com | At IBI, we apply human-centred design and technology to create the resilient, connected, smart cities of tomorrow. We are experts in the intelligent technologies woven into our urban infrastructure and buildings, that are becoming more and more essential to our communities. We bridge this expertise with our long experience in the design, development and operations of the built form of our cities. | 2017, 2018, 2019 |
| Mattamy Homes | http://mattamyhomes.com/ | Mattamy Homes is the largest privately owned home builder in North America, with a 40-year history of operations across the United States and Canada. Every year, Mattamy helps more than 7,000 families realize their dream of home ownership. Our Land Development team at Mattamy Homes is made up of highly skilled professionals from Engineering, Planning & Business who work in partnership with municipalities, engineering firms and civil constructors to identify land development opportunities and develop and design sustainable communities. Come and jump start your career with our Land Development team, where you will make meaningful contributions towards the development and design of sustainable communities. We have Co-op opportunities available throughout the year as well as New Grad opportunities! We're also honoured to have received external recognition of our company culture as well. We've been awarded: >>Canada's Top 100 Employers for 2019 >>Greater Toronto's Top Employers for 2019 >>Canada's 10 Most Admired Corporate Cultures for 2017 | 2017, 2018, 2019 |
| The Miller Group | www.millergroup.ca | The Miller Group is a diversified company providing the public and private sectors with road and structure construction/rehabilitation, paving, engineering construction, highway operations and maintenance services, aggregate based materials, cement, asphalt and ready-mix concrete. At the Miller Group our staff are very important to us. We are committed to the development of our employees and want to make sure we remain an employer of choice through recognition, leadership development, career enhancement and continuous improvement to make Miller a great place to work. | 2017, 2018, 2019 |
| Morrison Hershfield | www.morrisonhershfield.com | We are a market leading, employee owned engineering firm contributing to the social wellbeing and economic prosperity of the communities we serve. We are anchored by exceptional technical and solution experts, thought leaders and high performing employees across North America. Our highly focused approach to the clients and markets we serve ensures that we deliver the value our clients demand. When our founders established this consulting practice in 1946, they set the highest standards of ethics, technical excellence and customer service. These high standards have become the hallmark of Morrison Hershfield. We continue to be guided by our values of integrity, accountability and mutual respect and believe in continuous improvement, quality and teamwork. | 2018, 2019 |
| LEA Consulting Ltd. | lea.ca | LEA Consulting Ltd. is a Canadian consulting engineering firm specializing in infrastructure engineering and planning sectors. LEA Consulting Ltd. is part of the LEA Group of companies, which includes LEA Associates South Asia Pvt Ltd. Since the mid-1950s we have been providing consulting and advisory services in project management, transportation planning, intelligent transportation systems (ITS), infrastructure security, contract administration; and highway, municipal road, and bridge design, to a wide range of clients in the public and private sectors across Canada. LEA Consulting Ltd. is an active member of the Consulting Engineers of Ontario, Association of Consulting Engineering Companies of Canada, and the Transportation Association of Canada. LEA is entirely owned and managed by senior professionals, each responsible for overseeing projects as well as daily operations. This approach strengthens the firm's client service, commitment to technical excellence, and overall cost-effectiveness. | 2019 |
| LeighFisher Canada Inc. | www.leighfisher.com | LeighFisher Canada Inc., a wholly owned subsidiary of the Jacobs Engineering Group, is a global business consulting firm with over 70 years with extensive expertise in technical advisory, economic forecasting, and business consulting services. We have proven success across the markets we serve. Our broad scope of capabilities includes aviation, surface transportation, as well as infrastructure and government services. We provide strategic and procurement advisory in all phases of the business life cycle, informed by our operational knowledge and deep functional expertise. By integrating both strategic and technical expertise we serve the "whole client" from the executive leadership to those who procure deliver projects and operations. Driven by increasing demand for our services and an expanding portfolio of multi-million dollar projects, we seek talented prospective consultants, with significant relevant experience, to join our busy, vibrant team based in Toronto, ON. | 2019 |
| Parsons | parsonsjobs.com | Parsons is a technology-driven engineering services firm with more than 70 years of experience in the engineering, construction, technical, and professional services industries. The corporation is a leader in many diversified markets with a focus on infrastructure, defense, and construction. Parsons delivers design/design-build, program/construction management, systems design/engineering, cyber/converged security, and other professional services packaged in innovative alternative delivery methods to federal, regional, and local government agencies, as well as to private industrial customers worldwide. | 2017, 2018 |
| Read Jones Christoffersen | www.rjc.ca | Specializing in structural engineering, building science, structural restoration, structural glass and façade engineering and parking facility design and restoration, RJC Engineers is one of North America's leading engineering firms. With a staff of more than 550 in 11 locations across the country, we offer highly personalized service at the local level with the expertise, depth and resources of a large, national firm. | 2017, 2018, 2019 |
| Rocscience Inc. | www.rocscience.com | Founded in 1996, Rocscience is a world leader in developing 2D and 3D software for civil, mining, and geotechnical engineers. For over 20 years, we've built on leading-edge research to create the best geotechnical software available. As engineers ourselves, we know the importance of having accurate, reliable, and easy-to-use software, so we constantly develop and refine our products to make solutions that work for you. Explore our comprehensive suite of tools used by over 7,000 engineers around the world for slope stability, excavation design, and geotechnical analysis. | 2017, 2018, 2019 |
| SNC- Lavalin Inc | www.snclavalin.com | Founded in 1911, SNC-Lavalin is one of the leading engineering and construction groups in the world and a major player in the ownership of infrastructure. From offices in over 50 countries, SNC-Lavalin's employees are proud to build what matters. Our teams provide engineering, procurement construction, completions and commissioning services together with a range of sustaining capital services to clients in our four industry sectors, oil and gas, mining and metallurgy, infrastructure and power. SNC-Lavalin can also combine these services with its financing and operations and maintenance capabilities to provide complete end-to-end project solutions. SNC-Lavalin maintains exceptionally high standards for health and safety, ethics and compliance and environmental protection, and is committed to delivering quality projects on budget and on schedule to the complete satisfaction of its clients. | 2017, 2018 |
| Stantec | www.stantec.com | We're active members of the communities we serve. That's why at Stantec, we always design with community in mind. The Stantec community unites approximately 22,000 employees working in over 400 locations across six continents. We collaborate across disciplines and industries to bring buildings, energy and resource, environmental, and infrastructure projects to life. Our work—engineering, architecture, interior design, landscape architecture, surveying, environmental sciences, project management, and project economics, from initial project concept and planning through design, construction, and commissioning—begins at the intersection of community, creativity, and client relationships. Our local strength, knowledge, and relationships, coupled with our world-class expertise, have allowed us to go anywhere to meet our clients' needs in more creative and personalized ways. With a long-term commitment to the people and places we serve, Stantec has the unique ability to connect to projects on a personal level and advance the quality of life in communities across the globe. Stantec trades on the TSX and the NYSE under the symbol STN. | 2017 |
| Stephenson Engineering Ltd. | www.stephenson-eng.com | Stephenson Engineering Limited is a private, employee owned company with over 47 years' experience in the consulting engineering and construction industry. We have a long and successful history in providing engineering services in the Greater Toronto Area, across Canada and abroad. Our mission is to be your leading provider of Structural & Building Science services through innovative ideas and superior customer care. Stephenson Engineering is ready to provide you with leading edge solutions to bring your project to completion. Our philosophy and dedication result in projects that are economical, sustainable and completed on time and on budget. Our philosophy is pinned to three attributes. Creativity, Profitability and Scheduling. Stephenson Engineering's goal is to strike a balance within these three areas based on your project specifications and objectives. | 2017 |
| Terraprobe Inc. | www.terraprobe.ca | Terraprobe is a multi-disciplinary ground engineering consulting firm; we specialize in complex geotechnical, environmental, hydrogeological, and geostructural engineering services. | 2017, 2018, 2019 |
| Thurber Engineering Ltd. | www.thurber.ca | Thurber Engineering Ltd. has more than 300 employees in 10 offices across Canada and is wholly owned by its senior employees. It continues to build its reputation by providing a complete range of geotechnical services including site investigations for foundations, slope stability engineering, testing and analyses. As well, we can offer specialized knowledge and experience in earthquake geotechnique, geo-hazards, pile load testing, embankments on soft soils, and tunnelling and trenchless technology. | 2017 |
| Turner Construction | www.turnerconstruction.com | Turner is a North America-based, international construction services company and is a leading builder in diverse market segments. The company has earned recognition for undertaking large, complex projects, fostering innovation, embracing emerging technologies, and making a difference for their clients, employees and community. With a staff of 5,200 employees, the company completes $10 billion of construction on 1,500 projects each year. Turner offers clients the accessibility and support of a local firm with the stability and resources of a multi-national organization. OUR VISION To be the highest value provider of global construction services and technical expertise. | 2018 |
| U of T - Master of Management of Innovation | www.utm.utoronto.ca/mmi | The Master of Management of Innovation program attracts students with science, engineering and technology backgrounds. The program prepares students with the knowledge, skills and strategic perspectives required to become leaders and senior managers. Our curriculum provides a strong foundation in economic analysis, technology management, business strategy, finance, accounting, marketing and policy. The required academic core courses focus on management and economics; students select three electives tailored to their interests and goals. Students must complete a 4 month internship in order to be eligible for graduation. The internship allows students to gain valuable, real-world work experience and an opportunity to demonstrate the key competencies the MMI program has taught them. | 2017, 2018, 2019 |
| Walter P Moore | | Walter P Moore is an international company of engineers, innovators, and creative people who solve some of the world's most complex structural and infrastructural challenges. Providing structural, diagnostics, civil, traffic, transportation engineering, and parking consulting services, we engineer solutions that are cost- and resource-efficient, forward-thinking, and help support and shape our communities. Founded in 1931, we are headquartered in Houston, Texas and have more than 600+ professionals working across 18 US offices and 5 international locations. | 2018 |
| WSP Canada | www.wsp.com/en-CA | In Canada, more than 8,000 of our people foster innovation every day because we know that our future world will be vastly different from today. Our reach includes environmental remediation to urban planning, from engineering iconic buildings to designing sustainable transport networks, from finding new ways to extract essential resources to developing renewable power sources. Through our Future Ready initiative, we bring clarity and vision to some of Canada's most complex challenges and opportunities. At WSP, we see the future more clearly and design for it today - we put innovation, and the highest ethical standards and professionalism at the centre of all we do. | |
| WJ Groundwater Canada | www.wjgl.com | WJ Groundwater provides a complete groundwater control and management service, which encompasses design, installation and maintenance programmes to businesses throughout the UK and overseas. We work within many industry sectors, and are proud to have been part of the smallest and the largest infrastructure schemes across the globe. We specialise in the following services: -Dewatering & Groundwater Control -Drilling & Probing -Testing Services -Monitoring -Remediation and Treatment -Ground Source Energy Systems With our innovative approach in technology, WJ Groundwater is leading the way in groundwater management and control. With offices in Hertfordshire, Nottinghamshire and Glasgow in the UK plus, Poland, Abu Dhabi, Dubai, Qatar, Hong Kong and Toronto, we are a true global organisation. | 2017 |
| Note to Self/Editor(s): The red triangle in a cell indicates it is hidden on the front end. To remove hidden trait, click on crossed out eyeball in the toolbar then click the trash can. | | | |
| | | | |
| | | | |
---
Interested in being an exhibitor? See our registration page or contact civ.communications@utoronto.ca for more information.