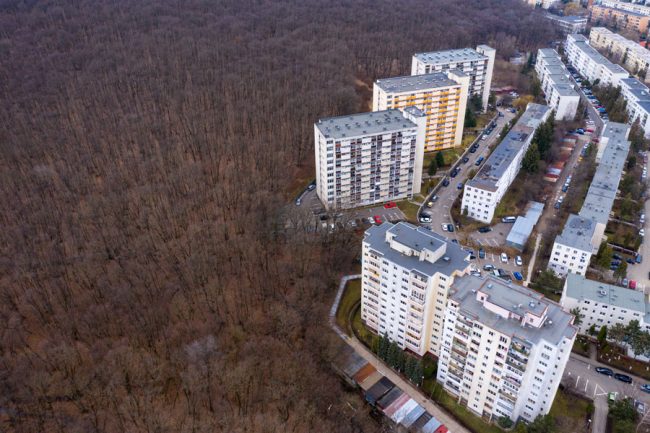 U of T Engineering's newest research centre will develop innovative ways to meet the urgent and growing need for infrastructure — without further exacerbating the climate crisis.
The Centre for the Sustainable Built Environment brings together seven researchers from across U of T, as well as a dozen companies in construction and related industries. The goal is to identify strategies that will lower the environmental footprint of new infrastructure across the board by reimagining how they are designed, where they are built and even what materials they are made of.
"In Canada, and around the world, we have a huge housing deficit, a huge infrastructure deficit — there's a big social need to build much more than we have right now," says Professor Shoshanna Saxe (CivMin), who holds the Canada Research Chair in Sustainable Infrastructure.
"At the same time, construction resource use accounts for up to a third of total global greenhouse gas emissions each year, a problem that is getting worse. It's been estimated that if we continue current ways of construction, by 2050 the emissions due to new housing alone will cause us to blow past two degrees of global warming.
"If we want to avoid that, let alone reach net zero by 2050, we need to find ways to do more with less."
Saxe and her collaborators plan to approach this complex challenge from several different angles. Some efficiencies can be found by looking at where new housing is built, as well as what it looks like.
"The average person living in a city consumes fewer resources than the average person living in a suburb, because in a city you have more people per kilometre of sewer, road or electrical infrastructure. There are big rewards for well-designed cities," says Saxe.
"The shape and types of buildings we build is also important. For example, Toronto has a lot of long skinny apartments, where a lot of the space is in the hallway. If we design differently, we can better use that space to provide more housing, or avoid it all together and save materials, emissions and cost."
Saxe and her team have also shown that large concrete basements account for a high proportion of the emissions due to construction; building more of the structure above ground could improve the environmental bottom line. Other potential solutions involve alternative building materials, for example, new types of concrete that are less carbon intensive than those in common use today.
In addition to Saxe, the new Centre includes six other professors from across U of T with a wide range of expertise, from carrying out life-cycle analysis of construction projects to defining national carbon budgets. They are:
Professor Evan Bentz (CivMin)
Professor Chris Essert (Law)
Professor Elias Khalil (MIE)
Professor Heather MacLean (CivMin)
Professor Daman Panesar (CivMin)
Professor Daniel Posen (CivMin)
The multidisciplinary team will address issues well beyond the traditional bounds of engineering. For example, the team plans to explore the legal frameworks that translate established housing rights into practical built spaces.
"It's absurd to say that the right to housing means that everyone has to live in a space the size of a closet," says Saxe. "But it's also absurd to expect everyone to have their own 3,500-square-foot house. Can we find a middle ground where everyone can live in dignity, without consuming in a way that threatens the planet?"
In addition to these professors, the partnership includes 12 external companies in the construction sector: Colliers; the Cement Association of Canada; Chandos Construction; Mattamy Homes; Northcrest; Pomerleau; Purpose Building, Inc.; ZGF Architects; Arup; SvN Architects + Planners; Entuitive; and KPMB Architects.
By working closely with this core group, Saxe and her collaborators aim to speed up knowledge translation, ensuring that the insights gained through their research can be applied in industry.
"The conversations we have with our partners can inform their design and construction, as well as the conversations they then have with their clients, raising everyone's level of knowledge and awareness," she says.
"We hope that by giving people — policymakers, designers and builders — the tools they need to address these challenges of building more with less emissions, we can improve outcomes across the built environment and create a more sustainable future for everyone."
This story originally published Engineering News