Pursuing participation in variety of interests at the personal level, Siluvai Antony is also hoping to have an impact on significantly reducing GHG emissions through his research and influence on policy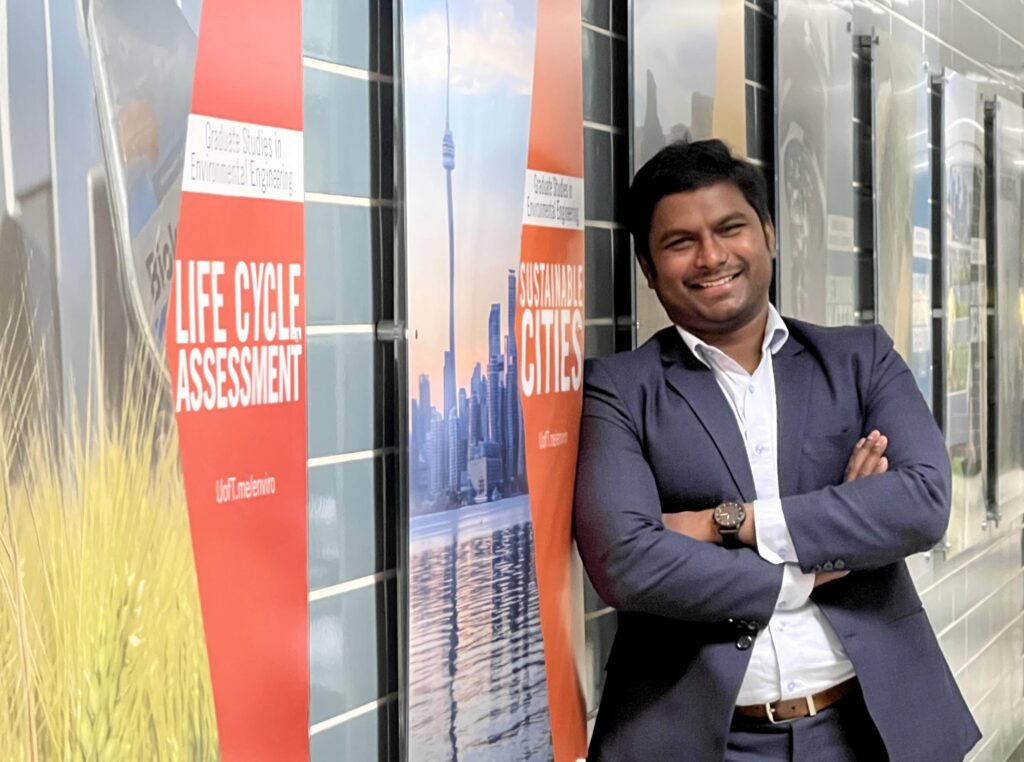 CivMin's Praveen Siluvai Antony, a PhD Candidate under the supervision of Prof. Daniel Posen, is the recipient of a University of Toronto Student Leadership Award. The recognition, known as a UTSLA, has a long history and was formerly known as the Cressy Awards.
Praveen is currently pursuing research in the area of "Life cycle assessment, Biofuels, and Public policies" in the CivMin Department.
We sat with him for a little chat to discuss the award and his current work.
Can you tell us a little bit about yourself as an introduction?
I'm a fourth-year PhD Candidate in the Department of Civil and Mineral Engineering. My work is broadly in the area of biofuels and public policies, and I am working with Professor Daniel Posen.
Receiving a UTSLA is quite prestigious. What have you done to garner such recognition?
This recognition is because of my last year's volunteer work in a few organizations. I was the President of the Civil and Mineral Engineering Graduate Students' Association, co-President of the Indian Graduate Students' Association, and also a Student Advisor to the Family Care Office. I was given the leadership award for my initiatives to improve the educational and social experiences of fellow students in our department and the student family community.
Your recognition is truly well deserved, given all this involvement. Is there anything else you've done outside of these organizations, perhaps extracurricular activities or interests you'd like to share with us?
If you're asking me about a hobby, I like to explore new places, food, and cultures. Toronto was new to me, but COVID made me unable to explore a lot in the first two years of my doctorate. Now, this recent year, I've been exploring Toronto a lot by cycling. Then, whenever possible, going hiking. Reading books and photography are some of my other hobbies as well. Recently, I've travelled to the Toronto Islands, Niagara Falls, and a few other places where I look for good opportunities for photography.
Your undergraduate degree is in chemical engineering. What led you to pursue something in Civil Engineering at U of T?
After my Bachelor's in Chemical Engineering, I did my Master's in Environmental Systems Modelling, and later, I worked in India with CSIR-National Environmental Engineering Research Institute for about seven years in the area of sustainability and public policy. When I was looking for doctoral positions, I learnt that Prof. Posen was also working in the area of environmental systems within the public policy space. Since our interests matched, I jumped at the opportunity to pursue my doctorate degree at U of T.
There's been, increasingly, a trend towards engineers having more of an impact directly on public policy. And, sometimes, seeking elected office or being closely associated with those in elected office. Is that something that interests you perhaps?
I haven't thought of seeking elected office. But my primary interest is to work on research and then contribute to policy through my research outputs. But policy is something I've been considering at the back of my mind, but not seriously at this point.
What's the biggest or best outcome for impacting policy you think you could have? What what would that be even beyond what your immediate research is?
One, my current work focuses on biofuels and policy. Biofuels are used in the transport sector to reduce greenhouse gas emissions, and currently, the transport sector is in focus because it contributes to roughly 25 per cent of the GHG emissions of Canada. So, if we can very quickly transform the transport sector using biofuels, I think it will have the highest impact in my field. GHG emissions reduction is also the ultimate goal to avert the impact of climate change, and I think pretty much all countries are committed. Canada has Net Zero climate goals by 2050 and also has set targets to reduce 40 to 45 per cent of its greenhouse gas emissions (GHG) by 2030. If my research contributes to reducing GHG emissions in the transport sector and thereby reducing the national GHG emissions, then I think it will see the most significant effect.
One last thing that he tried to ask people to do you have anything an unusual talent or expertise, and it's something that we wouldn't know otherwise that No, we're just asking here.  Is there something you want to share with us?
Thinking back to something from my undergrad, I was in this university dance group – a hip-hop dance group. I was also very much involved in the university volleyball team – in undergrad, I represented at the state level. So, if you're asking me, I would say sports and dance was my primary interest at some point.
So you've got some dance moves and some athletic moves.
Maybe I used to. I'm not sure right now :).
By Phill Snel
Engineering News published a list of all 18 Engineering UTSLA recipients