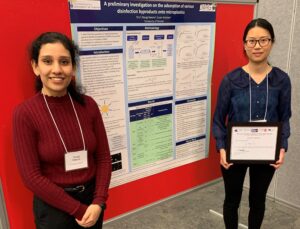 Paragi Neema (CivE MASc candidate) and Livia Li (CivMin PhD candidate), both under the supervision of Prof. Susan Andrews, won first place for their poster "A preliminary investigation on the adsorption of various disinfection byproducts onto microplastics".
The poster combines some early work from each of their theses projects on the possible presence of microplastic particles in drinking water and the various chemicals that the microplastics might be carrying with them. It was presented at the Canadian Association on Water Quality symposium at York University, March 20-21, held in advance of World Water Day.
They would like to extend their sincerest thanks to the organizers for giving them the opportunity to showcase their work, as well as to everyone who supported them along the way.