Professor
Chair, Department of Civil & Mineral Engineering
Background
Professors Brent Sleep conducts hybrid research with laboratory experimentation, field studies and computer modelling to determine the fate and transport of organic chemicals in the subsurface and surface aquatic environments.
More specifically, Professor Brent Sleep's research is dedicated to developing innovative methods for remediation of soil and groundwater contamination, with a focus on organic contaminants. His research group is working on a variety of in-situ subsurface remediation methods, conducting laboratory and computer modelling studies of bioremediation, thermal remediation, and the applications of chemical oxidants and nanoscale zero valent iron for subsurface remediation. His group is also investigating the transport of pathogens in fractured rock aquifers.
Education and Designations
B.A.Sc. (Waterloo)
M.A.Sc. (Waterloo)
Ph.D. (Waterloo)
P.Eng.
U of T Engineers in Action (EIA) students team up to connect separated communities in rural Bolivia. Thanks to efforts by students, a remote Bolivian community previously divided by a ravine with a seasonal river, sometimes making a land crossing impossible for months at a time, is now united with a pedestrian crossing, ensuring access… Read more »
Today The Department of Civil and Mineral Engineering at the University of Toronto celebrated the five-year anniversary of the TeachingCity partnership with the City of Oshawa, and agreed to extend the collaboration. Department Chair Prof. Brent Sleep, along with representatives from educational partners gathered at the TeachingCity hub in downtown Oshawa to sign the extension…. Read more »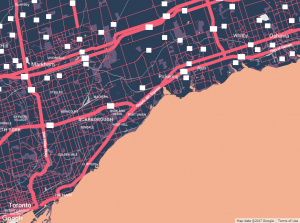 Medical doctors learn in immersive teaching hospitals — and now U of T Engineering students will have their own immersive learning opportunities within a real-life teaching city. Later this year, the City of Oshawa will become Canada's first-ever living laboratory for urban research, allowing students to probe complex municipal issues and test practical solutions for… Read more »
Brent Sleep
Department of Civil & Mineral Engineering
University of Toronto
35 St. George St.
Toronto, Ontario
Canada, M5S 1A4