U of T Engineers in Action (EIA) students team up to connect separated communities in rural Bolivia.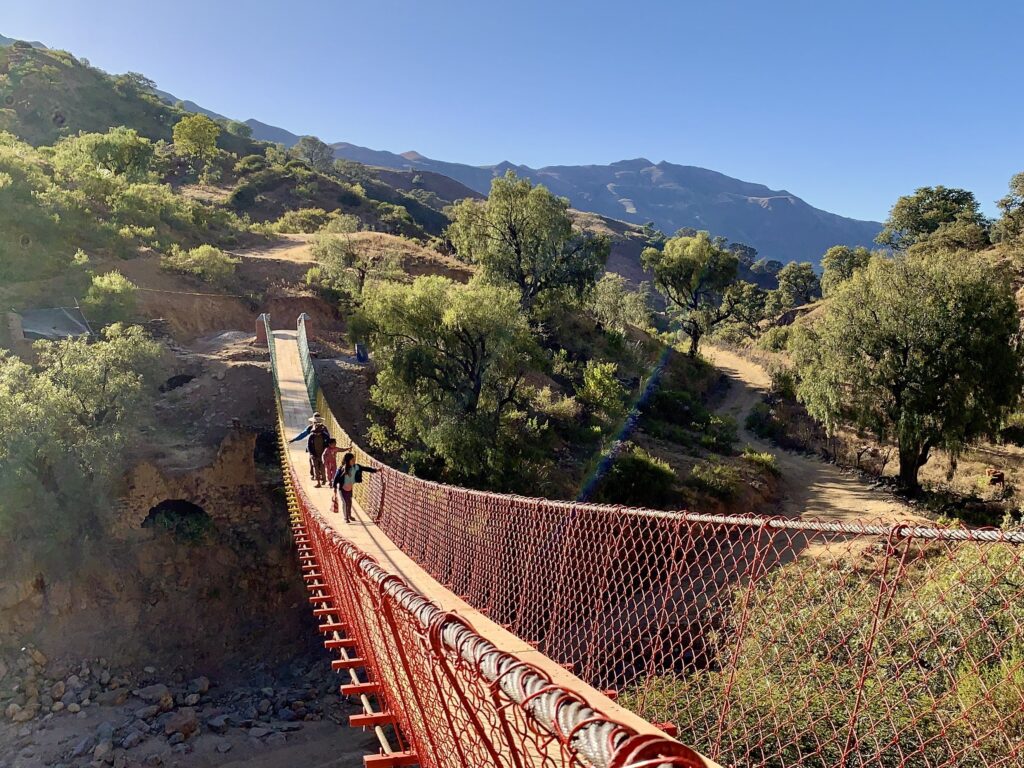 Thanks to efforts by students, a remote Bolivian community previously divided by a ravine with a seasonal river, sometimes making a land crossing impossible for months at a time, is now united with a pedestrian crossing, ensuring access for everyone to vital services.
U of T Engineering students from the all-volunteer group Engineers in Action (EIA) have once more completed a bridge-building project for a deserving community in need. The EIA U of T Student Chapter joined forces with their counterparts at the University of Alberta (U of A EIA) to successfully design and build a suspended footbridge linking the rural residents of Quinamara, Bolivia.
The interdisciplinary group, including students from ECE, MechE and CivE at U of T, combined their skills with guidance and support from Arup and faculty advisor Prof. Brent Sleep.
"We have a parent organization, Engineers in Action, and each year they apply for a project to build a bridge and assign us a location. Then we'll just go about designing it," explains Jun Rong Zhao (CivE 2T1 + PEY), the team's president. "Then in the summer, if we get the chance, we'll get to also go and build it."
Sharing the responsibilities, the U of T team took the task of design, with the U of A team travelling for the on-site construction of the bridge.
"The bridge is located in Quinamara and it now serves two communities divided by a ravine. About 350 community members and 30 children now have access to local health care, health posts, schools and markets," Liah Scott (Year 3 CivE) says. "Because there's now the bridge for them to cross the river, almost 400 community members have year-round access to vital services. Otherwise, the river made it impassable for 120 days of the year."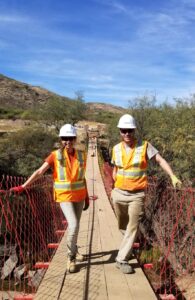 The U of T group received the guidance of Senior Engineer in Bridges and Civil Structures at Arup, Maxime Bellefeuille, along with several of his colleagues. A total of six working engineers were providing valuable insight and feedback. "I think the students did a very, very good job. I think even EIA were extremely impressed with the work the U of T and University of Alberta students have produced," offers Bellefeuille. Continuing with the feedback received from EIA, "They kept repeating these were amazing reports and they would share them with every team, making them templates for them to follow in the future," then offers direct praise himself, "I think that's all the power to you. You did very, very thorough work."
Bellefeuille has a history with assisting the U of T EIA team, "A co-worker of mine, who used to work in Toronto, knew I had been involved with Bridge to Prosperity in the past, so he forwarded me the details and I got interested, so I started helping out on the first-year's project. Then it bloomed into what we have now – a six-year partnership."
The process is long and involved during the academic year. Along with the team in Toronto and Edmonton, coordination with an in-country program manager from the parent organization helps keep an eye on the project site and conditions before boots hit the ground.
Luna Amador (Year 3 CivE) explains the use of technology to virtually visit the remote site, "We get the profiles they send in and the surveys, but we would also use Google Maps [satellite view] to view the surrounding area and terrain. For instance, I know last year there was an issue where the bridge we were building there was a dam downstream, which would affect the level of the water. You have to keep an eye out for the type of thing that wouldn't be in the survey, because it's outside of the immediate area where the bridge would be, but might still impact it."
"We know what we're building on – it's not always an easy site and it's not perfect. Sometimes there's boulders in the way we have to manage, or trees and other obstacles. But we always have someone on the on the ground who can go to the site if we have questions, such as about the soil conditions," says Scott.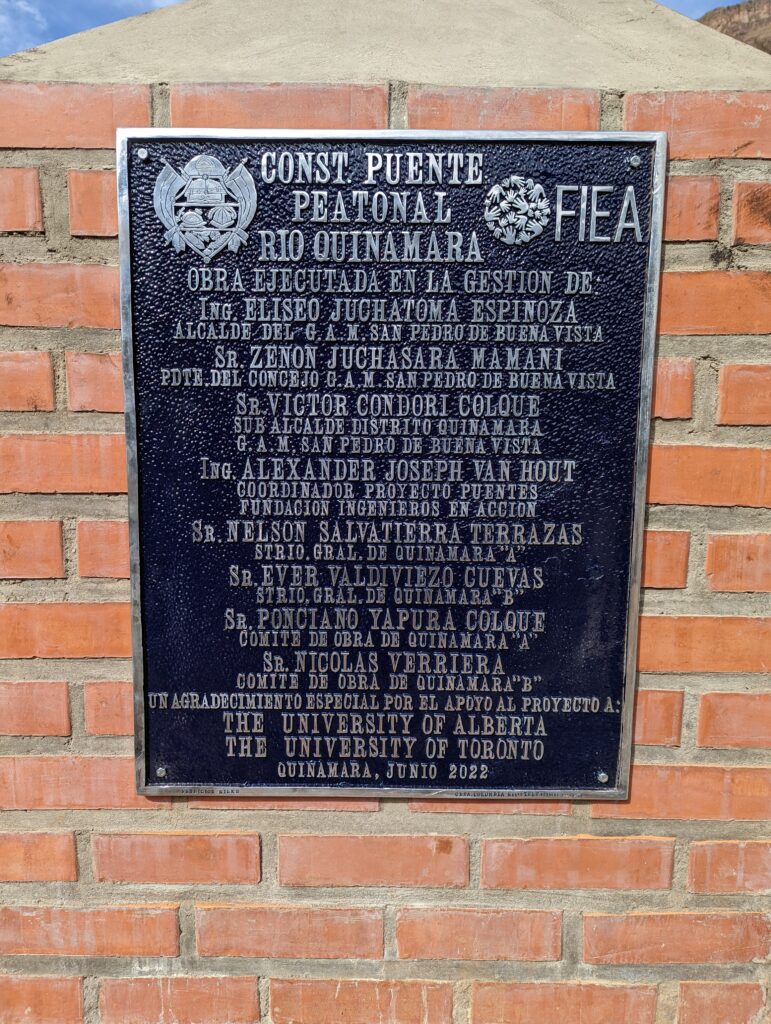 Multiple reports and revisions are the norm. "During the first report, the preliminary report, I think the students did a very good job of identifying all the potential issues ahead of time. They identified concerns such as a mill next to one abutment and we didn't know if it would be in conflict," Bellefeuille recounts. "If it is in conflict, then we will need to revise the abutment design. There are ways of mitigating this, so the students asked the in-country staff team to confirm its position and confirm whether or not there's an issue ahead of time. The teams were as proactive as possible and I think it helped. They completed the bridge ahead of time, so I think everything went well in country."
Asked of the sustainability and durability of the project, Bellefeuille beams,"It does meet a lot of the United Nations Sustainable Development Goals, SDG's, and it's an amazing project. I think these projects are incredibly sustainable to start with – they use local materials and their environmental footprint is very low. There's almost no mechanical equipment, as we know, since it's mostly manual labour that goes into them."
Zhao includes, remarking on the lasting impact of the work, "Hopefully the bridge lasts about 30 years. The bridge manual we follow does mention some maintenance is required beyond 30 years."
This summer Liah Scott and Luna Amador are taking their respective Professional Experience Year (PEY). Jun Rong Zhao convocated in June.
By Phill Snel
---
Engineers in Action (EIA) is an international non-profit organization whose mission is to support development of sustainable systems and infrastructure with underserved communities, local experience, and global partners. Since 2006 in EIA's Bridge Program, hundreds of students from 30+ universities across the globe have designed and built 80+ footbridges alongside rural communities in 11 countries. Through their work, they have helped connect nearly 150,000 previously isolated people to essential resources.