Background
Professor Kim Pressnail tackles fundamental issues in sustainable buildings so that people can make informed decisions about energy use and health.
Professor Pressnail dedicates his research to improving environmental issues that occur within existing buildings. The scope of his work ranges from developing energy-saving retrofit plans for post-war multi-unit residential towers within urban environments, to improving airflow conditions in rural homes of children with asthma, to remediation of buildings built on contaminated soil, and assessment of buildings with mould and moisture problems.
Education and Designations
B.A.Sc., M.A.Sc., Ph.D., LL.B.
| Citation | Type |
| --- | --- |
| Richman, R.C., Cianfrone, C.,  Pressnail, K.D., "More Sustainable Masonry Facades: Preheating Ventilation Air Using a Dynamic Buffer Zone," Journal of Building Physics, September 2009. | Journal Papers Published |
| Richman, R.C., Pressnail, K.D., "Quantifying and Predicting Performance of the Solar Dynamic Buffer Zone (SDBZ) Curtain Wall Through Experimentation and Numerical Modeling", Journal of Energy and Buildings, November 2009. (On-line:http://dx.doi.org/10.1016/j.enbuild.2009.10.021). | Journal Papers Published |
| Richman, R.C.,  Pressnail, K.D., "A More Sustainable Curtain Wall System: Analytical Modeling of the Solar Dynamic Buffer Zone (SDBZ) Curtain Wall", Building and Environment Vol 44 p.1, January 2009. | Journal Papers Published |
| Dong, B ., Kennedy, C.A., Pressnail, K., "Comparing Life Cycle Implications of Building Retrofit and Replacement Options", Canadian Journal for civil Engineering, 32(6), 1051-1063, 2005. | Journal Papers Published |
| Engel-Yan, J.B , Kennedy, C.A., Saiz, S., and Pressnail, K.D., 2005. Toward Sustainable Neighbour-hoods: the Need to Consider Infrastructure Interactions. Canadian Journal of Civil Engineering, 32(1): 45-57. | Journal Papers Published |
| Richman, R ., Pressnail, K., O'Malley, L.,  Liebenow, N.,  "The Reduced Gradient Approach: An Alternate Method to Optimizing Humidity Conditions in House Museums in Cold Climates", Journal of the Association of Preservation Technologists", Accepted March 2010. NSERC PGSM. | Journal Papers Accepted for Journal Publication |
| Caesar, D.J., Richman, R.C ., Pressnail, K., "Design and Construction of an Effective Window Wall System in High Rise Condominiums: A Case Study", 7th International Conference on Tall Buildings p. 711, October 2009, Hong Kong, China. | Conference Papers Published |
| Caesar, D.J.,  Pressnail, K., "Design, Testing and Quality Control of Curtain Wall Systems Manufactured in South-East Asia for Cold Climates", ICBEST 2010, Vancouver British Columbia, June 2010. | Conference Papers Published |
| Richman, R.C., Cianfrone, C.,  Pressnail, K.D., "More Sustainable Masonry Façades: Preheating Ventilation Air Using a Dynamic Buffer Zone (DBZ)" Building Envelope Science and Technology 2, Portland, Oregon, April 2010. | Conference Papers Published |
| Pressnail, K.,  Richman, R., Kirsh, A.,  "An Innovative Approach to Low-Energy Building Performance Using Nested Thermal Envelopes", 12th National Building Envelope Conference on "Integrating Sustainability", p. 393, May 2009, Montreal, Quebec. | Conference Papers Published |
| Kirsh, A.,  Pressnail, K.,  Richman, R., " Low-Energy Homes: The Economic Case for Building More Responsibly Now", 12thNational Building Envelope Conference on "Integrating Sustainability", p. 603, May 2009, Montreal, Quebec. | Conference Papers Published |
| Rowe, D.,  Pressnail, K.,  Richman, R.,  "Evaluating the Performance of a Double Façade in a Cold Climate: A Case Study", 12thNational Building Envelope Conference on "Integrating Sustainability", p. 211, May 2009, Montreal, Quebec. | Conference Papers Published |
| Timusk, C.,  Pressnail, K., Cooper, P., "The Effects of Board Density, resin Content, and component Layers on the Permeability Properties of Mill-Fabricated Oriented Strandboard", 12th National Building Envelope Conference on "Integrating Sustainability", p. 325, May 2009, Montreal, Quebec. | Conference Papers Published |
| Richman, R.,  Pressnail, K.,  Cianfrone, C.,  "More Sustainable Masonry Façades: Analytic Modeling of a Dynamic Buffer Zone (DBZ) brick Veneer Wall Assembly", 12th National Building Envelope Conference on "Integrating Sustainability", p. 591, May 2009, Montreal, Quebec. | Conference Papers Published |
| Illaszewicz, G.,  Pressnail, K., "A Study of Thermal Insulation Practices in the Arctic Regions of Canada", 12th National Building Envelope Conference on "Integrating Sustainability", p. 187, May 2009, Montreal, Quebec. | Conference Papers Published |
| Maleki, A.,  Day, K., Pressnail, K., "An Economic Evaluation of Building Envelope Energy Retrofits", 12th National Building Envelope Conference on "Integrating Sustainability", p. 151, May 2009, Montreal, Quebec. | Conference Papers Published |
| Kesik, T,  Melnichuk, S ., Pressnail, K., DeRose, D., "Designing Better Envelopes for Cold Climates Using a Limit States Design Approach and Life Cycle Cost Analysis", 12th National Building Envelope Conference on "Integrating Sustainability", p. 483, May 2009, Montreal, Quebec. | Conference Papers Published |
| Richman, R.,  Pressnail, K.,  Kirsh, A.,  "Moderating the Impact of Sustained Energy Interruptions By Designing and Constructing Low-Energy Homes", PLEA2009 - 26th Conference on Passive and Low Energy Architecture, Quebec City, Canada, June 2009. | Conference Papers Published |
| Kennedy, C.,  Bristow, D., Richman, R., Kirsh , A., Pressnail, K., "Hour by Hour Analysis of Greenhouse Gas Emissions for a Near-Zero Carbon Condominium Design" International Society for Industrial Ecology 2009 Conference, Lisbon, Portugal June 2009. | Conference Papers Published |
| Richman, R.C.,  Pressnail, K.D., "The Solar Dynamic Buffer Zone (SDBZ) Curtain Wall: Theory and Simulation", First Biennial International Conference on Building Enclosure Science and Technology Minneapolis, MN., June, 2008. | Conference Papers Published |
| Richman, R.C.,  Pressnail, K.D.,  Kirsh, A.M.,  "Exterior Basment Insulation for Cold Climates: Further Proof of the Need to Build Better Now", 11th Conference on Building Science and Technology, Banff Alberta, p.287-298, March 2007. | Conference Papers Published |
| Haines, G., Org, M., Barkan, A.,  Pressnail, K.D., " An Economic and Environmental Comparison of Standard versus Energy-Efficient Homes in Toronto, Canada", ENHR Conference on Sustainable Urban Areas, Rotterdam, The Netherlands, June 2007 Unfunded. | Conference Papers Published |
| Richman, R.C.,  Pressnail, K.D.,  Kirsh, A.M.,  "The Importance of Building Better Now: Mitigation of Winter Storm Damage", International Society for Industrial Ecology, Toronto Ontario, June 2007. | Conference Papers Published |
| Richman, R.C.  Pressnail, K.D., "More Sustainable Curtain Wall Systems: Using a Solar Dynamic Buffer Zone (SBDZ) to Reduce Energy Costs", The 2006 Annual General Conference of the Canadian Society for Civil Engineering, Calgary Alberta, 11p. May 2006. | Conference Papers Published |
| Richman, R.C.,  Pressnail, K.D., " Further Validation of the Inverse Method of Predicting Air Flow in Buildings", 1st Canadian Conference on Effective Design of Structures, McMaster University, 10p. July 2005. | Conference Papers Published |
| Timusk, P.C., Pressnail, K.D., 'Moisture Related Properties of OSB (Oriented Strand Board) presented at the 10th DBMC Conference, Lyon France, April 2005. | Conference Papers Published |
| Engel-Yan, J.B,  Kennedy, C.A.,  Saiz, S.,  and Pressnail, K.D., 2005. Natural Infrastructure and Neighbourhood Sustainability. 33rd CSCE Annual Conference, Toronto, Canada. Accepted for publication April 2005. | Conference Papers Published |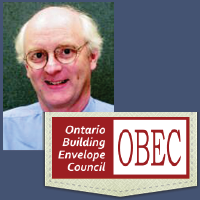 The Ontario Building Envelope Council(OBEC) has selected Prof. Kim Pressnail as a recipient of a 2018 Fellowship Award for his long-standing support of OBEC. The Fellowship Award is awarded to a member of OBEC for their distinguished service to OBEC, especially through their consistent promotion of OBEC, and their contribution to achieving the aims and… Read more »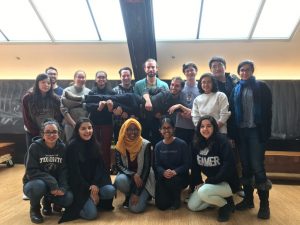 Aiming to best their third place honours received last year, the University of Toronto student chapter of the Canadian/National Electrical Contractors Association (CECA/NECA) is competing in the 2018 ELECTRI International/NECA Green Energy Challenge. Leading up to the Green Energy Challenge, the team has hosted several events to spread awareness about sustainable buildings among U of… Read more »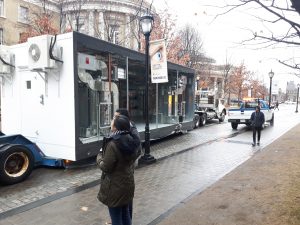 Two new facilities situated atop U of T Engineering's Sandford Fleming Building will advance multidisciplinary building science research into how buildings consume and distribute energy and control indoor environments. The state-of-the-art Twin Suites Rooftop Lab will be home to research conducted by Professor Marianne Touchie, who is cross-appointed to the Department of Mechanical & Industrial Engineering and… Read more »
Kim Pressnail
Department of Civil & Mineral Engineering
University of Toronto
35 St. George St.
Toronto, Ontario
Canada, M5S 1A4