As the University of Toronto implements energy retrofits to buildings across its three campuses to meet its aggressive greenhouse gas emission reduction targets, one group of researchers will use the opportunity to improve the well-being of students, faculty, and staff.  
The research project entitled 'Wellbeing and The Built Environment: A New Framework for U of T Campus Building Performance Assessment' is a successful applicant to the Dean's Strategic Fund.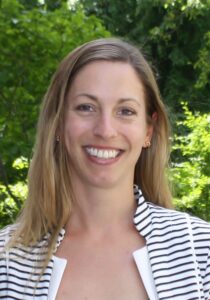 The project is being led by Civil & Mineral Engineering's Prof. Marianne Touchie along with co-applicants John Robinson of the Munk School of Global Affairs and Public Policy and the School of the Environment, Alstan Jakubiec of The Daniels Faculty of Architecture, Landscape and Design as well as Blake Poland from the Dalla Lana School of Public Health.  
Using tools to measure things like indoor air quality and temperature, as well as an app accepting real-time feedback from building inhabitants, the project aims to create a new standard for holistic building performance.  
Not only will it assess environmental and economic benchmarks, but it intends to measure the impact of these retrofits on people working and living in these buildings.  
Prof. Touchie took some time to tell us more about the three-year project.  
What is the project all about?  
We want to inform the retrofit process by trying to link specific aspects of the built environment to wellness outcomes of the people living and working in these spaces. We plan to do this through pre- and post-retrofit assessments using indoor environmental quality measurements and inhabitant feedback. 
The university is investing millions and millions of dollars in energy retrofits, but while we are making that investment, the question is whether we can integrate other changes to the building that would improve the wellness of students, faculty, and staff more broadly.  
What are some examples of the improvements you would make?  
Potentially improving accessibility to spaces, making spaces more thermally comfortable or looking at ways in which we could provide more control to inhabitants. As many of the planned retrofits are to the building mechanical systems, I hope we will be able to provide suggestions of how we can better operate these systems to improve the quality of the indoor environment and address inhabitant concerns that come up in the pre-retrofit assessments.  
How do green retrofits improve the mood and productivity of people inhabiting the buildings? 
The jury is still out on that one. There are some studies suggesting green buildings create a better indoor environment, but there is also a lot of contradictory research.  
This is a complex topic with many distinct aspects of the individual, the space, the building, and the broader community all impacting how the inhabitant feels. Previous research has tended to focus on thermal comfort, visual comfort, or indoor air quality independently, and what we are really trying to do is to bring all those elements together into a common framework.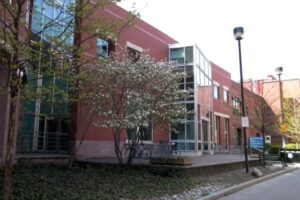 And it is not just the objective quality of the indoor environment that we are interested in, but instead seeing what impact these conditions have on the well-being of the inhabitants.  
While these retrofits are designed to reduce GHG emissions to mitigate climate change and reach U of T's climate positive by 2050 goal, through this project we are hoping to find ways to leverage these retrofits to also be "people positive" by retrofitting spaces to improve comfort, productivity, health for students, staff, and faculty. 
What results are you most interested in seeing out of this project?  
There are a few things I would like to see come out of this project. From a scientific perspective, I hope this project will contribute to the growing body of knowledge on how aspects of the built environment influence inhabitant wellbeing. From a methodological perspective, I hope that the assessment methods we develop through this project can be integrated into the University's building retrofit process, both to inform what needs to be addressed through the retrofit and then to verify predicted improvements after retrofit completion to ensure we are meeting our goals related to both the climate and the campus community.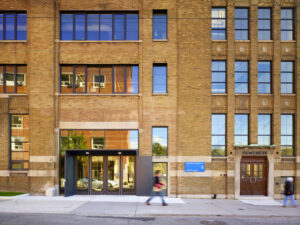 When are you expecting to begin your research? 
We have already begun the planning process among the co-applicants and will be kicking off the project soon with a wonderful group of people from across the university working with us on this including Facilities and Services and representatives from the Dean's and Vice Dean's offices, as well as our industry partner, the International WELL Building Institute. 
We plan to develop the assessment approaches this year and then begin to conduct pre-retrofit evaluations starting in early 2023.  
Will people notice this research project going on across campus?  
We will target spaces that are common throughout the campus so they might see us in classrooms, offices, and residences. We are also going to combine long-term measurements with inhabitant responses. So, you may see monitoring equipment in particular spaces or calls for participation in the study.  
Depending on what the professors allow us to do, we would love to come in to explain the study to students and point out what sort of measurements we will be doing in the classrooms. 
How can people get involved?  
Keep an eye out for opportunities to participate in the study. We would also be interested in hearing from faculty or staff who know of a space in one of the planned building retrofits that impacts many people in our campus community (e.g., a large classroom or open plan office space). The initial candidate building list includes Earth Sciences and the Exam Centre with more to be identified soon.  
Final thoughts?  
One aspect of the study that I am really excited about is testing the large-scale use of a technique called Photovoice which we will use to prompt respondents to take photos of aspects of the campus-built environment that add to or detract from their wellbeing.  
We are looking to integrate students, staff and faculty perspectives this way as it is a much richer data source than survey responses.  
I am hoping we will be able to crowd source images and perspectives on features of a particular building to determine what the most important aspects are to address through retrofits.  
By David Goldberg