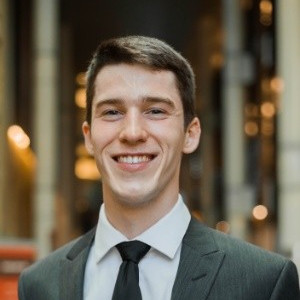 Tell us about yourself:

I'm from Richmond Hill, Ontario and I'm a fourth-year Lassonde Mineral Engineering student at the University of Toronto. I've been on two Professional Experience Years (PEY) and when I came back, I decided to run for club president to make sure all services we usually run still happen during the pandemic when everything is online.
Any interesting hobbies?
I like the outdoors, going hiking and camping. I do a lot of hobby gold prospecting and I'm interested in trading stocks – I do a lot of that.
What are your goals for the year?
As the chair, my goal is to get people involved in the club within this online environment. Personally, my goal for this year is to win the Canadian Mining Game Stock Challenge again – I won last year and I'm hoping to do it again.
When did you get involved with the Min Club?
Min's a pretty small discipline, so there isn't much that goes on without Min Club being involved – it funds all the social events we do. We're a pretty tight-knit group, so I've been involved with Min Club by participating in events since my first year at U of T, and even while on PEY, but this is my first time holding an elected position.
Tell us about the Min Club. What does the club do?
In terms of events it's pretty low key. A lot of the things we used to do we aren't able to do this year, but pre-COVID we ran a number of social events. Mostly we do mentorship though, such as supporting professional affiliations. CIM [Canadian Institute of Mining] is a big one. We support people going to PDAC. We run events for Iron Ring – there's usually a big celebration after graduation. We throw a few events during frosh week, and a there's a big meet and greet where first years can get involved and meet fourth years. We usually do a pretty good job pairing people up with upper years as mentors to help guide them through everything.
What sort of things is the Min Club doing virtually this year?
Our most successful event was the PEY Talk. Usually we do an event every year where we present our PEY experiences for students looking to do PEY. That event got 20 people, so almost a third of our discipline came out, it was definitely a success.
We also did a good event during frosh week – we ran an event that first years really enjoyed where we paired them up with their mentors.
If someone wanted to get involved in the Min Club, who should they talk to?
They can talk to me. They would need to get elected by the constituents of Min Club but there are a lot of vacant positions still.
What exciting things does the Min Club have planned for this year?
Over the winter break the exec team is going to get together and plan a bunch of virtual events for next semester, so stay tuned for updates.
How can Min students find out what Min Club is doing?
Students can stay up to date with Min Club is through our Facebook page or by e-mail at minclub@skule.ca