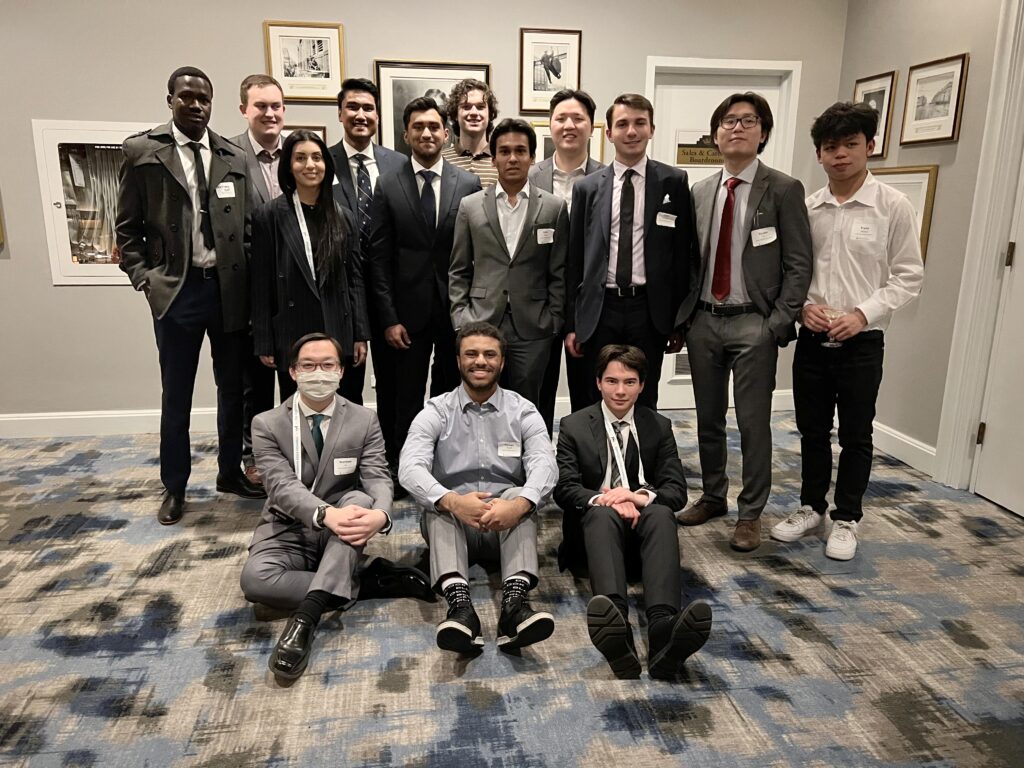 U of T's Engineering Society (EngSoc) awarded the Lassonde Mineral Engineering (LME) student club, known as Min Club, the Discipline Club of the Year Award for the 2022-2023 Skule™ year. This marks the first time Min Club has won this award.
"Congratulations to Min Club, the Department is proud of your achievement," says Prof. Brent Sleep, Chair of the Department of Civil & Mineral Engineering. "It is great to see this recognition of the role that Min Club has played in supporting participation of LME students in co-curricular and extra-curricular activities, ranging from participation in the Canadian Mining Games to contributing to the Department curriculum planning."
In an email to Min Club President Alec Gilvesy (Year 4 MinE), EngSoc President Aidan Grenville (Year 4 EngSci) relays the good news, "Make no mistake – this is a massive achievement, and shows that your peers really recognized your exceptional contributions to our community and took the time to nominate you. The Committee was seriously impressed with the volume and quality of nominations we got, so take this time to pat yourself on the back for a job well done!"
"We've really worked hard this year to build upon the work done by past Min Club members, and get things back on track after the pandemic," Gilvesy reflects. Among the many improvements to the club's common room are a new bulletin board, chalkboard, new chairs, and more.
Remaining inclusive in recognizing the group's work, Gilvesy adds, "We've also gone a long way to foster and improve partnerships with other organizations at U of T like UESA (the Undergraduate Earth Sciences Association) and the Women in Mining U of T chapter (WiM UofT) through events like MINdustry Night coming up on Monday, March 20th. As well, we've teamed up with groups outside the University, like the Canadian Institute of Mining, Metallurgy and Petroleum (CIM), who have supported us through membership reimbursements and providing opportunities for students at luncheons."
Additionally, Min Club has put a lot of work into impressive group field trips, such as sending a team to the recent Canadian Mining Games in Vancouver and, "one of our more significant endeavours; the Agnico Eagle Macassa mine visit taking place on March 24th, for which the Department has been great at supporting us."
Besides the professional associations and field trips, the club has focused on the overall student experience for all years with workshops and social events. "We've also really strived to improve the LME student experience through numerous socials, résumé reviews, mentorship, the CivMin Dinner Dance – in partnership with CivClub – and more!"
"I've known Alec for a long time, actually ever since his first year, and had a feeling he'd develop into a leader," reflects Nelly Pietropaolo, CivMin's Director of Student Services and External Relations. "This award reflects upon his years of continuous dedication and involvement within the CivMin and Min Club community. Kudos to him on achieving this milestone award."
Sleep reflects, "There's a great sense of community amongst the LME students. Min Club has played a pivotal role in fostering this sense of community. I trust this positive path set over the last few years will have a long-lasting impact upon our new students, as well as our alumni, for many years to come."
Reflecting upon the award, Gilvesy beams, "We're grateful for the recognition of the hard work we've been doing, and we hope to keep it up in future years!"
The EngSoc Awards will be held Tuesday, March 21 with a formal presentation planned.
By Phill Snel