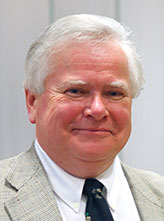 The American Concrete Institute has elected Prof. R. Douglas Hooton as an Honorary Member, specifically "for contributions to ACI and the concrete industry in the areas of concrete materials, concrete durability, and sustainability of concrete construction particularly through research, teaching, and development of standards and code". Honorary Member is the Institute's highest honor.
R. Douglas Hooton, FACI, is a Professor and NSERC/Cement Association of Canada Senior Industrial Research Chair in Concrete Durability and Sustainability in the Department of Civil & Mineral Engineering at the University of Toronto, Toronto, ON, Canada. His research has focused on the durability performance of cementitious materials in concrete as well as on performance testing and specifications. His durability research has encompassed most forms of concrete degradation, including sulfate resistance, acid resistance, alkali-aggregate reaction, corrosion, and freezing and thawing, as well as deicer salt scaling.
Hooton is Chair of ACI Committee 233, Ground Slag in Concrete, and Co-Chair of ACI Subcommittee 130-A, Sustainability of Materials, as well as Secretary of ACI Committee 201, Durability of Concrete. He is a member of numerous ACI committees, including 130, Sustainability of Concrete; 221, Aggregates; 225, Hydraulic Cements; 232, Fly Ash in Concrete; 236, Material Science of Concrete; 240, Pozzolans; 329, Performance Criteria for Ready Mixed Concrete; 365, Service Life Prediction; S801, Student Competitions; Faculty Network; and Innovation Task Group 10, Alternative Cementitious Materials. He also serves on ACI Subcommittee 318-A, General, Concrete, and Construction.
Hooton was a co-recipient of the ACI Wason Medal for the Most Meritorious Paper in 2015, and he received the ACI Foundation Robert E. Philleo Award in 2013 and the ACI Arthur R. Anderson Medal in 2011.
He is a Fellow of ASTM International, the American Ceramic Society, the Engineering Institute of Canada, and the Canadian Academy of Engineering. He is a member of several Canadian Standards Association (CSA), ASTM, and RILEM technical committees. He is Chair of the RILEM Educational Activities Committee; Vice-Chair of CSA Committee A3001, Hydraulic Cements; and Vice-Chair of ASTM Committee 01, Hydraulic Cements.
A formal announcement of Prof. Hooton's election will be made at the ACI Spring 2019 Concrete Convention and Exposition during the Opening Session and Keynote Presentation, Sunday, March 24, 2019.