Professor
Erwin Edwin Hart Professor of Civil Engineering
Background
Professor Daman Panesar is one of the inaugural recipients of the Erwin Edward Hart Professorship in Civil Engineering, accorded in recognition of high-level research excellence and exemplary graduate student mentorship. A broad objective of Professor Panesar's research is to advance concrete technologies by investigating new types of concrete to reduce environmental impact, improve economic feasibility, achieve desired plastic and mechanical properties, and improve long-term durability performance. Examples of examinations undertaken to date include the study of low carbon footprint materials, nano-cellulose fibers, industrial by-products, supplementary cementing material, and fillers on the durability performance of concrete resulting from coupled degradation mechanisms.
Education and Designations
B.Eng. (McMaster University)
M.E.Sc. (University of Western Ontario)
Ph, D. (McMaster University)
P.Eng (Ontario)
Research Interests
Cement chemistry
Hydration kinetics
Evolution of microstructural, mechanical and transport properties of concrete
The effect of exposure conditions on material microstructure, transport properties and durability
Degradation mechanisms and indicators for concrete durability
Durable and sustainable cement-based materials
Supplementary cementitious materials
Service life estimates and life cycle cost assessment
Green building materials
Non-destructive evaluation and testing of concrete
Authors shown in bold denote graduate students or post doctoral fellows solely supervised by the candidate.  The underlined names are the applicant's MASc or PhD supervisor. Information in (x) represents the primary source of funding for the project, and journal impact factor.
| Citation | Type |
| --- | --- |
| Wu, J, Diao,B., Xu, J., Panesar, DK.(in-press February 2020) Chloride diffusivity, fatigue life and service life analysis of RC beams under chloride exposure American Society Civil Engineering (ASCE) Journal of Materials in Civil Engineering. | Published or Accepted in Refereed Journals |
| Zhang, R, and Panesar DK (2020) Design of carbonated r-MgO-PC binder system: effect of r-MgO replacement level and water-to-binder ratio. Journal of the American Ceramic Society. Vol. 103(1) 656-669 | Published or Accepted in Refereed Journals |
| Panesar DK, Seto, K, Churchill, C., Zhang, R. (2020) Life cycle assessment and environmental disturbance indicators to evaluate the sustainability of concrete mix designs. Indian Concrete Journal. Vo. 94, No. 2, 9-17 | Published or Accepted in Refereed Journals |
| Zhang, R, and Panesar DK (2019) Longitudinal deformation of mortar bars containing reactive MgO during carbonation curing and sulfate solution immersion. ASCE Journal of Materials in Civil Engineering. Vol. 31 (11): 04019275. | Published or Accepted in Refereed Journals |
| Zhang, R, and Panesar DK (2019) 'Sulfate resistance of carbonated ternary mortar blends: Portland cement, reactive MgO and supplementary cementitious materials' Journal of Cleaner Production. Vol. 238:117933 | Published or Accepted in Refereed Journals |
| Jurcut, A., Habibi, F, Gautam, B, Panesar, DK, Sheikh,S, Vecchio, S, Orbovic,N. (2019) Material, Structural and Modelling Aspects of Alkali Aggregate Reaction in Concrete. Journal of Nuclear Engineering Design. Vol. 351, 87-93 | Published or Accepted in Refereed Journals |
| Urea, G., Panesar, DK, Savastano, H. (2019) 'Adjusting curing parameters for innovative and durable vegetable fibre-cement composites' Cement and Concrete Composites. 103: 121-133 | Published or Accepted in Refereed Journals |
| Panesar, DK, Kanraj, D, Abualrous, Y. (2019) 'Effect of Transportation of Fly Ash: Life Cycle Assessment and Life Cycle Cost Analysis of Concrete' Cement and Concrete Composites. 99: 214-224. | Published or Accepted in Refereed Journals |
| Qureshi, T., Panesar, DK., (2019) 'Impact of graphene oxide and highly reduced graphene oxide on cement based composite' Construction and Building Materials, 71–83. | Published or Accepted in Refereed Journals |
| Qureshi, T., Panesar D.K., Sidhureddy, B, Chen, A, Wood, P. (2019) 'Nano-cement Composite with Graphene Oxide produced from an Epigenetic Graphite Deposit' Composites Part B: Engineering. 159:248-258. | Published or Accepted in Refereed Journals |
| Zhang R, Bassim, N., Panesar D.K. (2018) 'Characterization of Mg components in Reactive MgO-Portland Cement Blends during Hydration and Carbonation' Journal of CO2 Utilization. 27:518-527. | Published or Accepted in Refereed Journals |
| Zhang R, Panesar D.K. (2018) 'Mechanical Properties and Rapid Chloride Permeability of Carbonated Concrete containing Reactive MgO' Construction Building Materials Vol 172:77-85 | Published or Accepted in Refereed Journals |
| Zhang R, Panesar D.K. (2018) 'Water Absorption of Carbonated Reactive MgO Concrete and its Correlation with the Pore Structure' Journal of CO2 Utilization. 24:350-360. | Published or Accepted in Refereed Journals |
| Hu, C., Gautam, B.P, Shang, D., Wang F., Panesar DK, (2018) 'Atomic Force Microscopy Characterization of Alkali-Silica Reaction Products to Reveal their Nanostructure and Formation Mechanisms' Ceramics International Journal 44:6: 7310-7314 | Published or Accepted in Refereed Journals |
| Habibi, F., Sheikh, SA, Vecchio, FJ, Panesar, DK. (2018) 'Effects of Alkali Silica Reaction on Concrete Squat Shear Walls' ACI Structural Journal. 11(5) 1329-1340. | Published or Accepted in Refereed Journals |
| Aqel, M., Panesar, DK. (2018). Delayed Ettringite Formation in Concrete Containing Limestone Filler. ACI Materials Journal. 115-4: 565-573. | Published or Accepted in Refereed Journals |
| Hu, C., Gautam, BP, Panesar DK, (2018) 'Nano-Mechanical Properties of Alkali-Silica Reaction (ASR) Products in Concrete Measured by Nano-Indentation' Construction Building Materials. 158: 75-83 | Published or Accepted in Refereed Journals |
| Panesar DK, Yee-Ching, GH (2018) 'Implications of Coupled Degradation Mechanisms of Cement Based Materials Exposed to Cold Climates' International Journal of Mechanical Sciences -Special Issue on Materials in Demanding Environment. 114: 865-876 | Published or Accepted in Refereed Journals |
| Jurcut AC, Panesar DK, Sheikh, SA, Vecchio, FJ (2017) 'Towards Macro Modelling of ASR Structures' ACI Structural Journal. 114(5) p.1121-1129 | Published or Accepted in Refereed Journals |
| Mo, L., Zhang, F, Panesar, DK, Deng, M. (2017) 'Development of Low-Carbon Cementitious Materials via Carbonating Portland Cement - Fly Ash - Magnesia Blends under various Curing Scenarios: A Comparative Study'. Journal of Cleaner Production. 163, 252-261. | Published or Accepted in Refereed Journals |
| Zhang R, Panesar DK (2017) 'New Approach to Calculate Water Film Thickness and the Correlation to the Rheology of Mortar and Concrete Containing Reactive MgO' Construction and Building Materials, 150. 892-902 | Published or Accepted in Refereed Journals |
| Seto, K, Chuchill, CJ, Panesar, DK. (2017) 'Influence of Fly Ash Allocation Approaches on the Life Cycle Assessment of Cement-Based Materials' Journal of Cleaner Production 157: 65-75 | Published or Accepted in Refereed Journals |
| Zhang R, Panesar DK (2017) 'Investigation on Mg content in calcite when magnesium calcite and nesquehonite co-precipitate in hardened paste' Thermochimica Acta. 654: 203-217. | Published or Accepted in Refereed Journals |
| Gautam BP, Panesar, DK, Sheikh, SA, Vecchio FJ. (2017) The Effect of Multiaxial Stresses on the ASR Damage of Concrete. American Concrete Institute Materials Journal. 114(4):595-604. | Published or Accepted in Refereed Journals |
| Panesar, DK, Seto, K, Churchill, CJ. (2017) Impact of the Selection of Functional Unit on the Life Cycle Assessment of Green Concrete. International Journal of Life Cycle Assessment, 22:1969-1986 | Published or Accepted in Refereed Journals |
| Mo, L., Zhang, F, Panesar, DK, Deng, M. (accepted Jan 23, 2016, in press, online since Jan 2016) Development of low-carbon cementitious materials via carbonating Portland cement-fly ash- magnesia blends under various curing scenarios: a comparative study. Journal of Cleaner Production | Published or Accepted in Refereed Journals |
| Seto, K, Panesar, DK, Churchill, CJ (2017) Criteria for the Evaluation of Life Cycle Assessment Software Packages and the Life Cycle Inventory Data with Application to Concrete. International Journal of Life Cycle Assessment 22(5) 694-706. | Published or Accepted in Refereed Journals |
| Panesar, DK,  Aqel, M., Rhead, D, Schell, H. (2017) Effect of Cement Type and Limestone Particle Size on the Durability of Steam Cured Self-Consolidating Concrete. Cement and Concrete Composites. June V.80, 175-189. | Published or Accepted in Refereed Journals |
| Gautam BP, Panesar, DK (2017) The effect of elevated conditioning temperature on the ASR expansion, cracking and properties of reactive Spratt aggregate concrete. Construction and Building Materials. V.140, 310-320. | Published or Accepted in Refereed Journals |
| Gautam BP, Panesar, DK, Sheikh, SA, Vecchio FJ. (2017) Effect of coarse aggregate grading on the ASR expansion and damage of concrete. Cement and Concrete Research V95 75-83. | Published or Accepted in Refereed Journals |
| Gautam BP, Panesar, DK, Sheikh, SA, Vecchio FJ. (2017) Multiaxial Expansion Stress Relationship for Alkali Silica Reaction-Affected Concrete. American Concrete Institute Materials Journal Jan-Feb. V. 114 No.1. 171-184. | Published or Accepted in Refereed Journals |
| Mo, L., Zhang, F, Deng, M. Panesar, DK (2016) Effectiveness of using CO2 pressure to enhance the carbonation of Portland cement-fly ash-MgO mortars. Cement and Concrete Composites. 70: 78-85 | Published or Accepted in Refereed Journals |
| Aqel, M., Panesar, DK. (2016) Hydration Kinetics and Compressive Strength of Steam-Cured Cement Pastes and Mortars Containing Limestone Filler. Construction and Building Materials. V.113 p.359-368. | Published or Accepted in Refereed Journals |
| Gautam, B., Panesar, DK. (2016) A new method of applying long-term multiaxial stresses in concrete specimens undergoing ASR, and their triaxial expansions Materials and Structures. 49: 3495-3508. | Published or Accepted in Refereed Journals |
| Onuaguluchi, O., Panesar, DK., Sain, M. (2014) Properties of nanofibre reinforced cement composites. Construction and Building Materials. Vol. 63 p. 119-124. | Published or Accepted in Refereed Journals |
| Onuaguluchi, O., Panesar, DK. (2014) Hardened Properties of Concrete Mixtures containing Pre-Coated Crumb Rubber and Silica Fume. Journal of Cleaner Production. Vol. 82, p. 125-131. | Published or Accepted in Refereed Journals |
| Panesar, DK., Dolatabadi, M. (2014) Properties of Photocatalytic Concrete. Journal of the Chinese Ceramic Society. V.42, No. 5. | Published or Accepted in Refereed Journals |
| Panesar, DK., Francis, J. (2014) Influence of limestone and slag on the pore structure of cement paste based on mercury intrusion porosimetry and water vapour sorption measurements. Construction and Building Materials.  Construction and Building Materials. V.52 P 52-58. | Published or Accepted in Refereed Journals |
| Mo, L., Panesar, DK. (2014) Microstructure of Reactive Magnesia Cement Pastes Subjected to High Carbon Dioxide Concentration. Journal of the Chinese Ceramic Society. V.42, No. 2 | Published or Accepted in Refereed Journals |
| Mo, L, Panesar, DK. (2013) Accelerated Carbonation- A Potential Approach to Sequester CO2 in Cement Paste Containing Slag and Reactive MgO. Cement and Concrete Composites V. 43, 69-77. | Published or Accepted in Refereed Journals |
| Panesar, DK. and Mo, L (2013) Properties of Binary and Ternary Reactive MgO Mortar Blends Subjected to CO2 Cement and Concrete Composites V.38, 40-49. | Published or Accepted in Refereed Journals |
| Panesar, D.K. (2013) Cellular Concrete Properties and the Effect of Synthetic and Protein Foaming Agents. Construction and Building Materials V.44, 575-584. | Published or Accepted in Refereed Journals |
| Churchill, C. J., Panesar, D. K. (2013) Life-Cycle Cost Analysis of Highway Noise Barriers Designed with Photocatalytic Cement. Structure and Infrastructure Engineering- Maintenance, Management Life-Cycle Design and Performance. V.9 (10), 983-998. | Published or Accepted in Refereed Journals |
| Panesar, D.K., Churchill, C.J. (2013) The Influence of Design Variables and Environmental Factors on Life-Cycle Cost Assessment of Concrete Culverts. Structure and Infrastructure Engineering Maintenance, Management Life-Cycle Design and Performance. V.9(3),201-213. | Published or Accepted in Refereed Journals |
| Panesar, D.K., Shindman, B. (2012) The Mechanical, Transport and Thermal Properties of Mortar and Concrete Containing Waste Cork. Cement and Concrete Composites V.34:982-992. | Published or Accepted in Refereed Journals |
| Shindman, B., Panesar, D. K. (2012) Comparative Study of Plastic Property Test Methods for Self-Consolidating Concrete. Canadian Journal of Civil Engineering. V.39, 937-950. | Published or Accepted in Refereed Journals |
| Chidiac, S.E., Panesar, D.K., and Zibara, H. (2012) The Physical Pore Structure of Concrete containing GGBFS Before and After Exposure to NaCl. Materials and Structures J. V45:1245-1258. | Published or Accepted in Refereed Journals |
| Mo, L., Panesar, D. K. (2012) Effects of Accelerated Carbonation on the Microstructure of Portland Cement Paste Containing Reactive MgO. Cement and Concrete Research.  42; 769-777. | Published or Accepted in Refereed Journals |
| Panesar, D.K., Shindman, B (2012) The Effect of Segregation on Transport and Durability Properties of Self Consolidating Concrete. Cement and Concrete Research. V.42; 252-264. | Published or Accepted in Refereed Journals |
| Panesar, D.K., Chidiac, S.E. (2011) The Effect of Cold Temperatures on the Chloride Binding Capacity of Cement. Journal of Cold Regions Engineering. ASCE pp.133-144. | Published or Accepted in Refereed Journals |
| Panesar, D.K., Shindman, B. (2011) Elastic Properties of Self Consolidating Concrete. Construction and Building Materials, V.25, pp.3334-3344. | Published or Accepted in Refereed Journals |
| Panesar, D.K., Chidiac, S.E. (2009) Capillary Suction Model for Characterizing Salt Scaling Resistance of Concrete containing GGBFS. Cement and Concrete Composites. V. 31, pp 570-576. | Published or Accepted in Refereed Journals |
| Chidiac S.E, Panesar, D.K. (2008) Evolution of Mechanical Properties of Concrete Containing Ground Granulated Blast Furnace Slag and Effects on the Scaling Resistance Test at 28 days. Cement and Concrete Composites Journal. V. 30, pp.63-71. | Published or Accepted in Refereed Journals |
| Panesar, D.K., Chidiac, S.E. (2007) UPV used to Predict the Early Age Properties of Concrete Containing GGBFS. Canadian Journal of Civil Engineering. V.34, pp.682-685. | Published or Accepted in Refereed Journals |
| Panesar, D.K., Chidiac, S.E. (2007) Multi-Variable Statistical Analysis for Scaling Resistance of Concrete Containing GGBFS. Cement and Concrete Composites Journal. V.29, pp.39-48. | Published or Accepted in Refereed Journals |
| Panesar, D.K., Bartlett, F.M. (2006) Assessment of Precast Stringer Highway Bridges using Mean Load Method. Canadian Journal of Civil Engineering. V. 33, pp.1359-1367. | Published or Accepted in Refereed Journals |
| Panesar, D.K., Bartlett, F.M. (2006) Load and Resistance Data for Precast Stringer Highway Bridges. Canadian Journal of Civil Engineering. V. 33, pp.1368-1378. | Published or Accepted in Refereed Journals |
| Kanraj D, Panesar DK (accepted Feb 2017)  'Effect of transportation of fly ash: an LCA and LCCA analysis of concrete' (submitted to 71st RILEM week & International Conference on Advances in Construction Materials and Systems to be September 2017 Chennai, India) | Selected Published Conference Papers |
| Aqel, M., Panesar DK, (submitted Jan 30, 2017) 'Delayed Ettringite Formation in Concrete Containing Limestone Filler. 10thACI/RILEM International Conference on Cemenititous Materials and Alternative Binders for Sustainable Concrete (to be Oct 2-4, 2017, Montreal, Quebec). | Selected Published Conference Papers |
| Qureshi,T., Panesar DK, (2017) 'A Review: The Effect of Graphene Oxide on the Properties of Cement Based Composites'  CSCE- Leadership in Sustainable Infrastructure Conference, Vancouver, British Columbia). | Selected Published Conference Papers |
| Gautam, B, Panesar DK (2017) Microscopic Cracking of ASR-Affected Fiber-Reinforced Concrete.  ACI Spring Convention, Detroit, USA, March 2017. | Selected Published Conference Papers |
| Panesar, DK, Bilan, Y. (2017) Carbonation Curing of Concrete containing Reactive MgO: A Study of the Material Properties and Economic Feasibility.  11th High Performance Concrete (HPC) and 2nd Cement Innovations in Concrete (CIC), Tromso, Norway 6-8 March 2017. | Selected Published Conference Papers |
| Panesar, DK, Gautam, B (2016) The Mechanisms Behind the Partial Recovery in the Degraded Mechanical Properties of ASR-Affected Concrete.  Fib Symposium. November 2016, Cape Town South Africa. | Selected Published Conference Papers |
| Panesar, DK, Churchill, CJ, Seto, K. (2016) 'Effect of Transportation Distance, Energy Mix and Allocation of Fly Ash on the Life-Cycle Assessment of Concrete' International Association of Life Cycle Civil Engineering (IALCCE) October 2017, Delft, The Netherlands. | Selected Published Conference Papers |
| Milanesi, C., Mussio, A., Minelli, F., Panesar, DK (2016) The Applicability of Ultrasonic Pulse Velocity Measurements to Self-Consolidating Fibre Reinforced Concrete.  9th Rilem International Symposium on Fiber Reinforced Concrete. Sept 19-21, Vancouver, BC. | Selected Published Conference Papers |
| Abualrous, Y, Panesar, DK, Hooton, RD, Singh, B. Particle Size Analysis as a Means to Better Understand the Influence of Fly Ash Variability in Concrete. CSCE, London, Ontario, June 1-4, 2016. | Selected Published Conference Papers |
| Zhang, R. , Panesar, DK, Mechanical Properties of Concrete Containing Reactive MgO Under Accelerated Carbonation Curing. CSCE, London, Ontario. June 1-4, 2016. | Selected Published Conference Papers |
| Leung,RK, Panthapulakkal, S., Sain, M., Panesar, DK/ 'The Effect of Sodium Hydroxide Surface Treatment on the Tensile Strength of Cellulose Nanofibre' First International conference on Bio-based Building Materials, to be June22-24, 2015. Clermont Ferrand, France. | Selected Published Conference Papers |
| Seto, K, Churchill, C.J., Panesar, D.K. 'Criteria for the Evaluation of Life Cycle Assessement Software Packages with Application to Concrete' Canadian Society of Civil Engineering, to be May27-30, 2015, Regina, Saskatchewan, Canada. | Selected Published Conference Papers |
| Panesar, D.K, Aqel, M. 'Properties of Self- Consolidating Concrete Containing Limestone Filler' International Conference on Construction Materials and Structures (ICCMATS). November 24-26, 2014, Johannesburg, South Africa. | Selected Published Conference Papers |
| Churchill, CJ, Panesar, D.K 'Life Cycle Assessment of Highway Infrastructure Designed with Photocatalytic Cover' International Association of Life Cycle Civil Engineering (IALCCE) November 2014, Tokyo, Japan. | Selected Published Conference Papers |
| Gautam, B., Panesar, D. 'Anisotropic Expansion of ASR Affected Concrete Prism Specimens.' XIII International Conference on Durability of Building Materials and Components. Sept 2-5 2014 Sao Paulo Brazil. | Selected Published Conference Papers |
| Mo, L., Panesar, D.K. (September 2013) The Physical Microstructure of Reacive MgO Cement Pastes Subjected to High CO2 Concentration.  8th International Symposium on Cement and Concrete (ISCC2013).  Nanjing, China. | Selected Published Conference Papers |
| Panesar, D.K, and Dolatabadi, M (September 2013) Properties of Photocatalytic Concrete. 8th International Symposium on Cement and Concrete (ISCC2013).  Nanjing, China. | Selected Published Conference Papers |
| Aqel, M., and Panesar, D.K. (June 2013) Early Age Properties of Steam Cured High Early    Strength Cement Mortars containing Limestone. CSCE, Montreal, Quebec. May 28 - June 1, 2013. | Selected Published Conference Papers |
| Clarridge (nee Khasova), E., and Panesar, D.K. (May 2013) Early Age Hydration of Metakaolin Cement Blends. 1st International Conference on Concrete Sustainability. Tokyo, Japan, May 27-29, 2013. | Selected Published Conference Papers |
| Panesar, D.K. (January 2013) Properties of Cellular Concrete using Synthetic and Protein Based Foaming Agents".  Conference on Advances in Cement and Concrete Technology in Africa, ACCTA South Africa, Jan28-30, 2013. | Selected Published Conference Papers |
| Panesar, D.K, Churchill, C.J. and Dolatabadi, M (October 2012) Feasibility of Photocatalytic Concrete - Economic Perspectives. Proceedings of the Twelfth International Conference on Recent Advances in Concrete Technology and Sustainability Issues (Ed. P.Gupta & P.Gupta) Prague, Czech Republic, October 31-November 2, 2012, p.123-134. | Selected Published Conference Papers |
| Shindman, B., and Panesar, D.K. (October 2012) Impact of Granulated Cork on the Properties of Concrete-Cork Composites containing Slag. Proceedings of the Twelfth International Conference on Recent Advances in Concrete Technology and Sustainability Issues (Ed. P.Gupta & P.Gupta) Prague, Czech Republic, October 31-November 2, 2012. p.149-158 | Selected Published Conference Papers |
| Churchill, C. J. and Panesar, D. K. (October 2012) The Economic Impact of Photocatalytic Concrete in an Urban Industrial Setting.  Third International Symposium on Life- Cycle Civil Engineering IALCCE 2012, Vienna, Austria Oct 3-6, 2012. | Selected Published Conference Papers |
| Yee-Ching, G-H, Wang, Y., and Panesar, D. K. (April 2012) Effect of Seasonal Temperature Changes on the Chloride Binding Capacity and Pore Structure of Pastes Containing SCMs.  The 2nd International Conference MicroDurability, 11-13 April 2012, Amsterdam, The Netherlands. P.8. | Selected Published Conference Papers |
| Panesar, D.K. and Shindman, B. (Nov 2010) Self Consolidating Concrete as a Repair Material for Ageing Nuclear Related Structures. Proceedings of the International Workshop on (AMP) Ageing Management of Nuclear Power Plants and Waste Disposal Structures. Toronto, Ontario. Ed. K. Philopose and V. L'Hostis. On CD 8p. | Selected Published Conference Papers |
| Panesar, D.K. and Churchill, C.J. (Oct. 2010) Evaluation of Concrete Repair Alternatives for a Containment Structure Using Life-Cycle Cost Analysis. Proceedings of the Second International Symposium on Life- Cycle Civil Engineering IALCCE 2010.  Eds S. Chen, D. Frangopol, A H-S Ang. Taiwan Tech, Taiwan.p.740-745. | Selected Published Conference Papers |
| Shindman, B. and Panesar, D.K. (Sept. 2010) A Comparison of Segregation Test Methods: Visual Stability Index and Column Method, Proceedings Vol. II Self-Consolidating Concrete (SCC) 2010- Design Production, and Placement of SCC 6th International RILEM Symposium on SCC. Montreal, Quebec, Canada. Eds K. Khayat, D. Feys.  p.563-571. | Selected Published Conference Papers |
| Panesar, D.K., Churchill, C.J., Chidiac, S.E., Kling, E. (June 2008) Life-Cycle Cost and Service Life Prediction of Precast Concrete Culvert.  International Life-Cycle Cost Conference in Civil Engineering, Varenna, Italy. pp.857-862. | Selected Published Conference Papers |
| Panesar, D.K. and Chidiac, S.E. (May 2008) Wet Cast vs. Dry Cast:  Production, Properties, and Performance. 2ndCanadian Conference for Effective Design of Structures, Hamilton, Ontario. p.8. | Selected Published Conference Papers |
| Chidiac, S.E. and Panesar, D.K. (March 2006) Sorptivity of Concrete as an Indicator of Laboratory Freeze-Thaw Scaling Performance.  International RILEM Workshop on Performance-Based Evaluation and Indicators for Concrete Durability, Madrid, Spain. pp.59-66. | Selected Published Conference Papers |
| Chidiac, S.E. and Panesar, D.K, Smeltzer, P. and Kling, E. (July 2005) Current Issues with Concrete Containing Blast Furnace Slag in the Precast Industry. 1st Canadian Conference for Effective Design of Structures, Hamilton, Ontario. pp.603-611. | Selected Published Conference Papers |
| Panesar, D.K. and Chidiac, S.E. (June 2004) The Influence of Ground Granulated Blast Furnace Slag on Salt Scaling Resistance. 5th International Ph.D. Symposium in Civil Engineering, The Netherlands. pp. 269-276. | Selected Published Conference Papers |
By Phill Snel We know civil engineers are involved in building tall buildings, long bridges and large stadiums, but just how much detail do civil engineers delve into? Surprisingly, they're examining building materials down to the microscopic level. Sharing research and discoveries is big part of this small world (pun intended) within the engineering community…. Read more »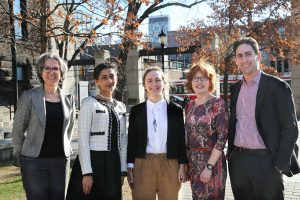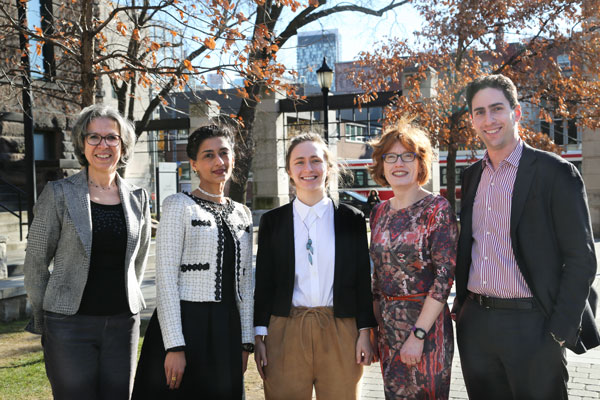 A team of researchers from U of T Engineering is partnering with the construction industry to help reduce the carbon footprint of buildings, bridges, public transit and other major infrastructure projects. "What we're building is a decision-support tool that can be used in the early stages of design and planning," says Professor Heather MacLean (CivE), one of… Read more »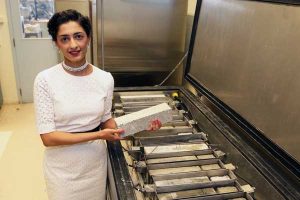 This story originally appeared on U of T News. Seven U of T Engineering faculty members have received the inaugural Percy Edward Hart and Erwin Edward Hart Professorships, enhancing emerging research and education across the Faculty. The professorships were created by a landmark bequest from the estate of alumnus Erwin Edward Hart (CivE 4T0). The… Read more »
Daman Panesar
Department of Civil & Mineral Engineering
University of Toronto
35 St. George St.
Toronto, Ontario
Canada, M5S 1A4