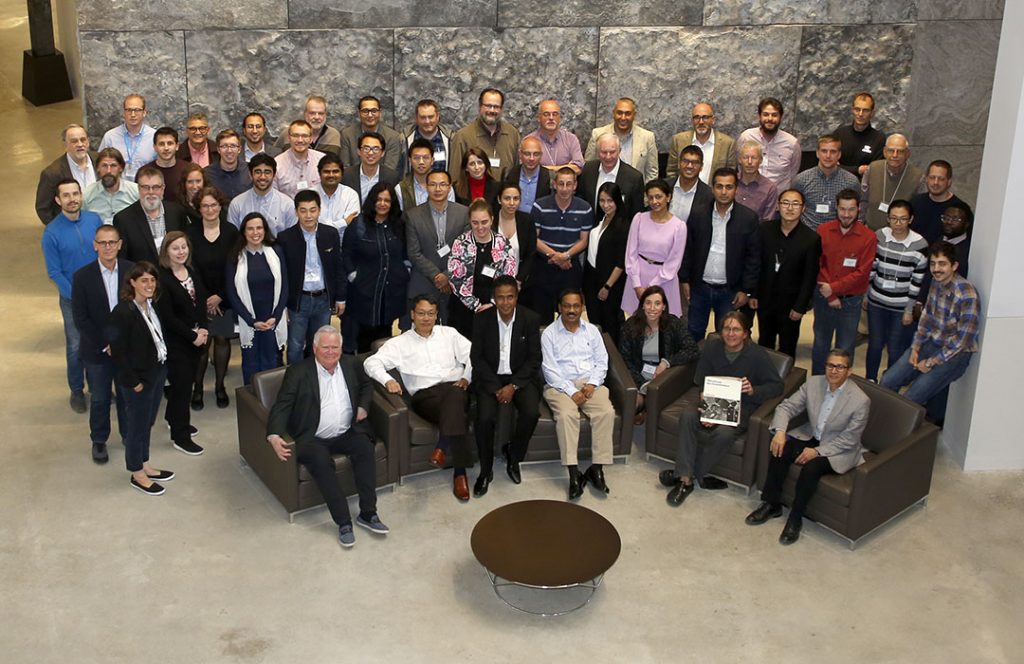 By Phill Snel
We know civil engineers are involved in building tall buildings, long bridges and large stadiums, but just how much detail do civil engineers delve into? Surprisingly, they're examining building materials down to the microscopic level. Sharing research and discoveries is big part of this small world (pun intended) within the engineering community.
For the first time in its history this biennial conference, known for being rooted in Europe, was held in North America. Organized by U of T's Professor Karl Peterson, Associate Professor in the Department of Civil & Mineral Engineering, the 17th Euroseminar on Microscopy Applied to Building Materials held events May 20-23 in Toronto.
"Everyone does research and makes discoveries or observations, but in isolation at their own institution or company," explained Peterson. "When we gather here, it's a chance to share information and ideas, as well as prod some into exploring new avenues of research for building materials like concrete and cement. We're always trying to think of new ways to make the materials, and the structures it supports, better and better. It's a great incubator for even those who have been involved in civil engineering for a long time."
Welcoming remarks were given by organizers U of T Professors Karl Peterson (CivMin), Daman Panesar (CivMin) and Doug Hooton (CivMin), as well as Chris Rogers, who taught Geology for engineers at U of T and Ryerson University, to launch the event. Overall, the audience was gathered to learn from each other in order to build better structures.
Rogers, by way of introduction to the overall downtown, opened with a description of his practical walking tour of the St. George campus to observe the various stones used in campus buildings. He found it to be an elegant solution to the complications and logistics of taking first-year students on a field trip. "I couldn't just load up over 100 students on a bus trip," Rogers said. "This was far easier."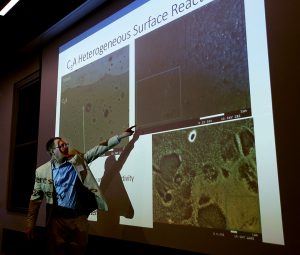 Keynote speaker Virginia Tech College of Engineering's Assistant Professor Alexander Brand opened with a talk on the in situ dissolution kinetics of cementitious minerals by digital holographic microscopy.
With some 42 speakers and sponsors focusing on cross-sections of highly-polished concrete and cement, many presentation slides might appear as abstract art to the untrained eye. The keen eyes observing, however, could readily discern materials displayed and techniques used for study.
"I've been attending [this conference] since the very first one, though we didn't call it the Euroseminar then," said speaker Peter Laugensen of sponsor Pelcon Materials & Testing ApS from Denmark. "I first met the young man, Karl [Peterson], in 1997 when it was held in Iceland."
Some diversions from the main lecture theatre allowed the conference a few off-site visits. A reception at the Royal Ontario Museum (ROM), including a special display of minerals important to the cement and concrete industries by Mineralogy & Geology Technician Katherine Dunnell, as well a dinner at the ornate Hart House Gallery Grill were part of the featured events.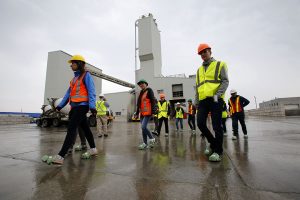 A field trip was a highlight of the conference. Adorned with high visibility safety vests, hard hats and safety glasses, with steel-toed caps later provided, a busload of enthusiastic engineering professionals embarked on a tour of Toronto's Portlands. A first stop presented a guided tour the Canada Building Materials Portlands Ready-Mix Concrete Plant.
Afterwards the group travelled to the Leslie Street Spit, part of Tommy Thompson Park (TTP), for a picnic lunch and tours of several beaches as well as bird nesting grounds. Used as a site for dumping solid construction debris such as concrete, brick and other stones, its shores have unique and challenging landscapes for pedestrians.
The land on which TTP lies is completely man-made. Millions of cubic metres of concrete, earth fill and dredged sand have been placed to create the site now extending five kilometres into Lake Ontario. The park is home to many migratory nesting birds and has some protected zones blocked off from visitors.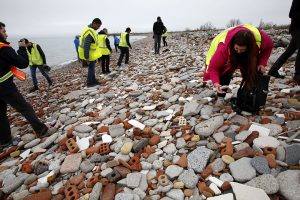 Peterson made a point of escorting the tour to a cormorant nesting area, which he referred to as "Noisy and smelly, but you've got to see it… and hear it."
The gathering of 74 attendees included a predominantly North American crowd, but also drew 21 from Europe and the U.K., and four from Asia.
In conclusion to the conference, Hooton expressed his appreciation to Peterson. "Congratulations on organizing and running an excellent international conference on Campus. The technical sessions, tours, and social events were well organized and well executed. The Canadian and International attendees were all pleased," he said.
But why was this Euroseminar hosted in Toronto of all places?
Peterson, who has attended several previous Euroseminars, offered an invitation to expand the geographical location at a previous conference at the 2015 15th Euroseminar held in Delft, Netherlands, "The Euroseminar doesn't have to be held just in Europe," speaking as a pitch to hold the next gathering in Toronto. "After all, the precedent has been set with the 1995 event in Iceland. It's on the west side of the Mid-Atlantic Rift, so part of the North American continental plate, so there's already been a conference held on North America soil." To his great surprise, the argument was successful and Toronto awarded the site of the 17th Euroseminar for 2019. "I guess they appreciated that logic," recounted Peterson.
Announced at the closing formal event, the 18th Euroseminar on Microscopy Applied to Building Materials will be held in Lille, France, and organized by Vincent Thiéry of IMT Lille Douai. It is expected to be held in June 2021. The 19th will be held in Kassel Germany in 2023, hosted by Alexander Wetzel, Johannes Arend, and Bernhard Middendorf.