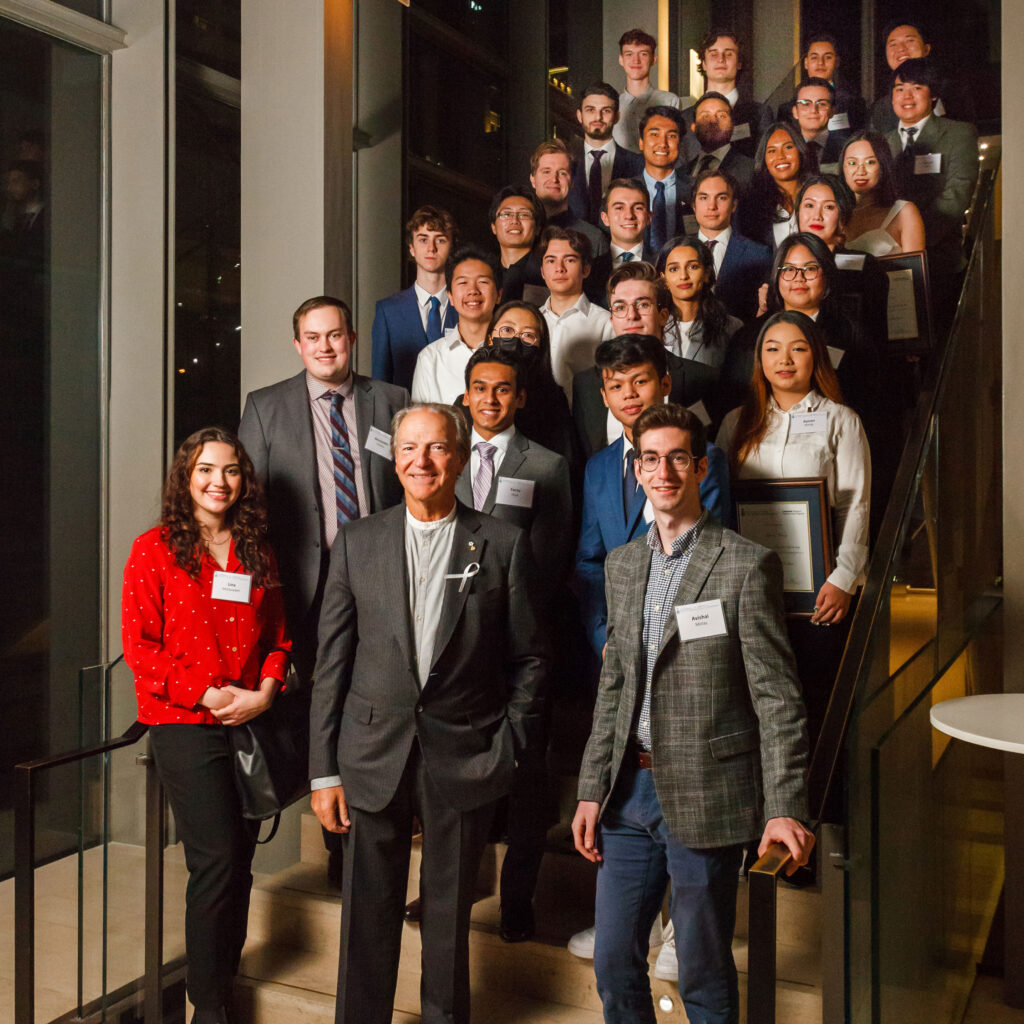 The day after he first arrived in Canada from Sri Lanka, Channa Kumarage (BASc 2016) headed to the University of Toronto to pay tuition fees. But there was a snag.
"I had to change my cheque to a lesser amount!" he says. "I discovered I had received the Lassonde Scholarship. For a kid who'd just come from far to start a new life, that was a wonderful surprise. I thought it couldn't get much better than this. Except it did."
The Lassonde Scholarships, valued at up to $10,000 per year, support students in the Lassonde Mineral Engineering program at U of T's Faculty of Applied Science & Engineering. Philanthropist Pierre Lassonde (Hon DEng 2001) founded the awards in 1996 as the first step in a visionary program of giving. He has also created two chairs, supported an interdisciplinary research initiative, and donated generously to help renovate the Lassonde Mining Building and its sustainability-focused Goldcorp Mining Innovation Suite.
In December, Lassonde Scholars and friends gathered for a special 25th-anniversary celebration of the scholarships. "You are going to be at the forefront of a sustainable transformation," Lassonde told the assembled Scholars. "That is because, for the greening of the world, 80 per cent of our energy in the next 10 to 25 years will have to come from electricity. And what conducts electricity? Copper! If you don't have copper, you will not have any lighting, heating, communications or transportation."
"You're going to end up as presidents or CEOs," he added, "and I hope you will be a Canadian beacon in the world in terms of environmental stewardship."
You are going to be at the forefront of a sustainable transformation. You're going to end up as presidents or CEOs, and I hope you will be a Canadian beacon in the world in terms of environmental stewardship.
The Lassonde Scholars make a difference, in school and after graduation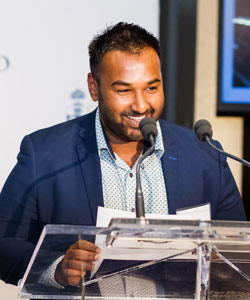 "Pierre Lassonde has set the highest standards for excellence, ingenuity and leadership in the mining industry," says Meric Gertler, President of U of T. "Following his example, Lassonde Scholars are spearheading efforts to advance safety, innovation, sustainability and social responsibility in the field. We remain profoundly grateful for Mr. Lassonde's passion and generosity in helping these future leaders to succeed."
Just six years after graduating with a bachelor's degree in mineral engineering, Kumarage is well on his way to being one of those beacons. As Director of Corporate Development for Minto Metals Corp., he's planning expansions, mergers and more. He knows the Lassonde program helped him reach this point. "I got my first job thanks to a U of T alum," he says. "It was not a job that I applied for—they reached out directly only to U of T and that shows what kind of a connection the school has with the alumni."
New graduate Joleia Marie Bucad (BASc 2022) also drew on the alumni network—for her co-op placement, an integral part of the program. "I was able to ask an upper year who had worked at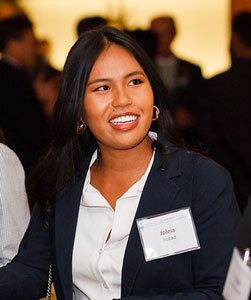 the same mine about her experience there. That helped me decide…I took the job and had the most amazing experience!" she says. Today, she's working at Newmont's Musselwhite Mine as a mine planner.
"We have an unparalleled sense of community, not just between people in the same class but also between the different years of the program," adds Alec Gilvesy, who will be graduating in June. Relief from financial worries allowed him to become deeply involved in student life, from co-captaining the Mining Games team to playing trombone for the Lady Godiva Memorial Band.
Principally, however, the scholarship means he gained the time to help others. He's president of the Mineral Engineering Club. "We're working with the students who are looking for summer jobs and co-op placements," he says. "A lot of us fourth-years do this."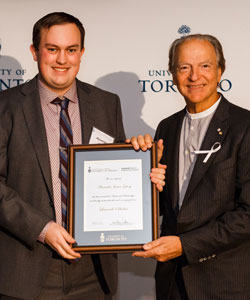 Students also get the opportunity to visit a mine, paid for by Lassonde. For Bucad, the experience was transformative. "In first year I was still unsure what discipline I wanted to enter," she says. "With the deadline coming up. I chose Mineral Engineering on a whim. After going on the Lac Des Iles field trip in my second year, I knew I had made the right decision and wanted to work at a mine after I graduated."
Today, Kumarage attends U of T open houses to encourage undergraduates and hopes to join the faculty's new alumni advisory panel. "I owe everything in my career to U of T and the Lassonde mining program so it's all about giving back to it," he says.
"Mineral engineering serves a critical role in our Canadian economy and in the world at large," said Christopher Yip, Dean, Faculty of Applied Science & Engineering, in his remarks at the celebration. "U of T Engineering and the Lassonde Mineral Engineering Program are in the proud tradition of innovation in this field. Pierre, I want to express how grateful we are for your invaluable support. The more than 200 Lassonde Scholars are the makers, innovators and leaders of the next generation. We are so proud to partner with you on passing the torch to them."
Pierre Lassonde's extraordinary impact on mineral engineering
In 1982, Pierre Lassonde co-founded Franco-Nevada Mining, launching an exceptional career in both the mining industry and investment industries. Generous with his success, he has created a legacy of remarkable giving to educational institutions. His donations of more than $10 million to the University of Toronto have helped energize the Lassonde Mineral Engineering program for a quarter century.
The program has one of the faculty's highest rates of graduate employment and career advancement.
"Pierre's vision, enthusiastic involvement and generosity for more than 25 years has been nothing less than transformative," says David Palmer, U of T's Vice-President, Advancement. "We're grateful for how he has helped U of T Engineering attract top students from around the world and launch them into leadership positions. We couldn't be more pleased with how our incredible Lassonde alumni are helping to grow the strong, healthy and sustainable mining sector so essential to the innovations of the future."
This story originally published Univesity of Toronto