A new partnership, powered by a Connaught Global Challenge Award, will bring several First Nations in Saskatchewan together with a team of researchers from the University of Toronto and Toronto Metropolitan University to develop new pathways toward housing self-sufficiency.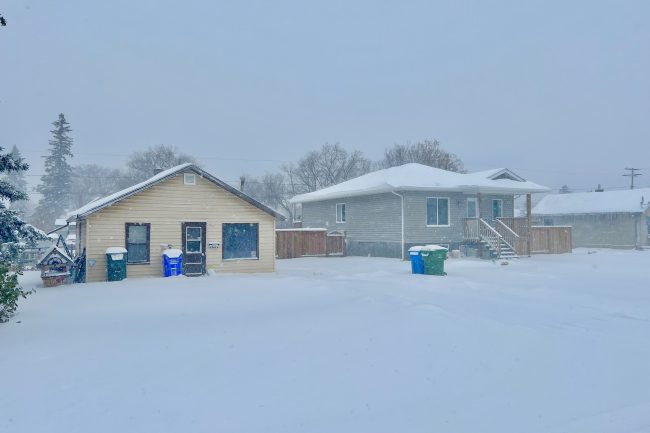 "A key issue in these communities is the availability of building materials, specifically the reliance on outside sources for materials," says Professor Sarah Haines (CivMin), a member of the project team.
"Transporting materials to these remote communities is a significant challenge and creates a very limited supply to meet demand. Making use of locally available materials could enable the building of more houses, as well as address issues with the current housing stock."
The idea for the project was seeded while Haines was preparing to study indoor air quality on First Nations in Ontario. She connected with Toronto Metropolitan University Architectural Science professor and U of T Engineering alumnus Helen Stopps (EngSci 1T5, MIE PhD 2T1). Stopps was also interested in studying housing in First Nations communities, but from a different perspective.
"Researchers in my field have traditionally tended to focus on individual buildings," says Stopps. "I'm much more interested in how things work at a regional level, especially in terms of how policies, politics and social structures impact what gets built. This applies to all communities, from big cities to remote First Nations communities."
Haines and Stopps were connected to experts, such as Becky Big Canoe of Chippewas of Georgina Island First Nation. In those conversations, they saw an opportunity for a project to help address the broader set of issues that affect housing availability on many First Nations across Canada.
Through involvement in the Housing Supply Challenge offered by the Canada Mortgage and Housing Corporation (CMHC), Haines and Stopps connected with Natalie Clyke, who works as a Pandemic Coordinator with the Prince Albert Grand Council (PAGC). This organization represents 12 different First Nations that together comprise about 48% of the land area of Saskatchewan.
Clyke has long been a proponent of the use of innovative and sustainable materials in housing on First Nations communities.
"One thing I've been advocating for here in Saskatchewan is the use of magnesium oxide board," says Clyke. "This material can be used in the same ways as plywood, gypsum or cement, but it has natural anti-microbial properties that can prevent some of the issues we see, for example around mold and mildew."
In the past, Clyke has developed proposals for a community-operated magnesium oxide board manufacturing facility that would produce this material right where it's needed. It's just one example of the types of potential solutions that the new partnership aims to explore.
In addition to Haines and Stopps, researchers on the project include U of T professors Tracey Galloway (Anthropology, UTM) and Nicholas Spence (Health and Society). It also includes Penny Kinnear, a lecturer with the Troost Institute for Leadership Education in Engineering, and Roxanna Dehghan, a research associate at the Centre for Global Engineering.
Through Clyke, these researchers have been connected with several of the Saskatchewan First Nations that are members of PAGC. These include Peter Ballantyne Cree Nation, James Smith Cree Nation, Wahpeton Dakota Nation and Montreal Lake Cree Nation. Conversations with the remaining PAGC First Nations and communities are ongoing.
The project is titled From Harvest to House: Developing a Pathway to Housing Self-sufficiency in Remote First Nations Communities. The Connaught Global Challenge Award provides funding from U of T's Connaught Fund, Canada's largest internal university research funding program. Established 50 years ago through the sale of Connaught Medical Research Laboratories, the fund has since given out more than $178.7 million to U of T researchers, supporting a wide array of scholars and projects across a diverse range of fields.
"This is exactly the kind of important and impactful research the Connaught Global Challenge Award was created to support," said Professor Leah Cowen, U of T's vice-president of research and innovation, and strategic initiatives. "I'm looking forward to seeing the results of this innovative collaboration."
Over the course of the next several months, this group aims to convene a series of individualized workshops that enable the project's members to discuss both the challenges and the potential for new approaches.
"Our initial goal is to listen to community representatives and determine the most critical housing issues in their community," says Haines. "From there, we can start to talk about what materials are available, how they could be repurposed, or what innovative strategies might help address these issues."
"These workshops will be an opportunity for our communities to develop relationships with builders, engineers and researchers," says Clyke.
"Together, they can create new and improved building methods that will incorporate what the communities themselves have available and want to use, while reducing the need to rely on outside materials and expertise."
Clyke says that what she'd ultimately like to see come out of the project is a publicly available resource that outlines a set of solutions that any community can adapt to its own situation and needs.
"As we embark on this, we're walking with our culture, our trauma and our reconciliation," she says. "Everything requires an unfolding for it to heal, and that's true of our housing practices as well."