Originally posted on U of T News  |  May 26th, 2017 by Tyler Irving
This story is the first in a news series on artificial intelligence and machine learning, published throughout the spring and summer of 2017.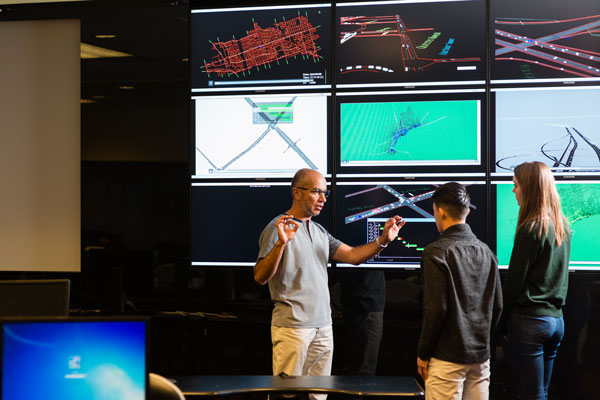 From Waymo's self-driving cars to e-sharing companies like Zipcar, technology is disrupting the traditions of travel. Proponents of these innovations promise that they will improve safety, reduce congestion and lower emissions — a new U of T research centre is studying how these predictions may play out in reality, and how to make the new technology work in our favour.The iCity Centre for Automated and Transformative Transportation Systems (iCity-CATTS), the newest addition to the University of Toronto Transportation Research Institute (UTTRI), will examine how new transportation technologies affect our cities. Its multidisciplinary team will create models and methods to quantify their impacts on our transportation systems, our future cities, and their economic, social and environmental sustainability. This includes addressing factors such as congestion, commuting times, urban sprawl, emissions and human health.
Professor Baher Abdulhai (CivE) will lead the new centre, with several of his UTTRI colleagues. "When Henry Ford created the first mass-produced model-T automobile more than 100 years ago, the world changed," says Abdulhai. "With revolutionary technology, we are now taking the car as we know it and putting it on steroids. We have a bold vision for a future that is automated, shared and green, but there are risks too. We want to avoid those risks and empower people and businesses to maximize their potential."
Development of the self-driving car is being accelerated by improvements in machine learning and artificial intelligence that will improve its navigational and maneuvering capabilities, and presumably lead to a more efficient use of available road space. But Abdulhai says that may or may not be the case. "If an autonomous vehicle is programmed to be cautious and leaves more space in front of it compared to the human driver, the capacity of our roads could actually go down," he says.
Autonomous vehicles could also contribute to urban sprawl. "The convenience of being in a car that drives itself while you're watching a movie or working on a laptop might mean that people now choose to live further away from where they work," says Abdulhai.
Another example: "When I go to the dentist, do I send my autonomous car back home to self-park for free or ask it to drive around for half an hour until I am done?" asks Abdulhai. "There are many such questions, but the truth is, nobody knows the answers yet."
Data on the potential long-term impacts of related technologies, such as car sharing and ride-hailing apps, are also limited. And the unknowns multiply when these technologies are combined into multi-modal transportation networks: imagine an app that buys you a train ticket, summons an autonomous vehicle to take you to the station and, at the other end, ensures that an autonomous bicycle is rolling toward you, ready for you to hop on.
By building models and simulating various scenarios, Abdulhai and his team will study topics such as:
Infrastructure — Will autonomous vehicles increase road capacities or put more strain on highways, off-ramps or other roads? Will separate or hybrid lanes be desirable?
Freight and shipping — Could self-driving trucks, autonomous robots or drones reduce delivery time? How would this impact the economic bottom line? How would these robots interact with pedestrians on sidewalks?
Environment — Can car sharing services combine with ride-hailing apps reduce the number of cars on the road? If so, how much will that reduce emissions and carbon?
Human health — Do smart technologies provide opportunities to better integrate walking or cycling into our commutes? How will this impact our choices?
Policy — How do we design our future cities to ensure that technology works for us, rather than against us? What policies, based on evidence, can help us avoid the pitfall of past urban development? What policies are needed to deliver a future transportation system that is automated, shared and green?
Sustainability — How do we ensure that the triple bottom line, i.e. economic, environmental and social sustainability, is maintained for our cities?
iCity-CATTS brings together leading experts in all of these areas from across U of T Engineering and beyond. Working across disciplines, they will provide insights that will enable both government and industry make informed decisions and stay ahead of the coming transformation.
"Much of the current research interest focuses on the technology — less attention has been paid to the mobility, social, economic, and environmental implications," says Abdulhai. "This is what iCity-CATTS is for. Our research will show how new technologies, including artificial intelligence and automated vehicles, will impact city-wide systems and affect our quality of life."