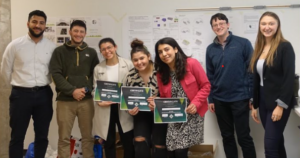 Ike Arzoumanian, a second-year Civil Engineering student, was part of a multidisciplinary team of three people to win first place at the Sustainable Buildings Challenge. The winning trio includes Eliany Rodriguez, a fourth-year architecture student and Javeriya Hasan, a PhD candidate in Building Science at Toronto Metropolitan University.
The competition challenged undergraduate and graduate students from across Canada to work on retrofitting one of Mattamy Homes' proposed building designs for the Milton Education Village to make the buildings more sustainable. Teams had to choose one of the many topics to focus their project on. Ike's team worked on improving the building's indoor living quality and energy efficiency; they used energy and daylight simulations to identify ideal combinations of sunlight entry and envelope formation. Within a week, they had to come up with a solution and present the project to the judges. 
The event hosted several panels for participants, with industry representatives and CivMin Professors Sarah Haines and Seungjae Lee. The 2023 Sustainable Buildings Challenge was organized by Sustainable Buildings Network (SBN) – an association of undergraduate and graduate students interested in sustainable building and building energy-related fields. The SBN creates a collaborative environment to bring together building-focused sustainability groups across campuses.
By Galina Nikitina