Undergrad summer student research positions explored
The following is part of a series introducing CivMin's undergraduate summer students to the Department and our greater community.
We explore the students' projects, motivation and challenges, while providing insights into who they are, and what motivates them, beyond academia. It also highlights the multitude of ways summer research opportunities are approached and implemented under the guidance of  our industry-leading CivMin professors.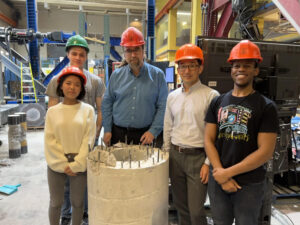 Undergraduate students Freddy Fisher, Fabio Karanja and Flora Thang all found themselves drawn to Structural Engineering. They all took Structural Analysis I (CIV214), taught by Professor Oh-Sung Kwon, and are now doing summer research under the co-supervision of Professors Kwon and Evan Bentz. Freddy, Fabio and Flora will be supporting two graduate students' research on nuclear containment structures leakage and the impact of high temperatures on certain materials. They've also been assigned their own personal projects.
Tell us a bit about yourself.
Freddy Fisher: I'm American-Canadian and have lived most of my life in New York City. I have family here – moved to Toronto for U of T and am going into my third year of Civil Engineering.
Fabio Karanja: I'm an international student originally from Nairobi, Kenya, and I'm transitioning into my third year of Civil Engineering.
Flora Thang: I'm from Toronto, born and raised, and I'm going into my third year of Civil Engineering this September.
What will be your role this summer? What types of tasks and work will you be doing? What's the research goal?
Freddy: My project is to compare two digital image correlation software and hardware systems. These systems measure the displacement field digitally by looking at how pixels move before and after a load is applied and then creating a strain field. We have a new demo system coming from Europe to compare with the older system we have [at U of T]. This data will then be compiled in a report. My personal goal is to apply my knowledge, learn, and gain insights into research at U of T and in Civil Engineering.
Fabio: I'm working with two graduate students, Liam Ma [MASc candidate] and Raymond Ma [PhD candidate] – not related – in the Structural Testing Facilities. Liam is exploring reinforced concrete walls of nuclear containment buildings and how leakage through the walls is impacted by various parameters such as crack width, length and pressure. Raymond is working on a hybrid (experimental-numerical) simulation method for structures subjected to high temperatures.
I'm mainly working with Liam to measure the flow rate coming through cracks. I'll be 3D printing a device to be attached to concrete cylinder samples. A flow meter will be added to the 3D-printed device to measure leakage through concrete cracks. The development of this device will then be documented in a report. I hope to utilize everything I've learned from my first to second year during this experience.
Flora: Professor Kwon has assigned me to explore the 3D scanning of concrete cylinders' cracked surfaces we'll be testing. I'm looking into those technologies to see if any precedents exist at other universities or if other people have worked on similar projects.
What motivated you to work with Profs Kwon and Bentz on this project?
Freddy: I went into Civil Engineering because of my interest in buildings and structures. Structural engineering is my main interest in Civil Engineering and I'll likely pursue it.  Also, I found Structural Analysis I, which Professor Kwon taught, very interesting and challenging. I reached out to Professor Kwon and he had a position, so here I am.
Fabio: Even before I started Civil Engineering, I was interested in buildings and designing buildings. When I started, I found myself drawn to structural engineering and construction management. I pursued structural engineering research to gain a better grasp of what it's all about. It's also a chance to learn more about the different research functionalities and tasks. So far, I find it very fun and interesting.
Flora: My interest in Civil Engineering started more in concrete. I used to watch my dad trying to fix our home, making all these different kinds of concrete. He'd always take me to the store to read all the labels. This experience from my childhood piqued my interest in the different properties of concrete, but when I started Civil Engineering, my interest started deviating more into structures.
It requires a lot of initiative; it's a good learning experience.
What do you foresee being the greatest challenge?
Freddy: I'd say the greatest challenge is with the independent projects. There's a lot of technology. I'm not great with technology, but I'm learning. Also, the project requires more independence. To get help with what you're looking for, you have to reach out to various people in the labs – who've been great. It requires a lot of initiative; it's a good learning experience.
Fabio: My greatest challenge will be the independent project – learning new software, how to model in 3D, how to work with 3D printing software and making sure the device at the end of it works. I also have to assemble the device from scratch –  procure the materials, get the device set up, pick the right material for 3D printing and assemble it. It's like making a whole new type of device that hasn't been used before. I also haven't done a research project to this scale before, making this an interesting challenge.
Flora: My greatest challenge is getting used to all the technical terms and technology because I've never been exposed to so much at once. Even when I'm looking at these 3D scanners, I have to learn how they work. I have to learn what exactly we need and I have to get on top of all these terms everyone is using, and slowly start to integrate myself into this more professional world.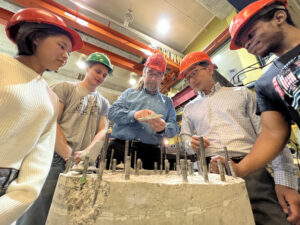 Have you found any favourite spots on campus?
Freddy: I enjoy day-to-day working in the Structural Testing Facilities [STF]. There are nice big windows, it's pretty spacious and there are lots of cool machines. The Common Room [Civ Club] is also right above, which is nice. I like biking a lot and have been trying to explore more of campus. I've been going through Victoria College, around Queen's Park.
Fabio: Every time we're not working, we're usually just in The Common Room. I also go to the gym, so the Goldring Centre and the Athletic Centre, and I've been exploring the [Bruce Kidd] Field House.
Flora: I think the [STF] are also really cool. If I get the chance, I want to explore it and the woodshop where they have all the table saws more. Since I'm a commuter, I also walk around campus a lot and try to look at the non-engineering areas.
Do you have any interesting hobbies or talents you'd like to share? 
Freddy: I was in a rock band; played the saxophone. We did classical, jazz and rock.
Fabio: I play the guitar and the piano. I can also speak three languages: English, German and my native language from back home, Swahili. I learned German in high school from my mom – she went to university in Germany.
Flora: I did woodworking in high school and am unusually good at using the table saw. A lot of people were scared of it because the blade rotates in your face, but it was my thing.
A few questions for the Profs:
It is challenging to initiate and start an open-ended project without a textbook, but I think in the end it'll be quite rewarding.
What do you hope for Fabio, Freddy and Flora to achieve this summer? Any major takeaways?
Prof. Oh-Sung Kwon: I think this is their first time working on an open-ended project. Until now, they were learning from courses, writing exams and working on assignments. It is challenging to initiate and start an open-ended project without a textbook, but I think in the end it'll be quite rewarding.
Prof. Evan Bentz: We have special things for each one of them to learn. They're helping graduate students doing research in the lab, but they also each have a special project. Fabio is 3D printing, Freddy is learning how to use digital image correlation and Flora is doing 3D surface scanning of individual surfaces. Each one of these things will be valuable from the research perspective and also as transferable skills.
How will Fabio, Freddy and Flora be contributing to this project/your research?
Prof. Kwon: The project we are working on is about leakage through nuclear containment structures. It probably hasn't happened yet but if it does, we need to be able to predict how much leakage will happen. The lab activities our graduate students are working on demand a lot of support. I hope our summer students not only provide this support but also contribute to their own individual projects. We're also in the process of acquiring a digital image correlation (DIC) system, but before we purchase, we want to test different products. That's what Freddy is working on.
Prof. Bentz: Our two graduate students, Raymond and Liam, are busy full time so there's not a lot of time to try out new ideas that may not work. The summer students try out these ideas and if they work, they're part of the thesis. If they don't work, the thesis doesn't need it. In concept, if it works (and we think it should), it'll pay off directly to the Master students' theses. And if it doesn't work, we learned stuff and we go on to new things.
Do you have any interesting hobbies or talents you'd like to share? 
Prof. Kwon: I like to walk, run and play tennis. In the past two to three years, I've liked taking pictures of stars. It's called astrophotography.
Prof. Bentz: I've been writing down what I do each day since 1990, so I have a 10,000-day history. I also started a project in April of 1990 to figure out what I'd done in the previous 20 years and I managed to hone in on most of that too.
By Rachael Gallant
Read more about our CivMin summer research students here.