The following is part of a series introducing CivMin's undergraduate summer students to the Department and our greater community.
We explore the students' projects, motivation and challenges, while providing insights into who they are, and what motivates them, beyond academia. It also highlights the multitude of ways summer research opportunities are approached and implemented under the guidance of  our industry-leading CivMin professors.
---
This summer, Haobo Zhao (CivE, Year 4) will be exploring the mine tailings problem and how to predict when mine tailing mountains might fail, under the supervision of Professor Mason Ghafghazi. Working in the Mechanics and Geotechnical Lab, Haobo is assisting Lizhi Qi (PhD candidate) with a number of tests to assess the strength of mine tailings. This work is contributing to the larger body of knowledge related to preventing the liquefaction of mine tailing mountains. Read more...
---
Sheen Patel (CivE, Year 3) has always been interested in concrete. He started exploring this research area in his first year when he joined U of T's Concrete Toboggan Team. This summer, he's collaborating with Exact Technology to develop a concrete sensor which will identify moisture levels at different depths over time, under the supervision of Professor Doug Hooton. His contribution to this project brings it one step closer to creating a user-friendly version of this device to be used by industry. Read more...
---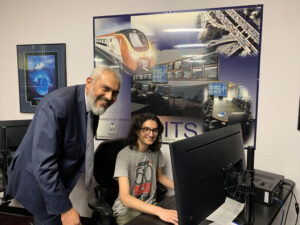 Rohan Wongkee (CivE, Year 3) has a talent for data analysis and a strong interest in the transportation research area. This summer, he'll be exploring train delays and their impact on passengers within Toronto's public transportation system, under the supervision of Professor Amer Shalaby. As a frequent TTC user himself, Rohan experiences these delays firsthand. His research will be contributing to improving overall user experience on public transportation. Read more...
---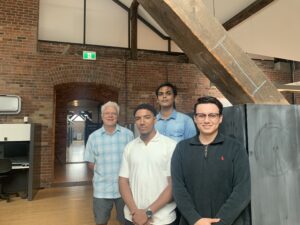 Rain Ferrer (MinE, Year 3), Anass Janah (Work-Study Student, Civil Engineering, Year 4, CESI de Bordeaux, France) and Madhavan Premrajka (Mining Engineering, Year 4, IIT Kharagpur, India) are all doing research under the supervision of Professor John Harrison this summer. When Rain heard about the research opportunity with Prof. Harrison, he immediately knew it was a position he couldn't miss out on.  
Anass and Madhavan join the team this summer as part of the Mitacs Global Research Initiative, which connects students with post-secondary institutions around the world for unique learning opportunities. Anass is pursuing a career in Civil Engineering in France, whereas Madhavan is pursuing Mining Engineering in India. India has been involved in this Mitacs initiative for years, and this is the first year France has participated.  Read more...
---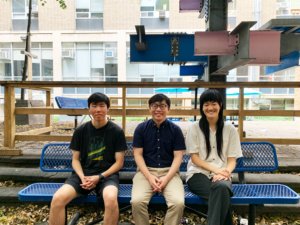 Chris Kim (EngSci, Year 2) and Catherine Ye (CivE, Year 4) are doing research about buildings and building systems this summer under the supervision of Professor Seungjae Lee. Both students are passionate about investigating and exploring the realm of building science. Chris is drawn to this research area because of its complexity and how interesting this makes the problem space, whereas Catherine is fascinated by the artificial intelligence and sustainability elements of building science. Read more...
---
From her first taste of transportation research, Lisa Guseva (CivE, Year 4) knew she wanted to pursue a career in the area. This summer, Lisa will be exploring e-cargo tricycle parking, under the supervision of Prof. Matt Roorda, Usman Ahmed (Postdoctoral Research Fellow leading the program with Purolator) and Farah Ghizzawi (PhD candidate researching commercial vehicle parking and behaviour simulation). Lisa's work will be part of a larger project, in partnership with Purolator, examining the performance of e-cargo bikes from a business, environmental and safety perspective. Read more...
---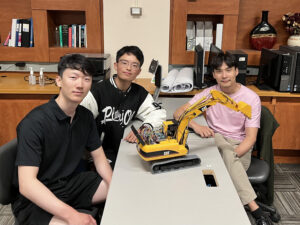 In the course Introduction to Civil Engineering (CIV201), Terry Liang (CivE, Year 3) and Ollie Zhao (CivE, Year 3) had the opportunity to tour campus and visit various professors and research groups. This is when they first learned about Professor Daeho Kim's research and knew it was an avenue they wanted to pursue. Prof. Kim ended up being Terry and Ollie's construction management professor, providing plenty of opportunity for inquiry about potential research opportunities. This summer, Terry and Ollie will be exploring the world of construction management and AI, under the supervision of Prof. Kim.  Read more...
---
With various interests, Maria Vetrici (CivE, Year 2) originally started at U of T in the math and statistics program. After discovering her passion for urban geography and planning, Maria transferred into Civil Engineering. This summer, Maria is diving into the world of transportation and ride-sourcing services under the supervision of Prof. Khandker Nurul Habib. Read more...
---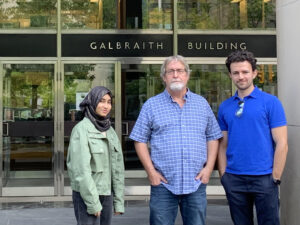 Emaan Fatima (EngSci, Year 3) and Christopher Zuccaro (CivE 2T2 + PEY, MASc candidate), both in different stages of their educational journey, found an interest in water and energy systems. With a passion for equity-based research, Emaan hopes she can help people and make a difference. Christopher began Civil Engineering with the intent of becoming a civil engineer but once he took Professor Bryan Karney's course, CIV 250 - Hydraulics and Hydrology, he knew he wanted to pursue a future career involving the topic of water. This summer, Emaan and Christopher are both working as research students in CivMin, under the supervision of Prof. Karney. Read more...
---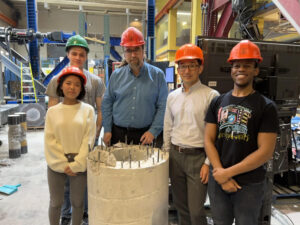 Undergraduate students Freddy Fisher, Fabio Karanja and Flora Thang all found themselves drawn to Structural Engineering. They all took Structural Analysis I (CIV214), taught by Professor Oh-Sung Kwon, and are now doing summer research under the co-supervision of Professors Kwon and Evan Bentz. Freddy, Fabio and Flora will be supporting two graduate students' research on nuclear containment structures leakage and the impact of high temperatures on certain materials. They've also been assigned their own personal projects. Read more...
---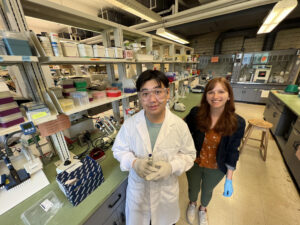 Gordon Tan's father is a civil engineer. He grew up learning about indoor air quality, sparking his interest in this area. Now, as an undergraduate student, Gordon is doing summer research on mycotoxins and its impact on indoor air quality, under the supervision of Professor Sarah Haines. The literature on this research area is limited; for Gordon, this is motivation to further explore this topic area. He hopes to shine a spotlight on the importance of examining exposures in our indoor environment and to spark further research on mycotoxins. Read more...
---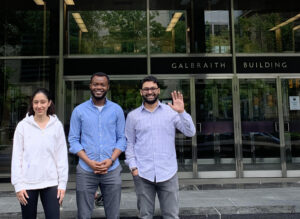 Undergraduate students Noureen Abdelhalim and Abdul Moiz Syed both took an interest in material science after taking Professor Ibrahim Ogunsanya's CIV209 - Civil Engineering Materials class. Both are now diving deeper into this area as research students in CivMin this summer, under the supervision of Prof. Ogunsanya. Though they have differing career aspirations, they share a deep appreciation for the importance of materials  - a part of engineering often overlooked and forgotten about.  Read more...