Undergrad summer student research positions explored
The following is part of a series introducing CivMin's undergraduate summer students to the Department and our greater community.
We explore the students' projects, motivation and challenges, while providing insights into who they are, and what motivates them, beyond academia. It also highlights the multitude of ways summer research opportunities are approached and implemented under the guidance of  our industry-leading CivMin professors.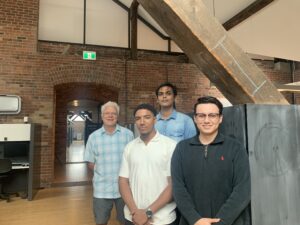 Rain Ferrer (MinE, Year 3), Anass Janah (Work-Study Student, Civil Engineering, Year 4, CESI de Bordeaux, France) and Madhavan Premrajka (Mining Engineering, Year 4, IIT Kharagpur, India) are all doing research under the supervision of Professor John Harrison this summer. When Rain heard about the research opportunity with Prof. Harrison, he immediately knew it was a position he couldn't miss out on.  
Anass and Madhavan join the team this summer as part of the Mitacs Global Research Initiative, which connects students with post-secondary institutions around the world for unique learning opportunities. Anass is pursuing a career in Civil Engineering in France, whereas Madhavan is pursuing Mining Engineering in India. India has been involved in this Mitacs initiative for years, and this is the first year France has participated.  
Tell us a bit about yourself. 
Rain Ferrer: I just finished my third year of [Lassonde] Mineral Engineering. I'm going to be leaving at the end of the month for my work term and then I'll be back at school for my final year. I'm from Toronto.  
Anass Janah: I'm from Bordeaux, France. I'm currently working in a smart grids company in a city near Bordeaux as an apprentice in a work-study program. I'm in my fourth year of Civil Engineering. 
Madhavan Premrajka: I'm from the Indian Institute of Technology in Kharagpur, India, and I'm going into my fourth year of Mining Engineering. 
What will be your role this summer and where? What types of tasks and work will you be doing? What's the research goal?
Rain: I'm a student researcher. I work with the software, R. I would say the end goal of my research is to identify the design stress state* for underground excavations. It's about statistically characterizing the in-situ stress conditions to use in design calculations for underground excavations.  
*Design stress state context (provided by Prof. Harrison): As you go deeper down into the water, pressure increases. The same happens in rock, except it's much more complex. When we measure the state of stress in the ground in different locations, we get different values. The question is, which value should we use for our design? We don't know. That's what we call the design stress state. Rain's been doing statistical modelling to see if we can learn something about how to determine design stress states. 
Anass: I've started to learn R [a programming language for statistical computing]. I've learned the language and how to manipulate data, but still have a lot to learn. It's new for me. I work with statistical modelling, so I apply this software to mineral engineering. Last week, I started to work with Amir Javaid [PhD candidate]. My work consists of checking whether the evolution of stress with depth follows a mathematical model.  
Madhavan: Most of my work has been done in the computer lab on the fourth floor [of the Lassonde Mining Building]. I've been working with R and the software called OpenBUGS [software for performing Bayesian data analysis]. My goal has been to identify the effects of anisotropy of rock strength and in situ stress on the stability of underground excavations.  
If you want to learn to swim, for example, you have to go to the pool.
How did you learn the software required for your research? 
Rain: I'm still learning; I pick up something new every week. I gained a working knowledge of R after about two weeks, give or take. There was a steep learning curve. Of course, there's experiential learning, but Prof. Harrison provided a lot of reading material online which gave me a jumpstart on [learning]. Being immersed in Prof. Harrison's worksheet was also very useful for learning.  
Anass: If you want to learn to swim, for example, you have to go to the pool. I just had to start working on the project – on something tangible. That's the way I learn. 
Madhavan: I started with the worksheet on R, provided by Prof. Harrison. Then, as I started working with the data, I learned new things as we went on. Starting with solely the data and software would have been very difficult [without the worksheet].   
What motivated you to work with Prof. Harrison on this project?
Rain: Prof. Harrison was my [MIN329] Rock Mechanics professor in the fall of 2022 . Towards the end of the term, he very kindly offered me this position. At the time, it was seven months in advance. I was immediately thrilled to hear about the opportunity and made sure I didn't miss it. So, here I am; it was a decision I'm very happy about.  
Anass: I am very passionate about geotechnical [engineering] because of the internship I did with a foundation company involving a lot of work with Eurocode 7 [the European standard describing how to design geotechnical structures]. Prof. Harrison also has a background in working with Eurocode 7.  
Madhavan: The professors apply for Mitacs first; they submit the projects students can work on. When I was applying for Mitacs, projects related to mining and rock engineering were very limited; there were about 20 of them. The basic premise of the material Prof. Harrison submitted was to provide a student with research experience, and I wanted research experience. What finalized the decision for me was Prof. Harrison and I's talk online; he was the only one who wanted to talk. I applied for seven projects and only Prof. Harrison spoke with me. I wanted to work with a professor who would talk with students. 
What do you foresee being your greatest challenge?
Rain: I think my greatest challenge for the first half of the summer was time management. I was working here [at U of T], taking two summer courses for my business minor and working at my part-time job. Managing all of those and distributing enough time for each of them was a challenge. There were a lot of late nights, but I would definitely do it again. It all worked out. 
Anass: As a foreigner, getting used to the city and the North American mentality [was my greatest challenge]. Also, being far from my family. I've always lived in France and grew up there, so it's a big trip for me. A technical challenge was getting used to R and all the things I didn't know before. 
Madhavan: Initially, [my greatest challenge] was getting used to Toronto. It's different compared to where I'm from. I'm not used to the weather. When I initially arrived, [the temperature] was in the single digits and I'm not used to single digits at all. Beyond the weather, I would say learning R was probably the most difficult part. 
Have you found any favourite spots on campus?
Rain: It's hard to pick because I happen to think we have a really nice campus and there are lots of good spots. We generally meet on Willcocks Street, where traffic is blocked off and there are chairs, tables and umbrellas set up. I think it's a great spot. Of course, when the weather is nice. Also, adjacent to University College, on the west side, there is a small parkette with benches where you can sit and work – it's terrific.  
Anass: Willcocks Street is a very nice spot. I also like to work in Study Commons, the study space in my residence on the 28th floor. 
Madhavan: I used to go to Cora Pizza [close to campus] a lot and the lobby of New College. 
As John Harrison says, research is never finished. 
Is there anything I haven't asked you about you'd like to speak on? Final thoughts?
Rain: Research has been a one-of-a-kind experience, no doubt about it. I've learned so much. I often reflect on how little I knew about the subject before I started. There's so much you learn every week and you think, "of course, I didn't consider that." I really enjoy those "aha" moments. It's been great.  
Madhavan: As John Harrison says, research is never finished. 
Do you have any interesting hobbies or talents you'd like to share? 
Rain: When I'm not in the city, one place you can find me is at the family cottage. I like to go as often as I can and escape from the city for a weekend. I always enjoy going boating and using my chainsaw to cut down dead trees for firewood. 
Anass: I've been doing sports since I was six years old. When I came here, I started to practice squash in the Athletic Centre. I'm getting better. In France, I did martial arts, kickboxing, and judo. Sports are my favourite hobby. 
Madhavan: I like fiction in terms of both reading and writing. I'm in the process of writing a new fiction novel, but it's in a very early stage. 
Questions for Prof. Harrison:
What do you hope for Rain, Anass and Madhavan to achieve this summer? Any major takeaways?
Professor John Harrison: Madhavan, Anass and Rain are working on independent, but linked, projects. Each project gives them the full research experience. They've been given a problem and tools, and then have been tasked with understanding it and exploring if they can develop some sort of answer.  
I hope they learn to research, obtain new results and determine if research is something they'd like to pursue in the future. For those who've come from outside Toronto, I don't want them to just experience the University of Toronto – I want them to experience Toronto too.  
Rain, Anass and Madhavan are contributing to the wider knowledge we have within the group. I'm also learning through them.
How will Rain, Anass and Madhavan be contributing to this project/your research?
Prof. Harrison: Rain, Anass and Madhavan are all working on aspects of the research I'm doing with my PhD students. None of them are directly contributing, but they are directly supporting what we're doing. The PhD students I'm supervising will use parts of their work and include it in their own projects.  
Rain, Anass and Madhavan are contributing to the wider knowledge we have within the group. I'm also learning through them. For example, today, Madhavan showed me some research results I've never seen before.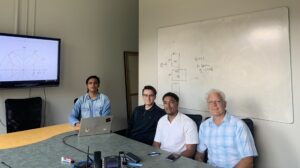 Where is the data Rain, Anass and Madhavan working with coming from? 
Prof. Harrison: My PhD candidate Amir Javaid is working on a project with the Nuclear Waste Management Organization (NWNO), trying to identify two sites in Ontario they can use as deep geological repositories for radioactive waste. They have a research partnership with SKB [Swedish Nuclear Fuel and Waste Management Company], who has been doing this for the last 40 years. SKB has plenty of stress measurement data. As a result, Amir has been able to generate statistical characterizations of stress in Sweden. That's the data Rain and Anass are using. Madhavan is using a different data set on the strength of a slate type of rock, from the work I did eight years ago with a previous PhD student, Nezam Bozorgzadeh.
Anass and Madhavan are here as part of the Mitacs Global Research Initiative. Do you have any comments to share about international research experiences? 
Prof. Harrison: When Anass and Madhavan first arrived, I told them to be tourists for a week before starting research. I knew they wouldn't be able to explore the city later.  
At the end of the summer, I hope for Anass and Madhavan to be able to answer three questions. The first one is: do I like Toronto? The second one is: do I like research? And the third one is: do I like rock engineering? Being able to answer those three questions, regardless of the answer, is what I believe to be most important.  
Do you have any interesting hobbies or talents you'd like to share? 
Prof. Harrison: My fun fact is I'm a keen amateur researcher in aerodynamics and hydrodynamics, known as sailing to the rest of the world. It's a very technical thing. Yesterday, when I was sailing with Madhavan, I was showing him how small adjustments in the sails make the boat behave very differently. I find it absolutely fascinating. And every day is different.  
Read more about our CivMin summer research students here.