Undergrad summer student research positions explored
The following is part of a series introducing CivMin's undergraduate summer students to the Department and our greater community.
We explore the students' projects, motivation and challenges, while providing insights into who they are, and what motivates them, beyond academia. It also highlights the multitude of ways summer research opportunities are approached and implemented under the guidance of  our industry-leading CivMin professors.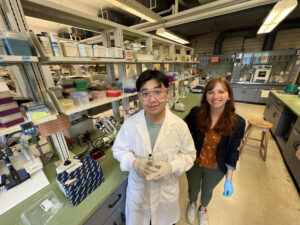 Gordon Tan's father is a civil engineer. He grew up learning about indoor air quality, sparking his interest in this area. Now, as an undergraduate student, Gordon is doing summer research on mycotoxins and its impact on indoor air quality, under the supervision of Professor Sarah Haines. The literature on this research area is limited; for Gordon, this is motivation to further explore this topic area. He hopes to shine a spotlight on the importance of examining exposures in our indoor environment and to spark further research on mycotoxins.
Tell us a bit about yourself. 
Gordon Tan: I'm originally from Vancouver. Last year was my first year at U of T in Engineering Science [EngSci]. At school, I'm a member of a few clubs, one of them being a machine learning club.
What will be your role this summer and where? What types of tasks and work will you be doing? What's the research goal?
Gordon: I'll mostly be working with mycotoxins, fungal secondary metabolites produced by mold/fungi. Exposure to these toxins may be associated with asthma and other respiratory diseases. The types of mycotoxins are countless, so we're trying to identify the more prevalent types seen in indoor air. There is a gap in indoor air research related to mycotoxins. My focus is on the identification of mycotoxins in indoor air.
I'll mostly be working on identification methods. We do have a chemical method called LC-MS [liquid chromatography-mass spectrometry] that has been previously used. However, I'm focusing more on a biological approach with ELISA [enzyme-linked immunosorbent assay], which uses antibodies to detect what we want to look for. In this case, mycotoxins.
What motivated you to work with Prof. Haines on this project?
Gordon: My father is a civil engineer, and he works with mold in buildings. He essentially does what Professor Haines researches, but he focuses on the mitigation aspect of it. He fixes buildings to prevent mold growth.  Growing up, every time he would come home, he would talk about how poorly maintained this building was and how moldy this attic was. It's something I grew up with – listening to my father talk about his work. So, I had prior knowledge of this type of work, and it really interested me. I thought about how I could build off of it…and potentially correct my dad sometimes. Essentially, my exposure to indoor air quality for many years kind of induced me to follow this route and try it out.
What do you foresee being your greatest challenge?
Gordon: My greatest concern is with resources, especially in such a new area of indoor air technology and indoor air quality. Our experimental tools are pretty limited and some of these tools are crucial for doing simultaneous identification of mycotoxins. The other one is time. I'm a summer student, so I'm only on a 13-week contract. As I realized recently working in the lab on a few DNA extractions, research takes a long time. I was helping a PhD student extract DNA from water and before we started, we had to disinfect collection containers using an autoclave. The disinfection took two and a half hours and then the experimentation took another three hours. It takes an entire day just to get your sample.
How do the gaps in indoor air research impact your work and/or drive?
Gordon: It's motivation to explore the area. For the most part, we live and sleep indoors. Indoor air quality is something that's very important, but few people consider as important. I feel that working on indoor air quality and mycotoxin research will bring it more significance, prompt more of a spotlight towards it and hopefully inspire others to do more research.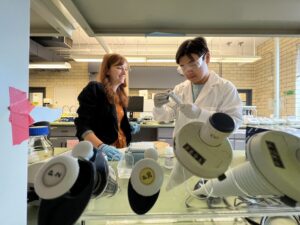 Have you found any favourite spots on campus?
Gordon: The Bahen Building. EngSci students have our own common room there on the second floor. The Bahen basements are also nice, especially when it's crowded because no one goes there even though there are workstations. And then you have the third floor, which is also empty when it's crowded on the main floor.
Do you have any interesting hobbies or talents you'd like to share? 
Gordon: I have three main hobbies. The first one is biking – I really like road biking. My dad brings me on these tours with lots of exploration. The second one is the piano, which I've been playing for 12 to 13 years. There's just something nice and relaxing about playing when I get home. And then, the last one is skiing. In Vancouver, there are a lot of mountains and the views are awesome, especially when the sun is setting.
Research is something I recommend to any undergraduate student. 
Is there anything I haven't asked you about you'd like to speak on? Final thoughts?
Gordon: Research is something I recommend to any undergraduate student, just try it out – it's new, it's refreshing and you get to work with cool equipment. You'll enjoy it, even if it's just over the summer or for a very short term.
Prof. Haines, what do you hope for Gordon to achieve this summer? Any major takeaways?
Prof. Sarah Haines: Gordon is fantastic. You can see he has so much passion and knowledge about indoor air. Usually, undergraduate students come in and don't have experience studying the built environment, however, Gordon already had some pre-existing knowledge, which was great. This summer, I'm hoping Gordon can gain some initial lab experience. Learning how to use pipettes and basic quantification equipment, for example. In our research, we do a lot of microbiology work, so getting those basic laboratory skills are important.
As Gordon mentioned, he's working with Nehul Agarwal [PhD candidate] and Zoe Haskin [MASc candidate], where he will be trained on how to perform DNA extractions and quantification using quantitative PCR, and new digital PCR equipment we're purchasing. Those are the basic kind of skills I'm hoping he'll be able to learn while also exploring the detection and identification of indoor mycotoxins in dust. The work Gordon completes this summer will be the starting point for further research.
How will Gordon be contributing to this project/your research?
Prof. Haines: Gordon's main work will be on this mycotoxin project. He's going to pursue more research into using an ELISA for mycotoxin detection. For my set of research, it'll be helpful to get this basic knowledge. He's also doing a literature review on current work so we can move forward with some longer-term studies. We've been having initial conversations with Bridget Hegarty, a researcher and professor at Case Western Reserve University in Cleveland, Ohio, which is where I'm from. They're also exploring research into mycotoxins, so there may be some potential for international collaborations. Gordon's also working with some PhD students, being trained on what they're doing and helping move their projects forward.
I believe undergraduate research is so critical and important.
Is there anything I haven't asked you about you'd like to speak on? Final thoughts? 
Prof. Haines:  I believe undergraduate research is so critical and important. I would not be here if I didn't do undergraduate research as a student. I was in my third year when I started working in a lab. I ended up staying and working there for my master's and my PhD. It was such a wonderful experience. And I do agree with Gordon, students should have that opportunity and be able to explore if it's something they want. Especially for our Engineering students, it's so critical to have that experience.
By Rachael Gallant
Read more about our CivMin summer research students here.