Undergrad summer student research positions explored
The following is part of a series introducing CivMin's undergraduate summer students to the Department and our greater community.
We explore the students' projects, motivation and challenges, while providing insights into who they are, and what motivates them, beyond academia. It also highlights the multitude of ways summer research opportunities are approached and implemented under the guidance of  our industry-leading CivMin professors.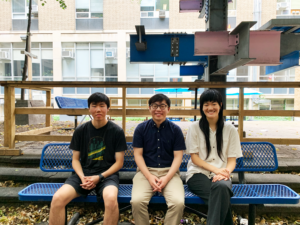 Chris Kim (EngSci, Year 2) and Catherine Ye (CivE, Year 4) are doing research about buildings and building systems this summer under the supervision of Professor Seungjae Lee. Both students are passionate about investigating and exploring the realm of building science. Chris is drawn to this research area because of its complexity and how interesting this makes the problem space, whereas Catherine is fascinated by the artificial intelligence and sustainability elements of building science.
Tell us a bit about yourself. 
Chris Kim: [This September] I'll be starting my second year in the Engineering Science program. I graduated from high school in Delta, B.C. 
Catherine Ye: I go by Cat among my friends. I'm a fourth-year Civil Engineering student. I just finished a year of PEY Co-op. I grew up in Ottawa and have been living in Toronto since I moved here for U of T. I enjoy visual arts and drawing – anything in the creative realm.
What will be your role this summer and where? What types of tasks and work will you be doing? What's the research goal?
Chris: I'm developing an optimal controller* for a building HVAC system using mainly reinforcement learning, which is a branch of artificial intelligence [AI] merged with control theory. My work is mostly done with Prof. Lee. I am developing and testing optimal control algorithms with a building model in a simulation environment. 
I recently developed a model-free reinforcement learning algorithm but realized, while it was good at minimizing energy cost of a HVAC system, it had problems with other aspects of the building including thermal comfort and the lifespan of HVAC equipment. Now, I'm exploring whether model-based controllers work better than model-free reinforcement learning for HVAC systems.  
*An optimal controller is designed to maximize/minimize an objective. In this case, the optimal controller is attempting to minimize energy consumption or energy cost and maximize occupant thermal comfort. 
Catherine: I'm working with Prof. Lee on developing a building performance energy model for the U of T Exam Centre. One of Prof. Lee's MEng students, Mayank Kumar, started building the model with the software we're using called Design Builder. My role this summer is to further develop the model by adding the HVAC components to best represent the heating, ventilation, and cooling systems within the real building. 
The goal by the end of the summer is to compare the simulated results with the real building's operational data. There will be discrepancies. We must determine the sources of those discrepancies, what assumptions led to those discrepancies and then further fine-tune the model accordingly. The long-term goal is to use this model to inform decisions for reducing energy consumption. This is part of Professor Lee's ongoing research project, Grid-Interactive Smart Campus Buildings. One of Prof. Lee's PhD students, Chou Shen, will continue to use this model for their studies and work. 
Buildings are very complex dynamical systems and have a lot of space and difficulties regarding domain knowledge to be integrated, making the problem space much more interesting.
What motivated you to work with Prof. Lee on this project?
Chris: The reason I'm interested in research in civil engineering and building science is because of my interest in dynamical systems** and how you can control and understand those systems. Buildings are very complex dynamical systems and have a lot of space and difficulties regarding domain knowledge to be integrated, making the problem space much more interesting. That's what motivated me to contact Prof. Lee.  
** A dynamical system is a mathematical concept used to describe the behaviour of a system that changes over time. A building is a dynamical system in the sense that indoor thermal conditions (e.g., temperature) change over time, affected by weather conditions, occupancy, HVAC operations, etc. 
Catherine: I have an interest in building science. I had Marianne Touchie as a professor, so I reached out to her when I was interested in pursuing a research opportunity. She recommended I reach out to Prof. Lee. One of my PEY Co-op colleagues, Noah Cassidy (CivE 2T0, MASc 2T2), who recently finished his master's degree under the supervision of Marianne Touchie, also recommended reaching out to Prof. Lee. 
I looked through Prof. Lee's research projects and found [his projects and research] very much aligns with my interests. I found it especially interesting how he works with AI and how it integrates into the building science world. It's an interesting and fascinating niche. He also has projects related to analyzing human behaviour and how humans occupying buildings impact energy. 
What do you foresee being your greatest challenge?
Chris: The challenge is understanding different domains [of knowledge] that must tie together. I often use domain knowledge and physics regarding thermodynamics, building science and AI. All three of those fields are ones I am not an expert in or have much knowledge about. I must understand it enough to apply it. And gaining this understanding from reading online has some challenges. This is a challenge I have had since the very beginning, and I assume it will continue to be one. 
Catherine: A challenge I've been learning to navigate is the shift from having a nine-to-five structured work environment to the flexibility of this research opportunity. My PEY Co-op was in a consulting environment where everything is very clearly outlined – you have x,y,z amount of time to do exactly this and it must be delivered by this time to this person. I enjoyed the structure because it kept me motivated and accountable.  
This research opportunity is very exciting. The fact that it's so flexible, remote and less strict is not a bad thing by any means but I feel less pressure with the research project because I don't have a huge deliverable due by tomorrow, for example. There's always something to do but it's easy to procrastinate. I asked Prof. Lee to start meeting twice a week instead of once a week because it helps keep me more accountable. 
Have you found any favourite spots on campus?
Chris: Lash Miller Laboratories [located in the A.D. Allen Chemistry Library] on the fourth floor is pretty nice. Not many people know about the place. My friends and I go there often to study. Hart House is also very nice, especially the gym there. They always have events going on in Hart House too. 
Catherine: In my first year, I would often go to the University College common rooms, which was a fun space anyone can go to study. There are bookshelves and dark wood. The ambience feels very academic, but also warm; they have couches if you want to take a nap – I did.  There's also a little coffee shop in the building next to it. I haven't been there since my first year, but it was fun.
I hope incoming students come across building science and the sustainable energy realm related to the built environment and buildings sooner.
Is there anything I haven't asked you about you'd like to speak on? Final thoughts?
Chris: I'm really glad I discovered more about buildings and various aspects of the building. Before, I didn't fully understand what was going on behind–the–scenes [of buildings] and what to consider for developing very fine–tuned controllers and HVAC systems. I've gained a greater understanding of this process and appreciate it more.
Catherine: I have a personal anecdote [to share]. I hadn't discovered what building science was until my third year when I took the Building Science [CIV375] course, a mandatory class for Civil Engineering students. It completely opened my mind up to this industry I had no idea existed. I hope incoming students come across building science and the sustainable energy realm related to the built environment and buildings sooner. And I hope it interests and excites them because it's important, especially for addressing the climate crisis in an interesting and impactful way.
Do you have any interesting hobbies or talents you'd like to share? 
Chris: I can type over 110 words per minute. I naturally started doing it and the speed just came. I also like to play badminton and basketball – I've played at Hart House. I played varsity Badminton in high school; in my senior year, my team was regional champions. 
Catherine: I enjoy visual arts and drawing. I'm also a tattoo artist on the side. I picked it up in the first pandemic summer. I think it's a cool and interesting art form because it's so personal. I like how folks can get tattoos that don't mean anything and also can mean everything. That's the beauty of the medium. I've given myself one tattoo, not because I don't want to do more but because I enjoy collecting tattoos from different artists. To me, that's the fun in it.
Questions for Prof. Lee:
…It's all about gaining some comprehensive understanding and knowledge about how things work in the real world.  
What do you hope for Catherine and Chris to achieve this summer? Any major takeaways?
Professor Seungjae Lee: Catherine and Chris are in very different situations. Catherine is starting her last year in September and Chris has just finished his first year. I hope for [Chris and Catherine] to gain some comprehensive knowledge and first-hand experience in dealing with buildings and building systems. Catherine has taken some building science courses and she's worked at a building science consulting company, so she has a certain level of knowledge. I want her to further understand how components in buildings interact, how they behave in real buildings and how they impact building energy consumption and performance. It's difficult to gain such comprehensive knowledge based only on lectures. 
When Chris reached out to me, he was interested in solving dynamical system control problems and he already had a good level of coding knowledge and understanding of controllers and dynamical systems. After this summer's research, I hope Chris will be able to understand even if you know how controllers and buildings work, once you try to solve a real problem, you will encounter many real problems you haven't thought about. I want Chris to realize the challenges of dealing with real problems and real applications. I think it's all about gaining some comprehensive understanding and knowledge about how things work in the real world.  
How will Catherine and Chris be contributing to this project/your research?
Prof. Lee: What Catherine is doing is part of a bigger project. My PhD candidate, Chou Shen, is leading the research project. We are trying to optimize the operation of HVAC systems in the Exam Centre. To develop the controller and test the controller before implementing or deploying it to the real building, we need a virtual testbed***. The model Catherine is developing will be used as a testbed for that project. In addition, Catherine's model will help the U of T Facilities and Services improve the performance of the building.  
Chris is assisting with one of my major research interests – to develop optimal controllers for building HVAC systems. There are many ways to tackle this problem. Chris has a good level of knowledge of these kinds of techniques. My plan is to have a group meeting at the end of the summer for Chris to demonstrate what he has done during the summer. Findings from Chris's work will help my master's and PhD students. He's comparing different algorithms and such results will help my students understand the pros and cons of different algorithms in optimizing building systems. 
***A testbed is an environment or platform where researchers can conduct experiments or tests of their technologies/algorithms/techniques. In this project, we will test various control approaches using the building model as a virtual testbed. 
Is there anything I haven't asked you about you'd like to speak on? Final thoughts?
 Prof. Lee: I tried to make these summer projects align with their interest and I hope they help their career development and future career planning. Other undergrad students may also find these kinds of opportunities help make sense of their future and plan.  
Do you have any interesting hobbies or talents you'd like to share? 
Prof. Lee: These days, I'd say I'm very good at changing diapers. And I'm very good at understanding what my six-month-old boy wants.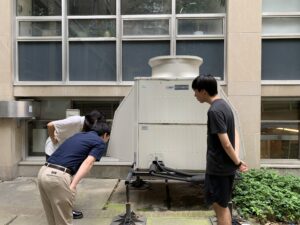 Read more about our CivMin summer research students here.