Undergrad summer student research positions explored
The following is part of a series introducing CivMin's undergraduate summer students to the Department and our greater community.
We explore the students' projects, motivation and challenges, while providing insights into who they are, and what motivates them, beyond academia. It also highlights the multitude of ways summer research opportunities are approached and implemented under the guidance of  our industry-leading CivMin professors.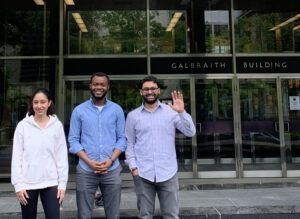 Civil Engineering undergraduate students Noureen Abdelhalim and Abdul Moiz Syed both took an interest in material science after taking Professor Ibrahim Ogunsanya's CIV209 – Civil Engineering Materials class. Both are now diving deeper into this area as research students in CivMin this summer, under the supervision of Prof. Ogunsanya. Though they have differing career aspirations, they share a deep appreciation for the importance of materials  – a part of engineering often overlooked and forgotten about. 
Tell us a bit about yourself. 
Noureen Abdelhalim: I'm going into my third year of Civil Engineering at U of T and I'm from Vaughan. 
Abdul Moiz Syed: I'm going into my fourth year of Civil Engineering. I was originally born in Saudi Arabia, came here for grade four and have been here ever since.
What will be your role this summer and where? What types of tasks and work will you be doing? And what is the research goal?
Noureen: I'm working with Mohi [PhD candidate Mohaddeseh Abdolhosseini] who's researching pitting corrosion [a localized form of pitting in which cavities or holes are produced in materials]. Corrosion can occur in areas with excess salt, such as on roads or near oceans. I'm assisting with her pitting corrosion modelling by reading through various existing articles and lectures on the topic, extracting information and summarizing it for her to use in her report. 
Abdul: My research has to do with predicting the service life of concrete structures. All these built structures – bridges, dams and buildings – contain steel rebar [reinforced bar], a crucial component of any concrete structure. I'm working with a Master's student, Nicolas Maamary [MASc candidate], to develop a machine learning model to predict the critical chloride threshold of these structures. Essentially, we're creating a model in which several parameters are input, such as the composition of concrete and pH level, and the machine learning algorithm will consider previous experiments to determine how much chloride the structure can take before it starts to corrode.
What motivated you to work with Prof. Ogunsanya on this project?
Noureen: We have something [at U of T] called PEY Co-op. It's not necessary to do during your second year summer, but I wanted to explore the types of jobs I could apply for and one of them was research. Being in Prof. Ogunsanya's [Civil Engineering Materials] class, I became very interested in the materials research area within structural engineering. While most people often overlook the materials aspect of engineering, it was something I found myself very interested in exploring. Working with Prof. Ogunsanya, I get to research something I'm interested in, complete my co-op and work in the higher education environment that I've always been intrigued by. 
Abdul: My motivation for this summer's research stems from my engineering philosophy – if I want to design or build structures at any point in my career, I need to know everything about them, including the materials I'm working with. The most common material in construction is concrete and the vast majority of structures we build are made with concrete, which must be reinforced so it doesn't give way to tension. As I pursue a career in a design firm or anything like that, I'll know more than the guy in front of me – I'll know the basis of what I'm talking about.
What do you foresee being the greatest challenge?
Noureen: My greatest challenge has been immersing myself in this academic, higher education environment. Reading research papers written by people who have PhDs, or are working towards their PhDs, is definitely a bit overwhelming at first. Every paper has its own jargon and terminology. Learning what one particular person is saying within their paper and applying your background knowledge to understand it can be challenging, but also very rewarding. Even though I've only been working on this research for a while, I feel so much more knowledgeable on the topic. 
Abdul: As civil engineers, we don't learn much about coding and machine learning, making this a completely new field I'm immersing myself in. I'm glad to have this experience because it combines civil engineering, which I'm passionate about, with artificial intelligence and technology, a rapidly developing and increasingly relevant area. Learning different coding languages and the different processes I'll need to go through is the greatest challenge I'll face. 
Have you found any favourite spots on campus?
Noureen: I have this down to a science now. There's spots you go between classes and there's spots you go after class. Between classes, I'm usually in the Galbraith or Sandford Fleming buildings. I like the Engineering & Computer Science Library and Gerstein Library. For after class, my greatest discovery has been Robarts Common. The study space is good if you want to work with friends or enjoy working with white noise in the background. 
Abdul: The second floor of Bahen Building, overlooking what used to be the Cube [closed cafe on the ground floor lobby area]. It's perfect. You have a nice view, you can be as loud as you want, you can be as quiet as you want [if you put on headphones], you can eat there and it's quiet enough to get your work done. Anytime I have work to do or have time on campus, I'm there. 
Do you have any interesting hobbies you'd like to share? 
Noureen: The main sport I did growing up was swimming; I was also a swimming instructor. I've always been interested in being a teacher or mentor of some sort.
Abdul: I enjoy biking and food, that's about it.
Prof. Ogunsanya has some questions for Noureen and Abdul:
How do you combine your reserved nature with what is required of being a teacher? 
Noureen: I'm an introverted extrovert. I like talking a lot, especially if it's something I'm passionate about or know a lot about. In the context of teaching, I hope it'd be a topic I know a lot about, so I'd be completely fine. 
In five to 10 years what do you hope to be doing, regardless of the path you choose? 
Abdul: It's difficult for me to say, because I have a lot of varying interests. Until second year, I was sure I was going to pursue something structural-related in a design firm. Then, I discovered material science, geotechnical engineering, transportation engineering and municipal systems. In third year, everything  goes from monotone to a world of possibilities. I don't have a proper answer. I'll see where my interests take me as I go.
Questions for Prof. Ogunsanya:
What do you hope for Noureen and Abdul to achieve this summer? Takeaways?
Prof. Ogunsanya: People often ignore the material science aspect of many design fields. There's a focus on designing or using the materials but the fundamentals are often missing. I teach CIV209,which deals with the fundamentals of material, applicable to Civil Engineering students. My goal is to help Noureen and Abdul understand the ignored part of being an engineer – the material itself.
I want to help them see the problems we're trying to solve, from the micro level to the big picture. In our case, we're trying to make reinforced concrete structures more sustainable and durable.  If we can achieve this, then we've solved some problems associated with infrastructure greenhouse emission and safety. So, material knowledge and some research experiences are what I hope they take away from their research positions this summer. I'm sure they'll go out there and want to design or, in the case of Noureen, end up in academia. Regardless of the field they go into, they'll be able to tell people to care more about the material and its selection before using it. 
I hope Noureen and Abdul will receive name recognition for their contributions so the world can see how much of an impact they're making
How will Noureen and Abdul be contributing to this project/your research?
Prof. Ogunsanya: Noureen and Abdul are each assigned to one graduate student and these graduate students will be publishing papers and developing models their names will be attached to. I hope Noureen and Abdul will receive name recognition for their contributions so the world can see how much of an impact they're making before even finishing their undergraduate degree. Also, we have plenty of flexibility. Noureen and Abdul can work with any of the graduate students beyond the ones they're primarily working with. There's always projects to be done – finding journal papers, adding to the database of what's been done and developing models. 
Is there anything I haven't asked you about that you'd like to speak on? Final thoughts?
Prof. Ogunsanya: Hopefully, Noureen and Abdul will be able to spread the gospel about caring for materials, regardless of the research areas they pursue in the future. On a more personal level, I'm very lucky and happy to have them on my research team. They're some of the best students in my class and they improve the quality of my group. It's a luxury to work with them, these are bright students.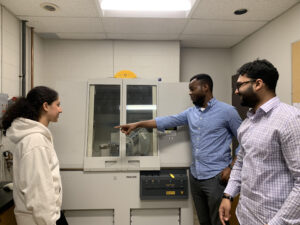 By Rachael Gallant
To read about more CivMin summer research students, go to https://civmin.utoronto.ca/introducing-civmins-ug-summer-research-students/.