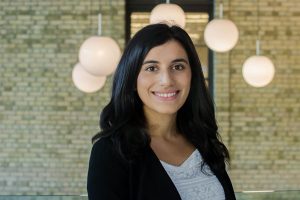 This weekend, the Women in Science and Engineering (WISE) National Conferencewill welcome more than 300 delegates from across Canada to Toronto. They will hear from — and interact with — dozens of academic and industry leaders from a variety of fields connected to science, technology, engineering and mathematics (STEM).
The two-day event, founded six years ago by the U of T chapter of WISE, empowers young women and men in STEM to take charge of their careers and make connections that will help advance their personal and professional goals.
We sat down with conference chair Sara Maltese (Year 4 CivE) to learn more about this year's conference:
This year's theme is "Transcend Boundaries." What does that mean to you?
"Transcend Boundaries" is a message to all delegates that says there are no limits to what we can achieve. It acknowledges that we see obstacles in the way of reaching our goals, but that we have the power to overcome them. In other words, go the second mile – exceed expectations and have the courage to deviate from the status quo.
What should delegates be excited about at this year's conference?
We have a diverse range of speakers, workshops, competitions and networking opportunities in store for them.
The debate competition, sponsored by Deloitte, is a new feature of the conference this year, and will focus on bioinformatics, that is, dealing with the vast amounts of data generated by techniques such as genome sequencing. The case competition, sponsored by Accenture and Citi, has a new spin this year, with a focus on financial technology (fintech).
We have also doubled the number of sponsor companies attending this year, which means ample networking opportunities at the career fair.  This also means double the number of workshops, where delegates will have the opportunity to learn about topics related to energy and automation, blockchain technology and career building.
The past year has seen a very public conversation about gender dynamics in the workplace. How will recent events impact discussion at the conference this year?
There will definitely be discussion on this. For example, Ceridian will be hosting a workshop about their promise, "Makes Work Life Better," where delegates will have an opportunity to learn about ways to ensure that the interests and well-being of all employees are supported, including programs and policies related to diversity, inclusion and support for women.
Why did you want to become the chair of this conference? Why are you passionate about the issues WISE engages with?
I have been a part of the WISE U of T Chapter for five years and have had the opportunity to lead the high school outreach initiative and secure sponsorships to support our events.  I have attended the WISE National Conference for many years and I wanted to be a part of planning it this year.
It was actually a presentation from the WISE U of T Chapter at my high school that helped me choose to pursue engineering. Now, as the conference chair, I am honoured to pay it forward with the hope that this conference will provide an opportunity for others to be inspired in the same way that I was.
This story was originally published on U of T Engineering News