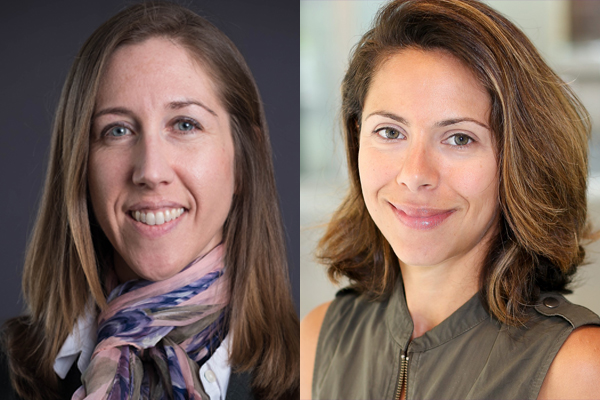 Professors Penney Gilbert (IBBME) and Marianne Hatzopoulou (CivE) have been named Tier 2 Canada Research Chairs (CRCs) in an announcement made today by federal science minister Kirsty Duncan at the University of Toronto Factor-Inwentash Faculty of Social Work.
The two U of T Engineering researchers are among the 25 U of T faculty members to receive CRC appointments. They join 216 current chairholders across the University of Toronto.
"I would like to extend my heartfelt  congratulations to the new and renewed Canada Research Chairs. The Government  of Canada is proud to support talented researchers whose hard work will improve  our scientific understanding and strengthen Canada's reputation for research  excellence," said Minister Duncan, who is herself a U of T alumna. "The Chairs' efforts will also provide us with the evidence needed to inform decisions that help us build a vibrant society and a strong middle class."
Professor Hatzopoulou holds the CRC in Transportation and Air Quality for her research into how emissions are generated by on-road vehicles, dispersed in urban environments and who is exposed. Through her collaborative work with epidemiologists and health scientists, Hatzopoulou is working to better understand how traffic patterns, road design and characteristics of the built environment can be modified to improve urban air quality and help vulnerable individuals reduce their exposure.
"Receiving this appointment is an opportunity to advance research in an area of growing concern for rapidly expanding world cities," said Hatzopoulou. "It will also help provide scientific evidence for the often controversial decisions on urban transportation system expansions and their effects on the air we breathe."
"I am very honoured by this appointment, and for the recognition of my research team's efforts toward unlocking the secrets that permit the human body to heal itself," said Gilbert, who was named the CRC in Endogenous Repair. She received the appointment for her research into the cues that "wake up" muscle stem cells and direct them to repair skeletal damage. Along with her team, Gilbert hopes to decipher these cues and inform the development of new drugs, therapies and treatments that restore strength to muscles that are wasting as a result of aging or disease.
"We're extremely proud of the leadership and research excellence demonstrated by Professors Hatzopoulou and Gilbert, and I am pleased to congratulate them on this recognition," said Professor David Sinton (MIE), interim vice-dean, research for the Faculty of Applied Science & Engineering. "We're also grateful for this investment in our Faculty as our researchers continue to work across disciplines to address the world's most pressing challenges."
The CRC program was launched in 2000 to help the country attract and retain research leaders in engineering and the natural sciences, health sciences, humanities and social sciences. Tier 1 Chairs last for seven years, and recognize outstanding researchers acknowledged by their peers as world leaders in their fields. Tier 2 Chairs are for exceptional emerging researchers and last for five years.