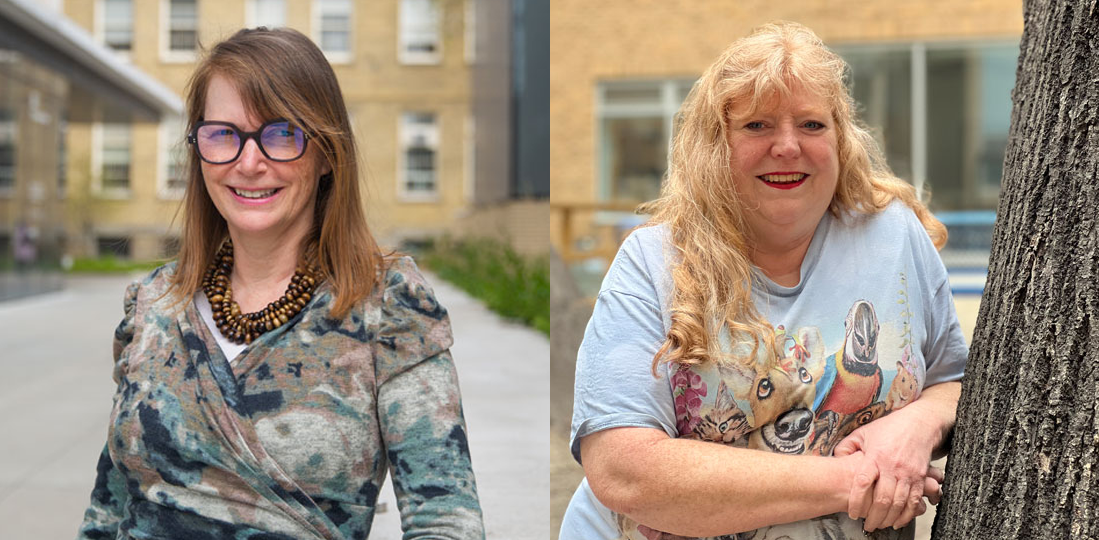 Congratulations to Diane McCartney on receiving Agnes Kaneko Citizenship Award and Michelle Deeton for being recognized with Harpreet Dhariwal Emerging Leader Award!
Diane and Michele are in the top ten of U of T Engineering faculty and staff to be honoured for their outstanding contributions to the Faculty. These awards recognize exceptional faculty and staff members for their leadership, citizenship, innovation and contributions to the Faculty's teaching, service and research missions.
Diane McCartney
Agnes Kaneko Citizenship Award
Recognizing a staff member who has served with distinction and made contributions to the Faculty's mission above and beyond their job description over a long period of time.
Currently a clerical/financial assistant in CivMin, Diane McCartney joined the department in 1982 as a secretary and has been a dedicated member of the Engineering community ever since. As the department moved from typewriters to computers to online technologies, McCartney was always an early adopter and played a leading role in training other staff.
Throughout these changes she has continued to be a role model in her above-and-beyond contributions to the department, both professionally and personally. Despite a heavy workload, McCartney consistently makes time to support our students, staff and faculty members. For example, she collects coupons for meal providers around campus and leaves them in a bowl for students to pick up, helping them to stretch their budgets.
McCartney's office door is always open, and anyone is welcome to drop by to ask a question, look for help, or just dip into the candy jar she keeps on her filing cabinet. She is incredibly generous of her time and will always try to solve a problem for a student or colleague, whether or not it falls within the boundaries of her job. She also goes out of her way to foster an inclusive and welcoming community and acts as an unofficial goodwill ambassador for the department.
Michelle Deeton
Harpreet Dhariwal Emerging Leader Award
Recognizing a staff member who leads by example in their dedication to the Faculty's mission and demonstrates potential to assume a more senior leadership role.
Michelle Deeton joined CivMin in 2017 as the Director of Finance and Administration, after serving as Acting Director for the Office of the Dean for nearly three years. Upon joining CivMin, Deeton faced the challenge of taking on a newly created leadership role at a time when the department's business office was experiencing significant operational issues, including a near total turnover of staff. She quickly rose to the challenge and set about reorganizing the business office in a way that has made it considerably more effective.
Deeton has gone well beyond her job description to become the go-to person in CivMin for all policies related to human resources and finance, helping every community member strategically solve problems in these areas. Perhaps most importantly, she has led her team to completely change the culture of the business office, transforming it into a unit that is focused on providing support and guidance in following University policies, rather than simply enforcing those policies. In this way, her leadership has positively impacted faculty, staff and students across CivMin.
Deeton also plays a leadership role amongst her counterparts across the Faculty, promoting improvements to administrative procedures that affect all departments.